WHILE the Australian beef herd rebuild is maturing and exports are beginning to rise, our main export competitors continue to face challenges.
This has ultimately improved our trading outlook and highlighted the strength of Australian beef in the global market, MLA says.
Australian beef exports for the first three months of 2023 totalled 220,828 tonnes – 25pc more than 2022 and the highest volume since 2020. March saw the largest uptick, with exports 33pc above year-ago levels at 98,879t, the highest since 2019.
This increase in exports will be welcome news for exporters and reflects strong on-farm conditions over the past few years, MLA says.
The increase in exports is well-timed, as beef production in the United States has begun to decline slightly from historically elevated levels and Brazilian exporters have faced challenges shipping product to market.
US production
As one of Australia's main competitors and a major export destination in its own right, the US plays an important role in determining global supply. Last year saw record US exports as a difficult drought brought on a herd destock event, with surplus beef production exported on.
So far in 2023, US slaughter and production levels are beginning to decline from the highs seen last year. Slaughter for the year-to-March has fallen by 1pc; still high, but lower than in the past and indicative of future declines in production.
Market participants in the US are fully aware of this dynamic, which has led them to import more beef and bid up the price of imports. Australian exports to the US for Q1 are up 41pc year-on-year and the 90CL indicator has risen by 20pc since the low in early February to A850¢/kg.
This dynamic will continue to develop over several years. The US cattle herd is currently at its smallest since 2015 and, during that cycle, it took five years for production to recover to pre-destock levels.
Due to the size of the American domestic market, drops in production are likely to disproportionately affect exports. With this in mind, the US Department of Agriculture is currently forecasting 2023 production to fall by 8pc, but exports to fall by 13pc.
As Australian beef production grows, decreasing US production will open up opportunities for Australian exporters in Japan, South Korea and the US itself.
Brazil's BSE difficulty
An atypical case of BSE caused Brazil's March beef exports to fall to their lowest level since November 2021. The decline came almost entirely from China, which temporarily halted imports from Brazil following the BSE case.
While the trading halt was temporary, it led to importers sourcing alternate beef supplies, including from Australia. This contributed to the 48% year-on-year increase in Australian exports to China during March, contributing to the 27pc increase in exports over Q1.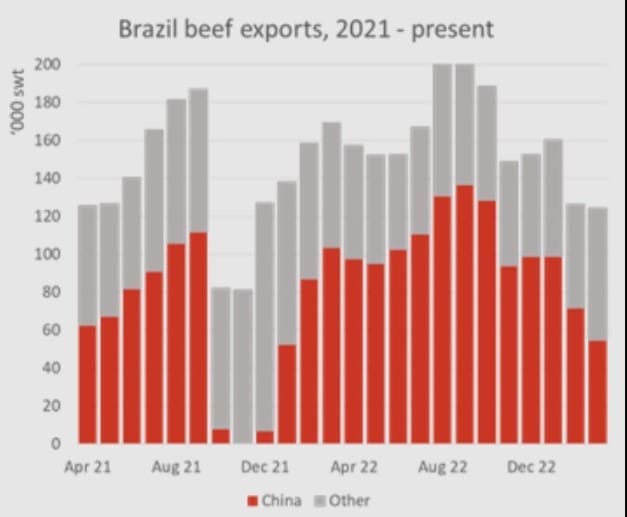 These volumes are the highest for Q1 since 2020, at the tail end of the drought. Alongside announcing to importers that Australian export volumes are set to grow, trading disruptions like this help to underscore the value of Australian traceability and quality assurance programs to overseas importers.
As China's economy continues to grow and consumers continue to eat more red meat, consumption is forecast to increase, and Australian beef is well-positioned to take advantage.