THE US Department of Agriculture has forecast a strong rebound in Australian beef production and exports next year, as Australia continues to recover from severe drought in 2019-20.
USDA's Foreign Agricultural Service compiles a set of forecasts on major beef producing and consuming countries each year through the Global Agriculture Information Network database. About 2000 reports are added each year.
The Australia report provides a useful precursor to Meat & Livestock Australia's annual industry projections, due in January.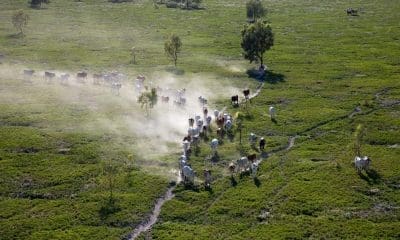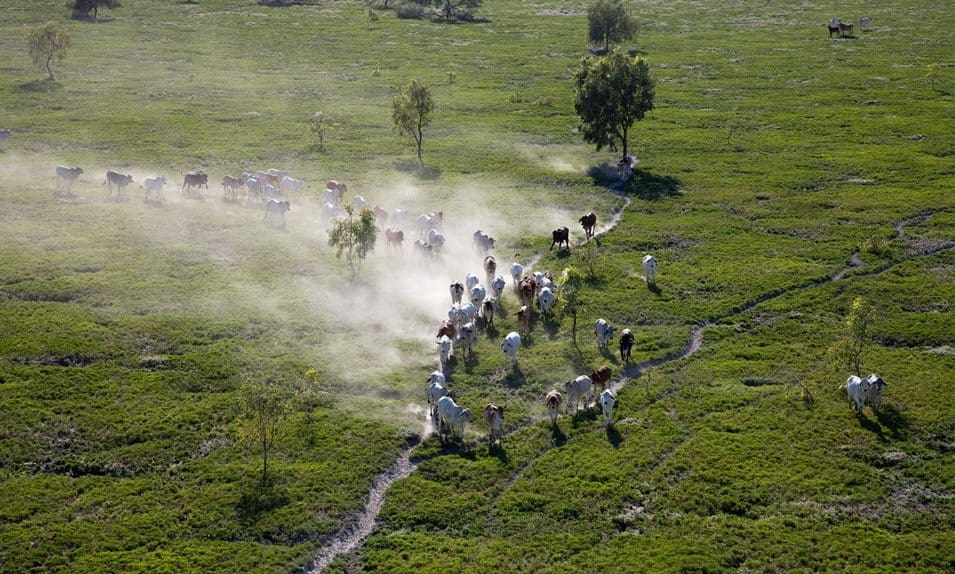 The latest FAS analysis of Australia issued last week suggests beef supply will make a substantial step towards recovery in 2023 after falling to the lowest level in decades in 2021 and generating only a marginal improvement in 2022.
"The Australian cattle industry is expected to continue its strong herd rebuild in 2023 but with female slaughter rates rising," the report said.
"Most Australian cattle producers have for the third successive season experienced great pasture conditions and the forecast in the coming months is for well above-average rainfall. With the support of increased female slaughter, it is expected that overall cattle slaughter, beef production, and beef exports will all also rise in 2023," the report said.
Female slaughter rates have fallen even further in 2022, from the already very low level in 2021 at the onset of a herd rebuild following a severe multi-year drought. Rising female slaughter rates next year will contribute to larger beef production and exports.
"Australian cattle producers have also had the added benefit of record cattle prices in recent years, which has boosted confidence to continue to push forward with a strong herd rebuild.
The FAS report suggests an increase in Australian adult cattle slaughter in 2023 to 7.2 million head, an 890,000-head increase over the downward-revised 2022 estimate of 6.31 million head.
"As part of the herd rebuild, young cattle numbers have built up to an extent that, in conjunction with good pasture production conditions so far in 2022 and great forecast rainfalls in the coming months, the number of cattle ready for slaughter will increase considerably in 2023," the FAS said.
Seven of the nation's top ten beef producing regions are located in Queensland (see map) and rainfall in the first seven months of 2022 for Queensland has broadly been at or above average.
This was a positive scenario in relation to cattle production, particularly for North Queensland which has not fared as well as Central and Southern Queensland and the southern states over the last two years.
Top 10 cattle numbers by natural resource management region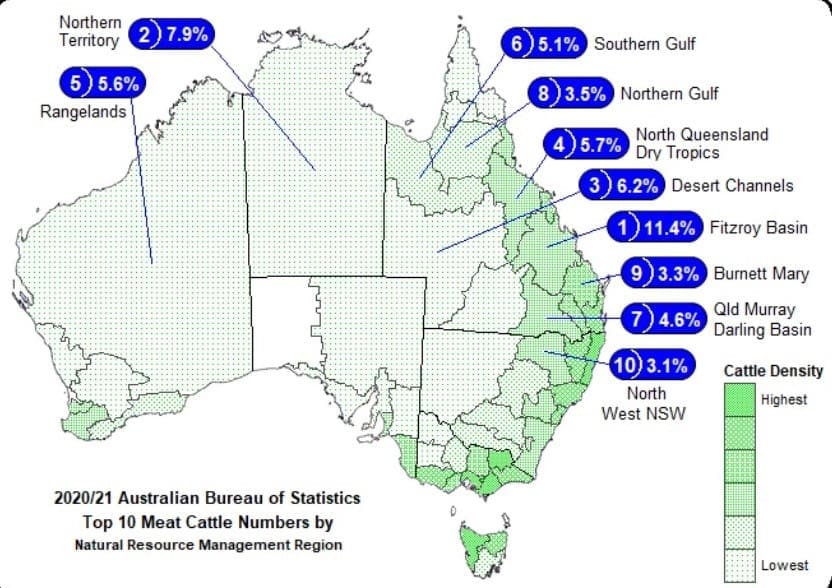 "The only significant cattle producing region that has had poor rainfalls in the first seven months of 2022 is the northern part of the Northern Territory. However, this region is almost exclusively focused on the live cattle trade with little impact on the national slaughter numbers.
The Australian Bureau of Meteorology forecasts a high chance of above-average rainfall across the country (other than Western Australia – which only accounts for eight percent of the herd) for September to November this year.
"This along with the advancing stage of the overall herd rebuild, and good rains in the first half of 2022, is encouraging pasture production and cattle growth to support the forecast increase in slaughter numbers for 2023," the FAS report said.
Beef production
FAS forecasts Australian beef production in 2023 to increase by 13 percent to 2.2 million tonnes carcase weight equivalent, relative to the revised 2022 estimate of 1.95mt.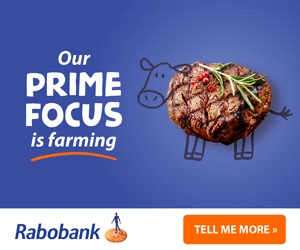 This forecast increase correlates with an expected 14pc increase in the cattle slaughter volume, but carcase weights are expected to decline slightly with an anticipated lower proportion of total slaughter from feedlot cattle but also a higher rate of female slaughter.
For 2023 FAS says there is an expectation that overall slaughter numbers will increase, but the proportion of feedlot cattle will decrease. This was despite numbers of feedlot cattle to continue to rise, as slaughter of grassfed animals is expected to increase even more.
Based on past trends the average carcase weight for Australian adult cattle slaughtered is expected to decline next year to 317kg, compared to 320kg in 2020.
"Typically, grassfed finished cattle on average have lower slaughter weights than Australian cattle finished in feedlots. There is not an absolute direct correlation, between the two but there is a strong influence," FAS said.
Other factors, such as droughts or strong pasture production years (which impact female slaughter numbers and the proportion of overall slaughter from feedlots), and the number of high carcase weight Wagyu animals generated from feedlots are influences over average carcase weight that warranted consideration, it said.
Export trade up 15pc
FAS forecasts Australian beef exports in 2023 to rise to 1.5 million tonnes carcase weight, up 200,000t from the slightly downward revised 2022 estimate. However, exports will still be far below the most recent pre-drought peak of 1.77mt in 2015.
The forecast increase of beef exports mainly related to the expected increase in beef production in 2023.
"In Australia there has been a general trend towards an increasing proportion of the national cattle slaughter being from feedlots. Once the drought ended and the onset of the herd rebuild commenced in 2020, the national slaughter declined substantially but the slaughter numbers from feedlots has only slightly declined, despite fierce competition for young cattle from restockers looking to grow-out grassfed beef cattle," FAS said.
Feedlots had managed to maintain high numbers and meet export demand for beef and supply somewhat lower domestic demand, in part by passing on the higher cost of beef.
For 2023, FAS expects that the herd rebuild phase, now at a more advanced stage, means there will be less competition for young cattle from restockers (who have generally paid a premium over feedlots during the national herd rebuild) resulting in more supply available for feedlots.
This is expected to enable feedlots to produce more grainfed cattle (which is preferred by the export markets, especially in North Asian markets) at more competitive prices, supporting the forecast increase in beef exports.
Domestic consumption
FAS forecasts an eight percent increase in domestic Australian beef consumption to 720,000t carcase weight in 2023, from the downward revised 2022 estimate of 667,000t.
This forecast increase is primarily related to the forecast rise in beef production.
"If realised, this would be the highest level of domestic beef consumption since 2018 when for many years consumption was substantially higher," FAS said.
With higher beef production expected in 2023, the competitiveness of beef compared to other meats is anticipated to improve, which will support higher consumption. However, the rising cost of living in Australia during 2022 is expected to flow through to 2023, impacting consumers' level of disposable income. This could have a dampening effect on beef purchases, hindering an even greater rise in forecast beef consumption," the service said.