CHINA could soon become Australia's single largest market for Wagyu beef, a trade seminar held on Friday was told.
While the nation's startling overall beef import growth in recent years has been heavily skewed towards cheaper, often frozen cuts, there were strong opportunities ahead to grow the quality chilled Wagyu trade out of Australia.
Imported beef market analyst Gerrard Liu from Meat International Group told Friday's webinar that in percentage terms, China's imported Wagyu growth had outstripped the already impressive overall imported beef trend, growing dramatically since 2017.
"Last year was a very strong growth period for imported Wagyu in the China market," he said.
Year-on-year trade saw a 71pc increase in volume of Wagyu beef imported between 2018 and 2019, which was significantly higher than the trend in overall imported beef up 56pc over the same period.
In volume terms, last year saw China's tonnage of imported Wagyu (all suppliers, not just Australia) reach about 20,800t, up from 12,100t in the 2018 year, and less than 8000t back in 2017. For the 2020 year to the end of May, volume has already reached 10,800t, up another 25pc on the same period last year.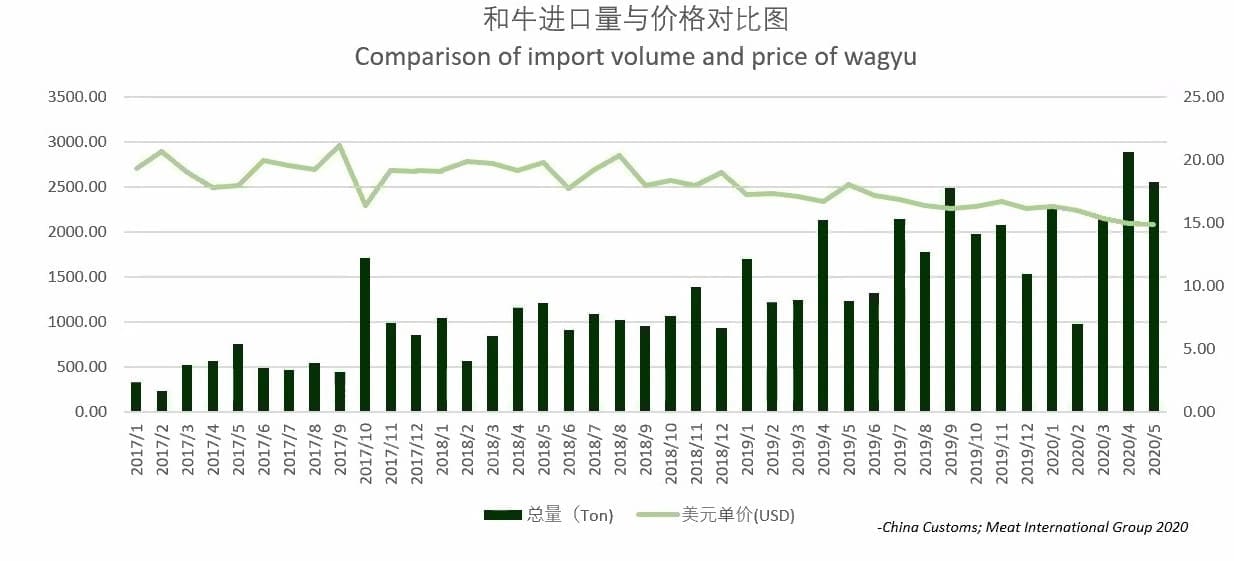 As this MIG graph shows, prices for imported Wagyu beef since 2017 were quite stable, before a gradual decline over the past two years. Prices this year had come under pressure due to a combination of COVID-19 and high stock levels.
As a general rule, prices tended to rise later in the year as importers built up stocks for Chinese New Year celebrations, followed by a second small peak during in the northern hemisphere spring, Mr Liu said.
MIG suggested current average price for imported Wagyu beef in China was around US$15/kg, but the choice of cuts entering the market plays a significant part in this.
Trimmings remains the dominant Wagyu item purchased by Chinese importers, used for traditional hot-pot cooking styles. Other popular items include point-end brisket, navel end brisket and chuck roll. Much less significant are more costly steak cuts.
Demand for higher quality steak cuts like cube roll and striploin had tended to be stable, Mr Liu said, while items like shin-shank and shortrib were continuing to grow. For Wagyu steak cuts, the most popular items were marbling scores 4-5, which compared more than favourably with USDA Prime Grade Angus beef from the US.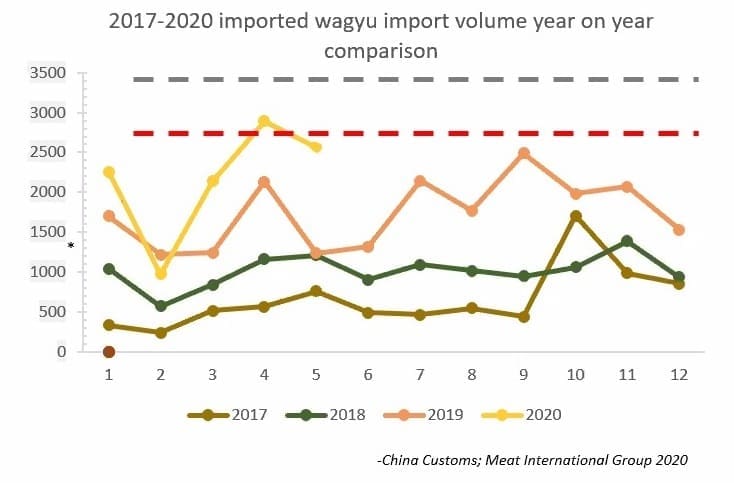 Australia continued to dominate overall supply of imported Wagyu beef into China.
Figures for shipments made in May this year, for example, showed that Australia had an 83pc market share in the imported Wagyu trade, followed by Uruguay with 7pc, New Zealand with 5pc and the US and 'others' with 2pc each. Quality perceptions about product from some other suppliers were not as good as Australia's Mr Liu said.
Recent small supplies of US-produced Wagyu beef had been well received in the market – especially as US exporters were happy to deal in single cuts, rather than fullsets.
"We see some opportunity for increased trade in US Wagyu beef, if the trade relationship between the US and China improves," he said.
"Over time, we think more and more entrants will service the China Wagyu market, because Chinese consumers have a growing appreciation of the qualities of Wagyu beef."
Chinese importers of Wagyu beef fell into two categories, Mr Liu said – trading companies, and import agents. The top three importers accounted for 20pc of China's overall Wagyu imports, with the top ten taking about 35pc.
While the buyer audience remained quite concentrated, in May this year there were still more than 430 total Chinese importers of Wagyu beef, suggesting some were very small in volume.
Restaurants accounted for more than 75pc of all China's Wagyu beef imports, by volume, divided between popular hotpot, barbecue-style and Japanese style restaurants. The smaller retail sales portion was divided between e-commerce sales, and supermarkets, Mr Liu said.
During the COVID period, just as in Australia, surveys showed Chinese consumers were keen to try new recipes and cooking styles, and were making unprecedented purchases of items like grilling appliances and electric hotpots online.
Strong Wagyu consumer perceptions
Several speakers in Friday's webinar highlighted Australian Wagyu's strong brand recognition in China.
MLA markets insights manager for the Greater China and southeast Asia region, Vivian Harris told the webinar that MLA consumer research in China indicated that there was already strong awareness of Wagyu beef, and its unique properties – especially among more affluent citizens.
More than one third of survey respondents associated Wagyu with the highest quality beef.
"These figures are actually quite high, when you consider the relatively small role that beef has played in China to this point," Ms Harris said. "It also underscores the passion that the Chinese have about learning about gourmet food."
The surveys also showed that the Chinese have a strong understanding that marbling is a key indicator of high quality beef. Eighty percent of more affluent Chinese citizens had had experience in consuming high-marbling score beef.
"But even if they had not tried it, most consumers knew that the product had a unique characteristic 'snowflake' marbling pattern, which has become a popular consumer cue for luxury beef products," Ms Harris said. "It is also distinctive in its tenderness, flavour, juiciness and other attributes."
When comparing all suppliers, surveys showed Chinese consumers believed that Australian beef had competitive strengths, on traits like consistency of high quality standards, eating quality superiority, healthiness, nutrition and safety.
As a result, Australian beef had built a strong emotional connection with Chinese consumers.
Premiumisation trend
Speaking more generally about grainfed exports, Ms Harris said while Japan and Korea had traditionally taken the majority of Australia's grainfed beef exports, market diversification had seen China become Australia's number two grainfed export market in 2019.
"While frozen grassfed still accounts for the majority of Australia's overall beef exports to China, grainfed – particularly chilled – is the fastest growing category," she said.
"This reflects the long term premiumisation trend in China, as the growing population of affluent consumers upgrade their levels of consumption, which is occurring across many categories.
Despite the COVID-19 impact, Australian exports of chilled grainfed to China this year were up 140pc, year-on-year, she said. Australia was also China's top imported grainfed beef supplier, with volume up 3pc for the year to May.
While chilled beef only accounted for 1.5pc of China's beef imports in 2019, forecasts suggested this would increase to 4pc by 2024, driven particularly by demand for higher quality, growth in airfreight, and the swing to e-commerce purchasing. Wagyu would be part of that trend.
"On the upside, the successful control of COVID in China and other key nearby markets including Taiwan, Japan and South Korea has seen demand for chilled beef begin to recover," Ms Harris said.
MLA's Greater China country manager Joe Zhu told the webinar that said China was a large and complex market, but even that description was 'overly simplistic' in describing what exporters had been faced with over the past 12 months.
Impacts including drought and bushfire in Australia, African Swine Fever in China and elsewhere, the trade war with the US, and this year, COVID-19 had all combined to influence supply and demand.
"The market is trying to make sense of so many moving parts of great magnitude, all at once," he said. "It is really unchartered waters for all of us."
While all major beef markets had faced some headwinds in the aftermath of COVID 19, China was still focussed on seeing positive growth in beef imports.
Mr Zhu said MLA's target market for Australian meat in China was citizens with income of US$35,000 per year or more.
"It is estimated that this group of consumers will double in the next four years, and this expanding consumer base is really e driving factor behind demand growth in imported beef, and especially items like Wagyu."
He also flagged the trend towards the gradual 'premiumisation' of Australian beef in the China market, a space where Australian Wagyu sat perfectly.
The massive pork supply gap that had been created in China since the onset of African Swine Fever would continue to impact global protein markets over the next few years – beef included, Mr Zhu said.
Last year, China overtook Japan, Korea and the US as Australia's largest beef export market by volume for the first time.
However trade during the second half of this year was likely to be slower. June volumes of Australian beef were already 30pc lower compared to the previous month, due to tighter supply in Australia, weaker food service demand in China due to COVID, and the impact of Australian plant suspensions. All had contributed to the current status.
MIG has also forecast that Wagyu imports will be lower in the second half of this year, due to the tariff rise on Australian beef and COVID-19's impact, especially on the restaurant sector, which is the largest user of imported Wagyu.
Other speakers also pointed to the impact of the recent rise in tariff on Australian beef imports to China under its Safeguard mechanism, which have lifted from 4.8pc to 12pc for the remainder of the 2020 year, as a potential limiting factor on Wagyu trade for the next six months.
Will China grow its own Wagyu industry?
During questiontime, webinar participants asked about prospects for growth in domestically-produced Wagyu beef in China.
MIG's Gerrard Liu said there were a number of Wagyu producers in China already, but the product being produced was challenged by inconsistency and quality issues. The advantage for Australia was consistently high marbling, and high quality, he said.
"But because there is obviously a strong market for high quality Wagyu beef in this market, local production may improve, and grow in volume," he said.
Webinar participants were also reminded that the Australian Wagyu industry's capacity and scale had been developed over 30 years.
"It takes significant time to grow to supply the volume that markets like China are now looking for. But while there's little doubt that China itself can produce high quality Wagyu beef, the ability to meet the demands of the market will be a challenging," a speaker said.
MLA's Joe Zhu said he during a recent visit to China's Hainan Island he had seen high quality Wagyu being produced – perhaps close to the quality standard seen in Japan's own Wagyu programs.
"That was very surprising to me," he said. "But it will be very difficult for China to develop a large Wagyu industry in today's environment. However given the demand, it's only natural that China will develop its own high-marbling beef production system at some future time."