THE first three months of Canada's beef sustainability pilot project has yielded encouraging results, proving the model works and demonstrating significant potential to scale the program to deliver a greater volume of certified sustainable beef to consumers.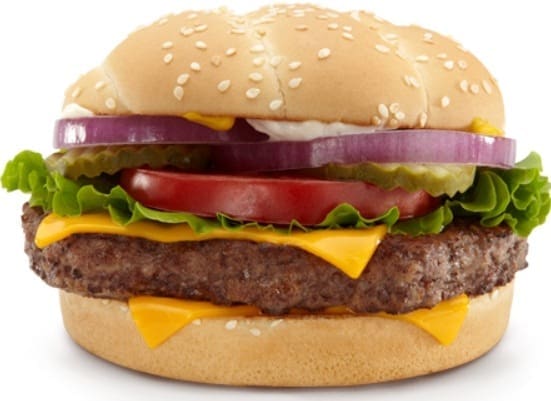 The pilot, being conducted by Cargill, is now encouraging more Canadian beef producers to participate in the program for the remainder of 2018.
The pilot was launched to test and validate the audit and traceability systems necessary to meet the requirements of the Certified Sustainable Beef Framework established by the Canadian Roundtable for Sustainable Beef.
This framework, the first of its kind in the world, is a voluntary program that enables cattle producers and beef processors to demonstrate the sustainability of their operations while at the same time supporting the retail and food service industry in their sustainable beef sourcing efforts.
Burger giant McDonald's, a member of the Global Roundtable for Sustainable Beef, in 2014 set and met a target to source some of its global beef requirements from certified sustainable programs within two years. Specific targets will be set for ten major supply countries, including Australia, Brazil, Canada, the US and New Zealand.
"Through these programs we are learning how to deliver meaningful impact through a more sustainable beef supply that is scalable, requires ongoing measurement of performance, assumes third party assurances/audits and delivers credibility and transparency," the company website says.
A statement from Cargill Canada said for contributions made during the first quarter of the country's recent sustainability pilot program, participating cattle producers were rewarded $10-per-head for qualifying cattle that could be tracked through audited sustainable operations from farm to fork.
"We're encouraged by the pilot's first quarter results. It proved that a significant volume of beef can be successfully traced through a certified supply chain for the participating customers," a Cargill beef sustainability program manager said. "By adding more producers to the pilot, we can supply more customers with Canadian beef from sustainable sources."
First quarter results create momentum
During the first three months, the pilot tested and developed methodology for tracking eligible cattle through audited live animal supply chains. It also tested the methodology for tracking supply chain sustainability certifications from the beef carcase to finished products.
"By coupling live cattle and beef product traceability, Cargill's Canadian customers can demonstrate the sustainability of their entire supply chain," the statement said.
Verified Beef Production Plus (VBP+), overseen by the Canadian Beef Cattle Research Council and operated with the assistance of provincial cattle organisations, is auditing cattle producers for sustainability during the pilot.
Cattle are tracked as they move through audited operations by the Beef Info-Exchange System's RFID tagging system, from the time producers tagged them through processing at Cargill's High River beef plant in Alberta. BIXS is acting as the clearing house for the Canadian Sustainability Acceleration Pilot and will disperse the first round of credit payments to cattle producers this week.
In the first quarter, customers paid for beef delivered from the audited sustainable supply chain, and those payments funded the $10-per-head credits producers received for their involvement and commitment to Canadian beef sustainability.
The pilot was able to successfully certify more than 250,000 kilograms of beef according to the CRSB Framework standards and supply chain guidelines.
The certified sustainable beef came from more than 70 Canadian cattle producers, with many contributing multiple qualifying animals. Credit payments-per-head would vary each quarter based on total number of qualifying animals, participants' beef demand and cattle weights, the Cargill statement said.
"We appreciate the enthusiasm we've seen and momentum that's been generated in the first few months of the pilot, and we are encouraged by the continued interest shown from additional cow/calf producers, feedlot operators and processing plants," the company spokesman said.
Cargill this month added a second independent auditing body to the program. The second firm, Where Food Comes From, was the sole verification partner for the 2014-2016 McDonald's Verified Sustainable Beef Pilot project, involving some 200 producers. The company is said to be eager to continue supporting Canada's beef sustainability efforts.
World's first verified sustainable beef plan
The Canadian Roundtable for Sustainable Beef in December rolled-out what it said was the world's first official list of procedures and standards for producing beef in a humane, environmentally friendly way. The launch followed two years of consultation and review.
Having a set of measurable procedures and standards for sustainable beef made Canada a global leader in the production of humane, environmentally friendly beef, according to Fawn Jackson, executive director of the Canadian Roundtable for Sustainable Beef.
Canada's Certified Sustainable Beef Framework closely reflects a framework developed for McDonald's 2014 sustainable beef pilot project.
Beef raised and processed under the framework will be eligible to use a logo that certifies it was produced according to an extensive list of guidelines dealing with issues such as how cattle are raised and treated, how the environment is protected, and what's being done in areas such as workplace safety and producing better quality beef.
"If we're going to put something on a package, we need to make sure that it means something on the ground and avoid duplicating efforts," Ms Jackson said. "We want to support consumers (who want) sustainably sourced beef and support the understanding of sustainable beef production in Canada."
The logo will signify that producers, backgrounders, lotfeeders and processors have adhered to a long list of standards — called indicators — based on the five principles of sustainable beef developed by the Global Roundtable for Sustainable Beef several years ago.
While detailed and extensive, the indicators reflect the best practices already followed by many cattle producers, Ms Jackson said. Two years of consultations and testing was aimed at ensuring the program does not bury ranchers under a mountain of paperwork.
The Canadian roundtable set up three committees — one reviewing indicators, another on verification, and a third dealing with marketing and communications — that had 70 members in all.
The verification group held four rounds of public consultation (attracting 250 responses) and the indicators committee reviewed pilots on 21 beef operations across the country. Along with fleshing-out the certification process, the roundtable also went beyond the scope of McDonald's pilot by detailing items such as requirements for choosing and certifying auditors, where records are kept, and the chain of custody requirements for both cattle and beef.
The standards are outcome based, which means it's not the process but measurable results that count. While some of the indicators — such as air quality or carbon capture — can't be precisely measured in practical terms, every one of the dozens of protocols will be given a score, ranging from 0 to 4. A score of 1 is the minimum standard and auditing will be conducted over a five-year cycle. The first year is a full audit, followed by a partial records assessment, and then three self-assessments.
The program would not require producers to "do a lot of new things", Ms Jackson said, saying she was confident they could meet the standard. Cattle will be tracked through the supply chain in order to be able to qualify under the program.
Each Canadian province will set its own fees. Alberta cow-calf producers will pay C$650 for the initial audit and the rest of the five-year cycle, while feedlot operators will pay C$850.
Stakeholders say it will be a while before packages of beef or menus will bear the certified sustainable beef logo.
"Right now, there's a mass balance approach. It's about the percent of product that comes from sustainable sources, not creating a differentiated product," said Emily Murray, a board member and general manager of Cargill's plant in Spruce Grove that makes McDonald's beef patties.
During its pilot, McDonald's could only say that a portion of the beef in a Big Mac came from cows raised and processed in a verified sustainable manner. That path will also be followed under the framework. Once it's up and running, a global certification process called ISEAL will be used to track how much beef is being produced under the roundtable's process.
A similar process is used by McDonald's to estimate how much recycled content is in a paper or cardboard packaging product.
Source: Includes content from a Cargill Canada statement