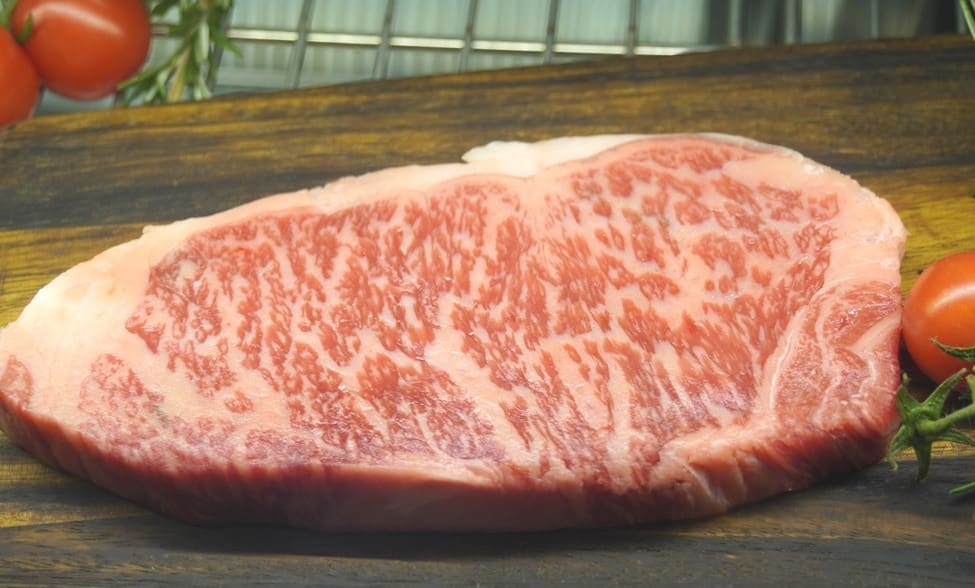 IMPROVEMENT in genetics in feeder cattle, and a recent feedlot expansion is allowing the red meat supply chain behind this year's Royal Queensland Food and Wine Show Branded Beef Competition grand champion entry to steadily expand its footprint.
Brisbane based Stockyard's super-exclusive Kiwami Fullblood Wagyu (competition entry pictured above) won its third straight Brisbane branded beef grand championship on Friday, competing against 49 other branded beef entries in five classes from across Australia.
Fed for 400 days-plus at Stockyard's Kerwee feedlot near Jondaryan on the Darling Downs, Kiwami is limited to marbling score 9+ carcases only, represents around the top five percent of production out of the yard. This year's winning entry earned an extremely high 96.8/100 points from judges to clinch the competition's top award.
While it would always remain an exclusive product, Kiwami was growing as a percentage of what Stockyard produces, the company's marketing general manager David Clark said.
"We've found there are huge opportunities in the global market for that marbling score 8 and up Wagyu, and especially the 9+ Kiwami product, into markets like the Middle East," Mr Clark said.
"Until a couple of years ago, we didn't have to confidence to try to expand the customer base for Kiwami, because we were struggling to supply existing customers with the available supply of scarce 9+ carcases.
But the combination of feedlot expansion (Kerwee has now almost doubled in capacity, out to 20,000 head – see earlier Beef Central story) and an increase in the numbers of Wagyu on feed over other breeds (currently around 9000 head), plus genetic improvement delivering greater predictability in performance, was seeing the number of Kiwami program-eligible carcases grow.
"That's given us the confidence to expand into Europe this year," Mr Clark said.
In addition to winning the Brisbane branded beef competition last year and the year before, Stockyard's Kiwami can now lay claim to being the most decorated premium beef brand in Australia, having also won the equivalent Melbourne and Sydney show branded beef awards last year. The product will line up for the southern competitions again in July/August this year, and Stockyard – now beginning to penetrate the EU market – plans to line-up for the World Steak Challenge in the UK in July.
The entries were judged by a team of 11 food industry stakeholders over two days last week.
Chief branded beef judge Elaine Millar said the balance and length of flavour in the championship winning entry were extraordinary.
A record 73 entries were received in the Branded Beef and Lamb Competition this year – an increase of more than 20 percent on last year.
In other beef awards, JBS Australia's won the hotly contested grainfed beef class, with its well-performed Riverina Angus brand – a minimum 75pc Black Angus program, typically fed around 150 days to achieve a minimum marbling score 2 spec.
Regarded as one of the largest grainfed Angus programs in Australia, Riverina Black is fed at JBS's southern feedlots, and processed at the Riverina feedlot near Yanco in NSW.
"It's a brand that we see constant demand for, both within Australia and in international markets including Japan, Korea, the Middle East and Southeast Asian – for both food service and retail applications," JBS brand manager Brad de Luca said.
A trend to emerge in the event's grainfed classes this year was the growing momentum seen in 'mid-fed' programs 150-200 days on feed, designed to deliver marbling performance a step above more 'generic' 100-day grainfed beef. Five of the top six entries in this year's grainfed class were built around mid-fed programs, targeting higher meat quality.
Also supporting this trend, JBS Australia topped Brisbane's open class this year with a sample of Tender Valley Black, a 100pc Angus program fed around 200 days with a minimum marbling requirement of score 3. The brand's domestic and export focus is the top end of the food service trade, into hotels and quality restaurants, in Sydney, Melbourne and Brisbane.
JBS described the Tender Valley Black program, which can be compared in quality terms with USDA Prime grade beef out of the US, as a growing niche within the company's spectrum of beef brands, being one step back from Wagyu.
Packed for many years as a fullset program to a single large customer in Japan, the gradual disappearance of fullset trade in export markets has seen Tender Valley Black re-established as a parts business, serving high-end domestic and international markets.  The globalisation of the beef market has had a lot to do with that trend, where different cuts have different perceived value in different markets.
Today, Tender Valley Black Angus has the distinction of being one of the few brand identities to carry through all the way to the retail shelf in markets like Japan, unlike many other brands which lose their identity alone the way under retailer brands.
First win for Kilcoy's Carrara
The Brisbane competition's second Wagyu class for more moderately marbled carcases score 6 or less was won by Queensland processor Kilcoy Global Foods, for the company's Carrara 640 Wagyu F1 and F2 product.
As reported in this earlier Beef Central article, Carrara 640 was one of a suite of new brands launched by Kilcoy exactly 12 months ago, including the company's first venture into Wagyu beef.
Cattle for the program are fed 400 days at Mort & Co's Grassdale feedlot and Edwards Livestock, Lilyvale feedlot Condamine, producing carcase weights 420-450kg. Carrara Wagyu has been exported into 19 countries across the world since its launch last year, with the largest proportion into Asia and the US.
This year's grassfed branded beef class was topped by a sample of Thomas Foods International's Angus Pure brand, 100pc grassfed no HGP brand using 0-4 four-tooth Angus cattle averaging around 250kg carcase weight, sourced out of South Australia and western Victoria. In the absence of the fire-damaged Murray Bridge plant, processing takes place at G&K O'Connor in Victoria.
The market for Angus Pure is equally split between food service and retail customers in Australia, as far north as Queensland.
Branded lamb winner from Tassie
Branded lamb competition this year was dominated by entries from Woodward Foods Australia, which claimed all three classes for light, medium and heavyweight restaurant lamb.
The company achieved the same feat in Brisbane two years ago, including the grand championship ribbon.
This year's grand champion, representing the company's HRW Tasmanian Lamb program, came from the restaurant class for lambs 24kg and heavier, a category which Woodward spokesman Dean Loudon said was attracting increasing restaurant customer inquiry.
Most of this product ends up in the upper end of the domestic hotel and restaurant trade, where larger cuts and primals are required.
"But equally, we are seeing a preference from more butchers who like that larger eye muscle on a lamb cutlet," Mr Loudon said. "More and more butchers are going from the traditional 20kg lamb to a 23-24kg lamb. Its an expanding part of our business."
This year's winning lambs came from Bowden Farms, in Tasmania's northwest, all grassfed and showing the benefit of continued good seasonal cross the island state. The lambs were custom-killed at the Cressy plant in the state's north.
Last year the Woodward Foods entry won the Sydney Show Dick Stone Memorial trophy, representing all livestock entries in the show.
Queensland raised lambs won a medal for the first time in the competition's 10 year history.
Karbullah Lamb at Goondiwindi claimed a bronze medal in the Restaurant Trade Lamb class for its saltbush-fed lamb.
The judges were impressed with their free-range, HGP-free, Old Man Saltbush grazed Merino entry.
Chief judge Elaine Millar said the grand champion lamb delivered delicate flavours and fine textures that worked harmoniously together.
Some of the 2019 award-winning beef and lamb will now feature on the menu at the Royal Queensland Steakhouse presented by JBS at the Royal Queensland Show (Ekka), being staged in August.
Tomorrow: New branded beef supply chains make solid first showing in Brisbane.
Award winners:
Grand champion branded beef of show – Stockyard Pty Ltd for its Stockyard Kiwami Wagyu
Champion MSA graded beef of show – JBS Australia, JBS Riverina Angus
Grainfed Beef Class:
Gold: JBS Australia, JBS Riverina Angus
Silver: Stockyard Pty Ltd, Stockyard Gold
Bronze: NH Foods Australia, Angus Reserve
Grassfed Beef Class
Gold: Thomas Foods International, Angus Pure
Silver: Coles, Coles Graze Porterhouse
Bronze: NH Foods Australia, Manning Valley Naturally Grassfed beef
Wagyu Class (Marbling Score 6 or less)
Gold: Kilcoy Global Foods, Carrara 640 Wagyu
Silver: Stockyard Pty Ltd, Stockyard Silver
Bronze: Jac Wagyu, Jac Wagyu Pure
Wagyu Class (Marble Score 7+)
Gold: Stockyard Pty Ltd, Stockyard Kiwami Wagyu
Silver: Mort & Co, The Phoenix
Bronze: Kilcoy Global Foods, Carrara 640 Wagyu
Open Class
Gold: JBS Australia, JBS Tender Valley Black Angus
Silver: JBS Australia, JBS Yardstick
Bronze: Woodward Foods Australia, Woodward Foods Australia Natural Beef
Lamb award winners:
Champion branded lamb of show – Woodward Foods Australia, HRW Tasmanian Lamb
Branded Lamb – 20kg or less class
Gold: Woodward Foods Australia, HRW Tasmanian Lamb
Silver: Midfield Group, Union Station
Bronze: Australian Wholesale Meats Qld, Sovereign lamb
Branded Lamb – 20-24kg
Gold: Woodward Foods Australia, Australian lamb
Silver: Coles, Coles Brand Lamb Rack
Bronze: Woodward Foods Australia HRW Tasmanian Lamb
Restaurant Trade Branded Lamb – More than 24kg
Gold: Woodward Foods Australia, HRW Tasmanian Lamb
Silver: Woodward Foods Australia, Australian lamb
Bronze: Karbullah Lamb, Karbullah Saltbush Fed Lamb.