A SAMPLE representing Queensland grainfed beef supply chain Stockyard's premium Wagyu beef brand Kiwami has been crowned 2018 Champion Meat at the Royal Melbourne Show's Fine Food Awards.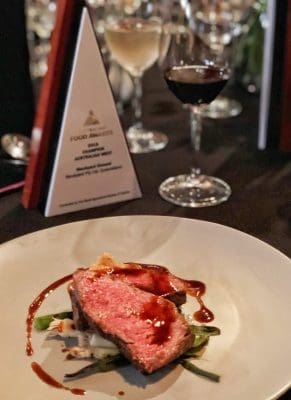 The Stockyard Wagyu entry took out the competition's ultimate award over the gold medallist and champion branded beef winner, a 200-day grainfed Angus entry from another Queensland supply chain, Mort & Co's Grandchester MSA brand.
The Melbourne awards recognise premium Australian food producers across major food categories, with separate red meat competitions for Wagyu, branded beef and value-added beef. Winners received prizes during a gala dinner held in the hall used to film the MasterChef TV program in Melbourne on Thursday evening.
Red meat entries were judged out of 100 points on raw and cooked appearance, tenderness, juiciness and flavour and overall liking.
Stockyard's Kiwami received a Gold medal in the Wagyu division before proceeding to claim Australian Champion Meat across all eligible meat categories. It was the product's second major branded beef competition success in four months, having been crowned grand champion branded beef at Brisbane's Show's annual competition in May.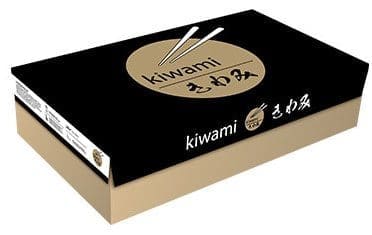 Kiwami – Japanese for 'Outstanding Excellence' – is Stockyard's premier beef brand, selected from Fullblood Japanese Wagyu cattle longfed at the company's Kerwee feedlot near Jondaryan on the Darling Downs, and processed at the John Dee export abattoir near Warwick in Queensland's southeast. All carcases for the program carry marbling scores 9-plus.
The product is directed into high-end restaurants and hotels across north and South Asia, North America and elsewhere.
Stockyard now has a strong claim as Australia's most awarded beef brand, after winning the same Melbourne award in 2017 and the previous five consecutive east coast branded beef competitions.
Executive chef at Melbourne's prestigious Atlantic restaurant, Nick Mahlook, served a magnificent three course dinner to awards guests, including a sample of Kiwami, "served in a simple dish, which allowed the beef to be the star and the flavours do the talking."
In the Melbourne competition's branded beef division (other than Wagyu), Mort & Co's Grandchester brand earned the only gold medal from judges in a large class of grain and grassfed entries. Grandchester recently won two gold medals and a silver in the World Steak Challenge held in London (see earlier story).
JBS Australia also featured prominently in results, with brands generated out of the company's northern supply chain. It earned silver medals for Beef City Black (100-day grainfed, and winner of the Melbourne branded beef crown in 2016) and Tender Valley Black Angus (200 days grainfed, predominantly used for export); and bronze medals for Riverina Angus and Thousand Guineas Shorthorn grainfed brands.
Results
Branded Wagyu:
Gold: Stockyard Kiwami, Stockyard Pty Ltd, QLD (best in class medal)
Silver: Jack's Creek F1 Wagyu, Jack's Creek, NSW; Niksan Wagyu, Beefcorp International, VIC; Stockyard Black, Stockyard, QLD.
Bronze: The Phoenix, Mort & Co Ltd, QLD.
Branded beef:
Gold medal and champion branded beef: Grandchester, Mort & Co, QLD
Silver: Beef City Black, JBS Australia, QLD; Southern Ranges MB2+, Australian Meat Group, VIC; Tender Valley Angus, JBS Australia, QLD
Bronze: Argyle Prestige Meats, Argyle Foods Group, NSW; Auskobe, Jack's Creek, NSW; AMG Premium Angus, Australian Meat Group, VIC; Gippsland Pure Beef, Ashburton Meats, VIC; Riverina Angus, JBS Australia, QLD; Thousand Guineas Shorthorn, JBS Australia, QLD; Union Station Premium Free Range Grassfed Beef, Midfield Meat International, VIC
Gourmet burgers:
Bronze: Ashburton Meats, Victoria; Peppercorn Extra Lean, Peppercorn Food Co, NSW
Sausages:
Silver: British Sausage Co Lincolnshire Sausages, British Sausage Ham & Bacon Co, WA; Euromaster Smallgoods Spanish Chorizo, Euromaster Smallgoods & Fine Foods, NSW; Peppercorn Butcher's Classic Chorizo Sausages, Peppercorn Food Co, NSW; Tasman mild Italian Pork Sausages, Tasman Butchers, VIC; Tasman Red Thai & Chilli Beef Sausages, Tasman Butchers.
Bronze: British Sausage Co Pork & Chunky Apple Sausages, British Sausage Ham & Bacon Co; British Sausage Co Pork Sausages; Mississippi Sausage, Barossa Fine Foods, SA; Peppercorn Butcher's Classic Chicken Sausages, Peppercorn Food Co; Pialligo Estate Smokehouse Saltbush Lamb, Rosemary, mint and Honey Sausages, Pialligo Estate, ACT; Pork & Fennel Sausage, Ashburton Meats, VIC; Signature Pork Sausages, La Villa Salumi, VIC; Tasman Honey & Rosemary Lamb Sausages, Tasman Butchers; Tasman Italian Pork Sausages with Hot Fennel sausages, Tasman Butchers; Tasman Pepper & Worcestershire Beef Sausages, Tasman Butchers.