RETAIL and food service operators across NSW and Queensland record a sharp spike in beef sales from early June each year, as Australia's two Rugby League-playing states line up for their annual State of Origin* battle.
Barbecues are fired-up, and pubs and clubs do a roaring trade as footie fans line up to barrack for the Maroons or the Blues.
Typical of the Brisbane hotel and restaurant dining scene around Origin time, Brisbane's Bracken Ridge Tavern, operated for the past 38 years by Michael and Jenny White and family, has been running a week-long 'Steak of Origin' event, featuring four cuts of beef from Droughtmaster cattle – a breed conceived and developed in Queensland.
Selected purebred Droughtmaster steers from a number of commercial breeders went through a 100-day grainfed program at Waterfall feedlot near Goomeri, before being processed in February for Droughtmaster Australia at the Nolan Meats plant near Gympie.
The product, including generously-portioned rib fillets, T-bones, sirloins and rumps, was aged for 12 weeks before the promotion kicked off a week ago in the tavern's popular Panama Jack's steakhouse. Similar cuts were harvested for a Droughtmaster breed function staged for an international audience at Beef 2018 in Rockhampton last month.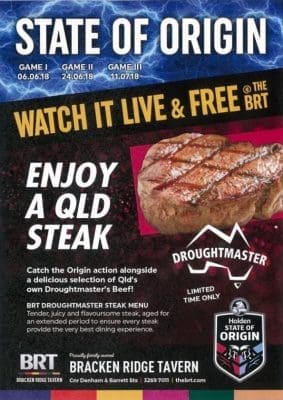 Diners at the tavern this past week saw table-talkers proclaiming the Droughtmaster breed's colourful history and seven wins from the past nine Rockhampton Beef Expos in the Australian Beef Cattle Championships.
"The promotion allows our diners to embrace the State of Origin spirit with a piece of true Queensland beef," tavern manager Rachel Woodock said.
"So far, it has been a really positive response from patrons. Our chef informed me last night of the orders – it's been a great success over the last ten days," she said. "Our patrons like to know that they are supporting Australian cattle farmers – not overseas bred beef."
* The annual State of Origin battle kicks off tonight at 7.30pm on Channel Nine.