REFLECTING the slow start to the 2016 cattle slaughter season, Australia's monthly beef exports for January reached only 58,304 tonnes, according to the Department of Agriculture's trade statistics issued yesterday afternoon.
The result was the lowest January export figure since the wet years of 2011-12, when flooding, road and port closures greatly hampered beef processing and exports in the first four weeks of the year.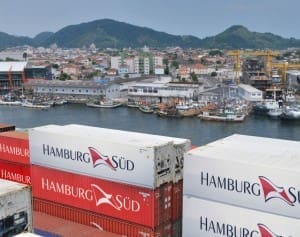 The January figure was about 9200 tonnes or 14 percent lower than January last year, when processors got back to work early after their Christmas break as drought pressures pushed large numbers of cattle forward.
January's export trade was also in stark contrast with December, when shipments hit 112,500t – almost doubt the volumes seen last month.
December's big number was distorted somewhat by heavy trade into the United States, as exporters took advantage of clearing the obstacle of tariff penalties attached to the US quota, by being able to ship against the new 2016 quota year, given the sea transport time involved. As a result December exports to the US spiked to almost 40,000t, 27,000t higher than November's figures.
That changed in January again, however, with total shipments to the US back to 16,840t. Prices also fell away sharply in the US for imported lean grinding beef during December/January, encouraging Australian exporters to seek markets elsewhere.
Japanese trade down, Korea rises
Australia's monthly shipments to Japan for January reached 11,650t, little more than half the volume sent in December, and down about 25 percent on January last year.
Lower processing throughput in Australia was a factor, and Japanese buyers are understood to be letting stocks run down a little while they see what happens with meat prices heading further into the new year. The January result appears to have little to do with demand issues at the Japanese consumer end.
In an interesting report issued by the US Department of Agriculture this week, the agency suggests that Australia's trade agreement with Japan signed last year presents a danger of the US losing beef exports to Japan.
In a report titled "Tariff Reforms and the Competitiveness of U.S. Beef in Japan" USDA noted that although Japan's ground meat markets are supplied overwhelmingly by Australian frozen beef and Japan's offal imports were an area of particular US strength, Australian and US beef cuts trade competed strongly in Japan's market.
The Japan-Australia Economic Partnership Agreement, which took effect at the beginning of 2015, provides tariff reductions for Australian beef that are phased-in over a 15-year period. In the current year ending March 31, tariffs of 31.5pc apply on Australian chilled beef, and 28.5pc for frozen. With no trade agreement in place, the US still pays the full 38.5pc tariff.
"Assuming that no other events intervene to influence trade, the scenario indicates that imports of Australian beef would rise by $100 million over baseline values, while imports of US beef would fall by about the same amount," the report said.
However, if Japan opened-up its beef market to the US as it did with Australia under JAEPA, USDA projected a $130 million net gain for US beef, about 8pc of current US beef exports to Japan.
Most other key export markets also reflected the overall tonnage decline in Australia's January beef exports.
Export trade to South Korea last month reached 9510 tonnes, well down from 17,000t in December, but considerably better than the 7474t exported in January last year.
Trade with China also suffered, with just 5137t shipped in January, compared with 13,200t in December, but considerably better (+24pc) than January last year, when the country was the middle of cleaning up its grey trade in illegally-imported beef.
With 11 Australian export plants now listed for chilled beef supply into China, there was some growth evident in chilled trade, reaching a little over 500 tonnes or 10 percent of all exports last month.
Other markets mixed
Australia's total export trade to the European Union last month reached 1328t, down 21pc from the previous month, but still 31pc higher than this time a year ago.
The Middle East region reflected the overall decline in export activity in January, dropping 35pc from December to around 2900t, but still representing around 94pc of total trade seen this time last year.
Indonesia took almost 4000t of Australian beef in January – a sharp rise from 1360t in December and 1870t in January last year.