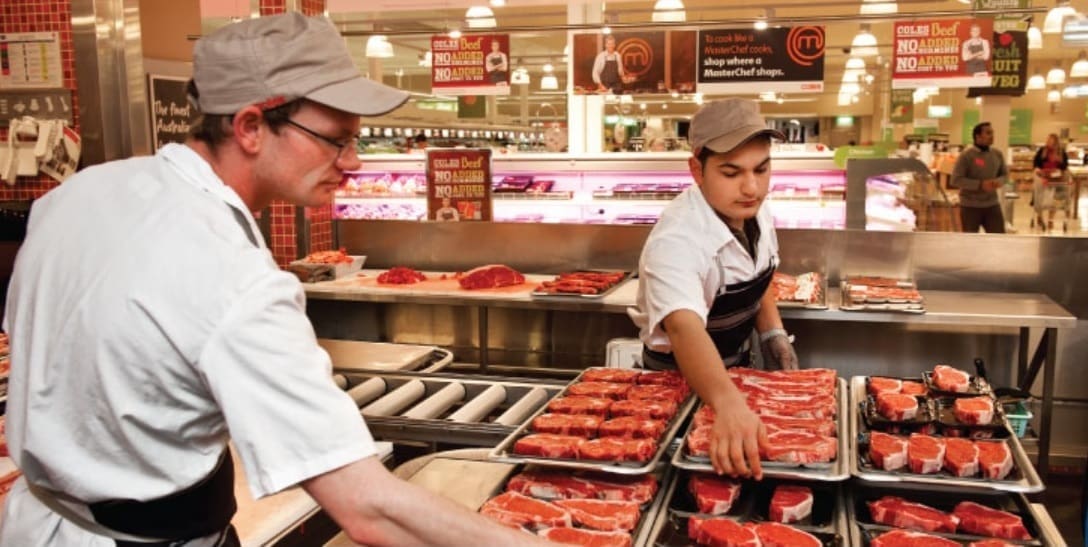 NATIONAL supermarket retailer Coles will close its in-store butchery operations on Sunday, moving mostly back to a self-serve only, pre-packaged meat model.
Coles flagged the prospect of closing its manned in-store butchery departments back in June, confirming the decision this week.
The concept of in-store butchery was designed to provide a greater level of personal service for customers who wanted it – more akin to the service provided by independent butchers.
"In June we let our meat team members know we were considering a proposal to align our meat operating models nationally in our stores, so that we can consistently deliver high quality retail-ready meat for our customers whenever they want to shop," a spokesperson told ABC radio.
More than 1500 trade-qualified butchers, apprentices, and meatworkers nationally would be made redundant or redeployed as a result of the change, Coles said. The AMIEU said some staff had been offered a significant reduction in hours through Coles' redeployment plan.
For the past 15 years, major retail supermarket operators including Coles, Woolworths and Aldi have relied overwhelmingly on centralised portion-cutting and retail-ready packaging for fresh meat products – produced at a large specialised facility and distributed out to retail sites for stacking in chilled cabinets. In terms of overall fresh meat sales volume, very little supermarket product is butchered and packaged in-store.
The concept of 'in-store butchery' has drifted in and out of favour at both Coles and Woolworths over the past decade. It has only ever been offered in a limited number of 'higher-end' or 'flagship' outlets, typically in metropolitan areas of higher disposable income. Reliable access to skilled labour has been blamed for previous closures of in-store butchery supermarket outlets.
An estimated 25 percent of Woolworths' 1000+ retail stores across Australia carried in-store butchery departments. Coles was said by one industry stakeholder to have 37 in-store serveries (butcher counters). Qualified butchers are being replaced  with unqualified staff, carrying out simpler tasks, Beef Central was told.
Some of the in store prep work that was being done by the butchers is now being outsourced, with simpler tasks like cutting steaks still performed in some stores, albeit not by butchers, just slicers.
"Even in the supermarkets housing manned butchery departments, the overwhelming majority of fresh meat sales is still pre-packed meat selected by the customers themselves out of chilled cabinets," he said. "Convenience and time is the big factor."
Coles' decision to close its butchery departments operated in a limited number of outlets would have negligible effect on the company's overall meat sales, he said.
Brisbane independent butcher Michael James said independent butchers would inevitably benefit from the Coles butchery closures.
"For those customers who like to deal directly with a butcher and get their order sliced and prepared on the spot, this move will only heighten the appeal of the independents," he said.
There is already a severe shortage of skilled and qualified butchers, apprentices and meatworkers across Australia, even as demand for butcher serviced and quality meat had soared during COVID.