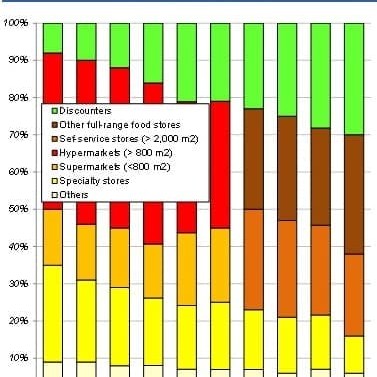 Will Australia embrace the 'hard discount' retail trend, which now has a large slice of the retail market for meat protein in European countries like Germany?
UK-based analyst Richard Brown made a reference to the success of Europe's 'hard discount' retail model while presenting on the global beef outlook during a recent industry briefing in Sydney.
He illustrated the trend using the graph published here, showing how 'hard discounters', illustrated in green, now account for 30 percent of all fresh meat retail sales in Germany. Germany is the birthplace of the hard-discount retail model, pioneered by the Aldi and LIDL business models.
"It has grown phenomenally quickly, and is now not far behind the share held by conventional full-range supermarkets," Mr Brown said.
The result was all the more impressive because Europe's 'hard discounters' only moved into the fresh meat segment around 2000, previously doing only grocery.
Mr Brown's definition of 'hard discount' was medium-sized stores with a limited product range – typically around 1000 lines per store. In comparison, Coles stores in Australia claim 40,000 product lines. Hard discounters tended to be located close to areas of high population density.
"It's a simple, very aggressively-priced offer to the consumer, and they have been very successful across the whole of Europe, and increasingly so in North America and now Australia," he said.
In Germany, the hard discounters' share of processed meats, as opposed to fresh, is even larger, being more than 50 percent on some product lines.
"This is rather important from a longer term retailing perspective, because these people sell things very cheaply – it's all about industrially/commercially packed products, at extremely low prices," Mr Brown said.
The hard discount's segment's success in Germany had had a huge impact on one of their favoured suppliers, German meat company, Tonnies, which now produces huge amounts of efficiently-produced case-ready meat for the likes of Aldi. The company's turnover has tripled, going from 1500 million Euros in 2003 to 4400 million Euros in 2010, as a direct result of the segment's growth.
Aldi, Costco growth in Australia
In Australia, the German-controlled Aldi chain now has 265 stores on the east coast and aims to open another 25 to 30 stores each year.
Another successful international hard-discounter, using a much larger store floorplan model, is US-based discount group, Costco, which recently committed a further $140 million to ramp up its growing operations in Australia.
It has earmarked the money for the opening of three more Australian warehouse-style stores, which will place further competitive pressure on Coles and Woolworths.
Costco last week announced plans to open a fourth Australian store at North Lakes, on Brisbane's northside, to open mid next year. The huge store will cover around 14,000sq m, and will provide 750 free carparks. Plans are afoot for at least three more in southeast Queensland after that.
Costco Wholesale Corporation, based in the US state of Washington, in 2010 sent $90 million in equity funding to Costco Wholesale Australia for its continuing start-up costs, including purchase of land and buildings, and has followed that with a second capital contribution of $10m.
The US supermarket group is known for its cavernous warehouse format and savage discounts on groceries, clothing and other merchandise. It currently operates three warehouse stores in Australia: it's first opened in Melbourne's Docklands in 2009; a second in Sydney's Auburn opened in July last year; and the third, next to Canberra's Airport. The company is now looking for a second store site in Melbourne, and Adelaide is also on the agenda.
Revenue from its three existing Australian outlets reached $245 million in the 12 months to August 2011. Costco shoppers pay an annual membership fee of up to $70 to shop at the warehouse outlet, which specialises in household goods and food in bulk, and whitegoods, furniture, alcohol and even luxury items such as diamonds. The group has more than 100,000 shopper-members in both Melbourne and Sydney.
Costco's rate of expansion in Australia has been tempered by its ability to find large parcels of land that can accommodate a warehouse of the required scale.
Compared to Aldi, which sells a limited range of home-brand products at budget prices, Costco sells mostly well-known and premium brands in bulk, at vastly reduced prices.
Costco Australia has beef supply agreements with JBS Beef City and Stanbroke Beef's Grantham abattoir in Southeast Queensland. All the supply is at least 100-days grainfed, MSA graded and minimum marbling score 2, putting it on-par with USDA mid-Choice grade, which it sells in its US outlets. The Kirkland brand name is used in both countries.