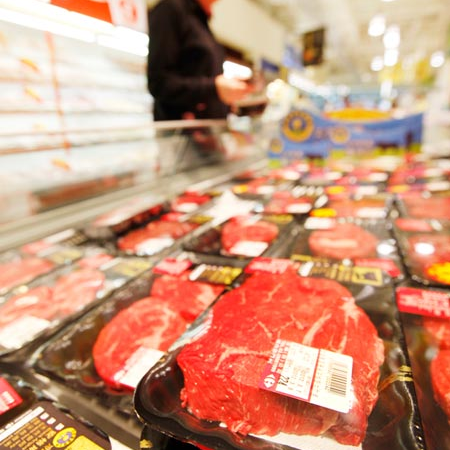 While the trend is only a month old, there's a slight rally evident in the retail beef market share for independent butchers in latest consumer data, at the expense of the major supermarket groups.
Butchers have steadily lost ground this year to both Coles and Woolworths, as the two majors have slugged-it-out in a retail price war delivering 83CL three-star mince at just $5/kg and sliced MSA rump as low as $13.50/kg.
Whether the latest independent butcher performance can be built-on, or indeed is even sustainable, remains to be seen, however.
Australian Meat Industry Council's national retail council chairman, Ray Kelso said there were a lot of factors in play in beef retailing at present.
While it was hard to define exactly what was driving trends, he said there was a 'definite sign' of a little more consumer confidence in the marketplace over the past few weeks. That was evidenced by trends like the momentum shift in the real estate market.
"Consumer confidence is showing signs of picking up, and that can only help the independent butcher," Mr Kelso said.
The latest monthly beef consumer survey conducted by Nielsen Homescan wound-up on September 7 – the same day as the Federal Election. While this came too early to detect any change in consumer mood, post-election, there has been an underlying belief in the retail trade that the extended pre-election phase this year has brought with it a lot of uncertainty, and applied a handbrake on consumer confidence.
The effects of the passing of the election will be better reflected, perhaps in the next monthly survey round, to be completed around the end of October.
Another indicator of a recent change in mood in the economy came this morning from National Australia Bank's Monthly Business Survey, which reported that business confidence rose again in September, to +12 from +4 a month earlier. That added further to the gains seen since July when confidence was sitting at -5.
Business confidence is now at its highest level seen in NAB's monitor since March, 2010.
"The Federal Election result appears to have boosted confidence, but lower borrowing rates, rising consumer sentiment and rising asset prices are also supporting confidence levels," NAB said.
Independents stem market share loss trend
According to latest retail beef purchasing data for the rolling quarter ended September 7 conducted by Nielsen Homescan*, independent butchers gained 0.3pc market share to reach 21.7pc of all national retail beef sales.
That's the first improvement seen in butchers' share since December last year. Since late last year butchers have been gradually losing ground to supermarkets, conceding an accumulated 3.2 pc to Coles and Woolies, which have both grown their share during 2013.
The latest Nielsen data to September 7 has Woolworths accounting for 32.2pc of national beef retail sales, a decline of 0.2pc on the same measurement a month earlier. Similarly, Coles has lost 0.3pc beef share between August and September, finishing last month with 25.0pc share.
Both the Coles and Woolies results need to be put in some context, however:
The previous month's Coles result (25.3pc) was its best in at least two years, and
Largest market player Woolworths' previous share (32.4pc) was a seven-month high.
Smaller retail groups generally did well in the latest survey.
The independently-owned IGA supermarket group lifted its retail beef share from 9.5pc to 10.1pc – easily its best result in the past year. The 'other' supermarkets category also improved a little, increasing by 0.2pc to 3.9pc, while the Aldi group recorded a correction, falling 0.5pc to 7.2pc, according to the Nielsen data.
It should be noted that the Nielsen assessment is based on rolling quarterly figures, not single monthly registrations, because they are regarded by analysts as being a more accurate reflection of longer-term trends.
Meat protein category grows strongly
In other information of value in the latest Nielsen survey, the overall fresh meat category (beef, chicken, lamb, pork, seafood) recorded strong value growth of +1.75pc compared to the same period last year. This was driven by increases in volume (+0.97pc) and price (+0.77pc).
Within the meat protein spectrum, beef's value share has decreased by 1.35pc over the most recent quarter compared to the same period a year ago. While that decline trend was slightly stronger when measured over the most recent four-weekly period (-1.44pc), the decline over the longer Moving Annual Total (most recent 12 months) period has been relatively less, at -0.87pc.
Among competing proteins, value share of lamb has decreased slightly over the most recent quarter (-0.13pc), while chicken (+1.0pc), pork (+0.26pc) and seafood (+0.14pc) have experienced increases in their value share over the latest quarter compared to last year.
These changes in value share were reflected, also, in price changes. Chicken (+43c/kg), pork (+34c/kg) and seafood (+97c/kg) have all experienced increasing prices compared with a year ago, while the prices of beef (-32c/kg) and lamb (-29c/kg) have decreased.
The decline in beef is undoubtedly reflecting the huge rise in kills seen in 2013, due to widespread drought, which is pressuring supply-side arrangements.
It's important to note, however, that the prices reported by Nielsen are measured as the average $/kg value of the items in the surveyed consumer shopping baskets. It does not attempt to represent the overall average value of beef and other proteins being sold in the retail marketplace.
Under these terms, beef recorded an average price of $9.60/kg for the September rolling quarter (32c/kg below this time last year; chicken $7.95/kg (44c/kg higher); lamb $11.17 (-29c/kg); and pork $10.26/kg (+34c/kg on the previous year).
Large metropolitan butchers this morning told Beef Central that while MSA rumps had held up better in price, large export rumps were particularly cheap in the market recently, supposedly due to cancellation of orders out of Japan.
Knuckles and topsides remained very difficult to procure, while good MSA grassfed cube rolls were still very cheap, wholesaling at down around $13.50-$14/kg. Normally cubes like that were heading towards $18-$20/kg wholesale by now, but had remained cheaper so far this spring, despite the onset of early 'barbecue weather.'
"Obviously there's still a lot of beef out there," one butcher contact said.
* What is Nielsen Homescan?
A consumer panel of 10,000 households
Demographically and geographically representative of all Australian households
Electronically record their household purchases of all grocery foods (fresh and packaged)
How are panel participants recruited?
Households are recruited on-line via a random sampling method
The Homescan panel is stratified by life stage, region and household size
Households are screened to assess suitability and to ensure they do not work in marketing, market research or FMCG.