WHILE retail beef prices across Australia declined marginally last quarter compared to the previous March quarter, they have risen 14.6pc over the past 12 months, a new consumer research report shows.
An Australian Food and Grocery price Index developed by popular consumer grocery comparison app Frugl found that beef showed the largest year-on-year increase of all 14 product categories measured in the report, ahead of fruit and vegetables (+12.97pc y-o-y), household cleaning (up 13.67pc) and pantry items (up 13,17pc).
Against this longer-term trend, beef prices actually fell by 1.58pc in the June quarter, versus the previous March quarter. Dairy & eggs, and pantry items also recorded small declines in price, quarter-on-quarter (see graph)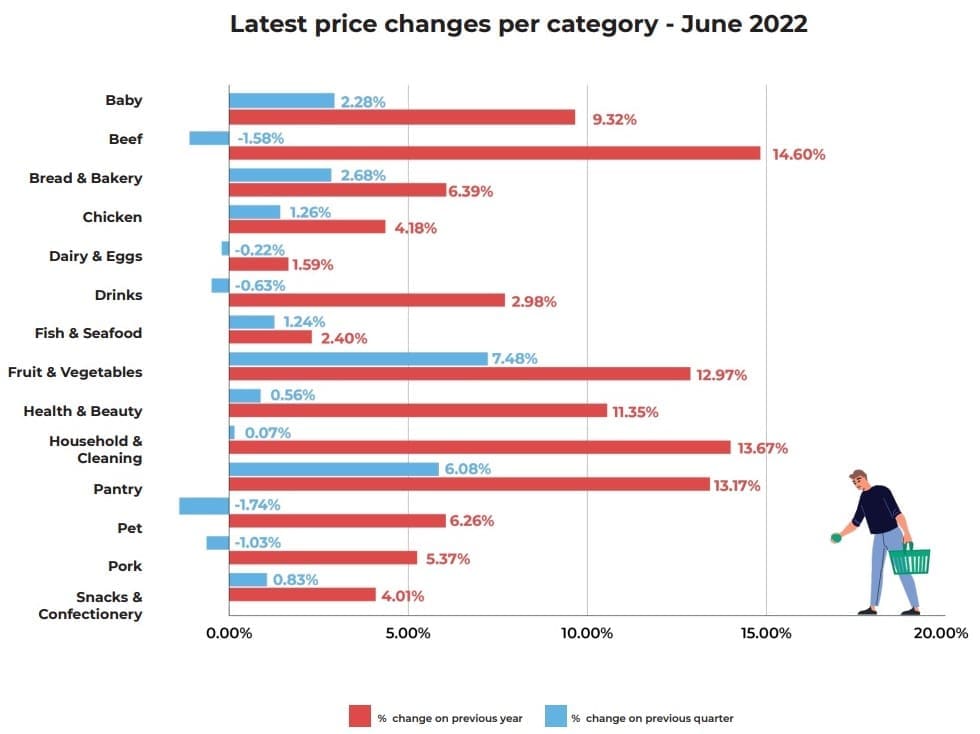 In comparison with beef, retail chicken prices have risen 4.18pc over the past 12 months, and 1.26pc in the last quarter compared with March. The notable exception in chicken price increases has been bulk packs of chicken thighs, proving an attractive option for increasingly budget conscious consumers.
Like beef, pork retail prices declined a little last month (down 1.03pc on the March quarter) but have risen 5.37pc over the past 12 months.
Despite the demand-driven seasonal price increases around the Christmas period, fish & seafood have largely remained unaffected by this year's adverse weather events that have hampered fruit & vegetable and meat protein categories. However ongoing increased fuel prices have impacted Fish & Seafood production leading to price increase in the June quarter of 1.24pc.
Across all 14 major food and grocery segments covered in the survey, prices rose 1.05pc last quarter, and 6.75pc for the year to June 30.
Food and grocery prices in the Northern Territory showed the sharpest rise last quarter, followed by Western Australia, Queensland and South Australia.
Released quarterly ahead of the Consumer Price Index (CPI) results, Frugl's Grocery Price Index tracks grocery price changes at the overall, topline level while also revealing inflationary trends for a range of shopper types, regions and grocery categories.
Recent surges in interest rates and inflation have had many Australians assessing how relevant the official Consumer Price Index (CPI) is to their own changing economic standing and households, the report suggested.
"When climate-change driven disasters, global pandemics, and wars on the other side of the world are driving up the prices of fuel, energy and food, many Australians now question how these externally driven factors and their impacts on the cost of living can be attributed to their own personal spending propensity and capacity," it said.
Frugl managing director Sean Smith said the index was created to provide a more accurate, timely and relevant measure of grocery price inflation so Australian households could make more informed decisions.
"By its own admission, there are limitations to the ABS calculated CPI as an indicator of shifting costs of living, as it does not analyse different spending patterns and underlying inflation measures like weather events," he said.
"The Frugl Grocery Price Index is a separate index which now aims to take a more focused look at what is really happening to households at a grocery level, as an additional indicator of the real cost of living changes, without the noise of additional categories, nor the omission of extreme but relevant pricing changes."
"Prices are still historically high compared to this time last year, and suppliers are forewarning that they will be increasing their prices so retailers will have no choice but to pass these onto consumers later in the year," Mr Smith said.
Among the five sub-groups covered in the survey, the greatest quarterly price increase was experienced by Single Professionals (+5.59pc), followed by New Parents (3.29pc), both also experiencing the highest annual price increases as well.
Continued major weather events, in particular repeated flooding, have hampered supply and price recovery in some segments, particularly fresh fruit & vegetables.
High international commodity prices on fuel, energy and packaging materials have yet to show signs of easing, adding continued pressure to local pricing, the report found.
What is the Frugl Grocery Price Index?
The Frugl GPI is a series of statistics that measure price changes over time on a selection of everyday grocery items. Released quarterly, the Frugl GPI reports on grocery price changes at the overall, topline level, while also revealing inflationary trends for a range of shopper types (personas) and grocery categories.