AFTER a lengthy period where national supermarket groups largely avoided red meat items among their weekly discounted 'specials' due to high wholesale beef prices, the 'half price' and 'down, down' stickers are again starting to appear.
Both Coles and Woolworths regularly jam millions of shopper catalogues into householder letterboxes across Australia each week. They represent some of the biggest regular batch printing jobs in the country. Last week's editions from both companies featured red meat prominently on their front pages.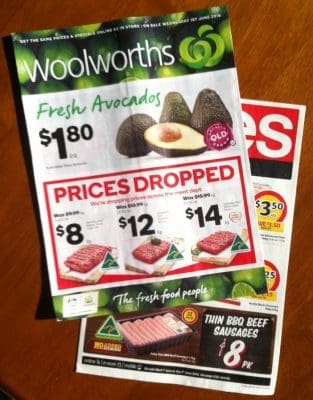 Woolworths latest discounted meat offers are also being promoted heavily via television advertising in metropolitan centres.
The re-appearance of beef in 'specials' follows a general decline in beef wholesale prices this year, which has again made red meat a more attractive retail consumer marketing target.
Although the trend varies a little from cut to cut, the wholesale market generally today is 10-15 percent lower in value than what it was late last year, when live cattle prices hit their zenith, and international beef demand was stronger. Some of the 'prettier' categories – like MSA and better, lighter yearling meat – have suffered less than others, and perhaps have not declined much on last year's wholesale rates.
At the other end of the spectrum, however, wholesale trim prices have taken a hiding, and partly explains current emphasis on domestic retail mince and sausage specials.
"We're dropping prices across the meat department," Woolworths proclaimed this week.
Woolworths last Thursday ran full-page ads in metropolitan newspapers featuring its 'Market Value' (budget) porterhouse steak at $10 off, retailing for $18/kg. Right next to the 'budget' beef offer, however, was skin-off chicken thighs at $8/kg, a 20pc discount.
Beef Central understands that both major retailers are currently buying PR cipher sirloins (six teeth grassfed steer) out of the wholesale trade, used primarily for their 'budget' or 'market value' offers, at around $14/kg.
In promotions launched today, Woolworths has MSA porterhouse (not budget meat) at $28/kg, a $6/kg saving. Coles today has blade roasts at$11/kg, down from $14/kg last week, and MSA T-bone steak at $21/kg, a saving of $4/kg.
$8/kg the new battleground for protein
A theory is emerging that '$8/kg' is the new price-point battleground chosen by supermarkets, to appeal to increasingly price-conscious shoppers aiming to feed a family of four to a budget.
Both Coles and Woolworths recently lowered the price of their 'grab and go' hot roast chickens to $8, from $11 previously. Whole frozen chickens are just $4/kg this week. For a size 20 bird, the price, again, equals $8.
The same price appears widely in red meat offers presently. Both retailers now have their 'regular' mince (in Coles' case, Three Star, or 85CL, while Woolworths does not offer a fat content on its mince range) at $8/kg, down from $10.
While that is still some way above the ridiculously low 'loss-leaders' of $5/kg seen during the depths of the supermarket price wars seen three years ago – well below the cost of production, when transport, packaging and production were taken into account – it still leaves little 'meat on the bone' in terms of retailer margin.
The current 90CL trim value for export to the US is just short of A$6/kg, CIF. That leaves just $2 to grind, form, package, chill, distribute and stock the mince on-shelf.
"But gone are the days of $5/kg or $6/kg mince, retailed at a whacking loss to win customers," a trade source told Beef Central yesterday.
"There's no margin in it much, at $8, but it's probably not a loss leader, either. It's more about volume, and attracting people into stores," he said.
"In some shoppers' minds, all they see is the '$8' figure. They know they can feed their family of four, with some rissoles, bolognaise or a chili con carne, for little money. It's clever marketing on the retailers' behalf."
Classic retailer strategy suggests that the four absolute staples that drive consumers into stores are milk, bread, sausages and mince. Some say bananas, believe it or not, are becoming the fifth 'staple.'  Both sausages and mince feature prominently in latest discount offers, with Coles currently offering half-price thin beef sausages (bulk pack weighing 1.7kg) at just $4.71/kg.
Where current wholesale prices for beef go remains uncertain, but there's now clear evidence that processors up and down the eastern seaboard are struggling to fill their kills from week to week. July and August are going to be very difficult for processors, and that's inevitably going to impact on wholesale prices, going forward. More on that in today's weekly kill report.