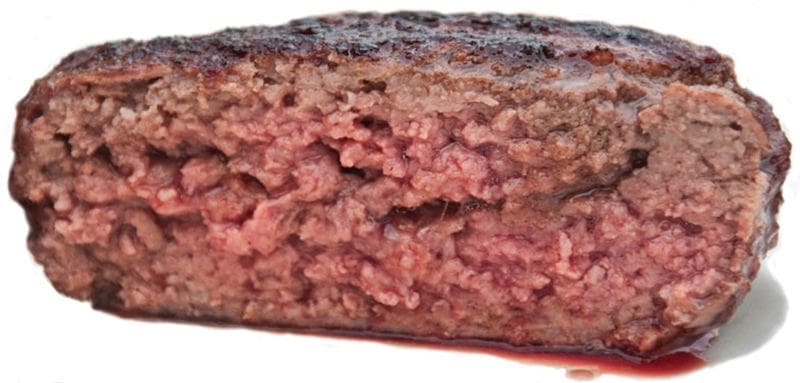 WOULD the typical Australian eat a hamburger beef pattie as rare as this one?
The simple answer is, probably not – but nevertheless there is a clear trend emerging in the food service restaurant sector towards serving beef patties pink, or even red inside.
There's been a long-held tradition in the US towards serving rare beef patties off the barbecue, but equally, the US records far higher episodes of food safety breakdowns caused by e.coli and related sickness caused by the practise.
It's one of the primary reasons why there are dozens, if not hundreds of food safety-related beef recalls in the US beef industry each year, some involving tonnes of product, due to e.coli contamination found in samples.
Evidence suggests such contamination is far less likely in Australian beef due to our processing hygiene standards, but that in itself is no cause for complacency.
The national Food Safety Information Council places minced beef products like patties and sausages, and other 're-constructed' red meat items like rolled roasts into a higher-risk category.
All require cooking to 75 degrees Celsius, at the core, the council recommends.
"The degree of pinkness in a pattie can be hard to judge," the council's Lydia Buchtmann says. "That's why we really recommend that consumers use food thermometers, which are now cheap and easily accessible."
Foodie trend being blamed
The relentless 'foodie' movement being seen across Australia, with its quest for new and innovative methods of food preparation, is probably to blame for the rare burger trend, Beef Central's inquiries into the topic found.
Higher-end burger restaurants have been identified as Australia's ground zero in the current trend towards 'degree of doneness' in burger patties, Meat & Livestock Australia suggested.
Some of the nation's best known celebrity chefs, and up-market value-added pattie manufacturers have recently endorsed cooking patties to medium rare.
Last year, the NSW Food Authority threatened chefs with $1540 fines for not cooking hamburgers thoroughly. Earlier, the authority's inspectors expressed concerns over undercooked patties found in food service outlets, leading to new state guidelines that any mince should be cooked until there is no visible pinkness.
"When minced patties are not cooked properly they can cause food poisoning. While pink patties are a recent food trend, contracting E. coli is a real risk," the authority said.
The revised guidelines followed a rise in support for rare gourmet burgers from some of Australia's best known chefs, including Rockpool's Neil Perry, and former two-hat chef Warren Turnbull whose respective Burger Project and Chur Burger chains serve patties cooked to medium.
Prominent Australian actor, Les Hill now has a business called Hillburger, producing a line of premium burgers for food service use. His suggestion:  "It should cooked medium rare — anything else, you lose the taste."
After the NSW authority published its burger safety fact sheet last year, burger fans attacked the food safety authority, describing it as another example of the "nanny state stealing our life-choices."
Neil Perry apparently successfully argued his restaurant's case, claiming the fact that his beef was 'freshly ground' daily on-site removed much of the e.coli contamination risk. While that may be true, the overwhelming majority of ground beef used in food service and retail/home use application in Australia is not ground to order.
One concern is that as is commonly seen, trends in the food sector often quickly filter down into retail and home consumption.
"We're worried that if a consumer tries a rare beef pattie in a trendy restaurant or burger bar somewhere, next they want to try it at home," the Food Safety Information Council's Lydia Buchtmann said. "It greatly extends the risk."
Ms Buchtmann said the council had seen recent references to rare beef patties from food writers, and had also fielded inquiries about safety of rare patties from consumers after sampling them during visits overseas.
"People are influenced by what they see and eat during visits to the US, for example, where rare patties are more common," she said.
"They also see recipes and articles online, and want to try new things. It enlarges the risk of food safety being compromised. It's easy for them to assume that it's OK for them to cook like this at home."
Ms Buchtmann said while food poisoning could come from a wide variety of sources (undercooked egg and chicken were primary culprits), consumers should always assume that red meat patties and chicken were contaminated, and needed to be cooked to a core temperature of 75C.
"With whole muscle meat, like a steak or roast, cooking the outside to that temperature is fine, killing bacteria on the surface. But once it's minced, it's a different thing – potentially introducing that surface bacteria all the way through the product," she said.