QUEENSLAND producers have impressed the judges of the 2019 Sydney Royal Fine Food Show, taking two of the three branded beef classes contested and the grand champion beef exhibit trophy.
Run by the Royal Agricultural Society of NSW, the Fine Food Show celebrates Australia's best producers, with Darling Downs based Mort & Co taking out top honours, earning champion beef, branded meat grand champion and the Dick Stone Perpetual Trophy for the company's Phoenix F1-F4 Wagyu product.
In total, three gold medals, six silver and thirteen bronze medals were awarded to entries this year.
Branded Meat Judge George Ujvary said Mort's Phoenix F1-F4 Wagyu exhibit was a truly exceptional piece of beef.
"While its visual appearance in the raw state was of the highest standard, it was in the tasting that it truly stood out from its competition, having all the eating qualities inherent in Wagyu products," he said.
"The beef was exceptionally tender and juicy, with its unparalleled flavour making it stand out from other competitors."
Mort's other competition entries also performed strongly, with its Master Selection Purebred Wagyu brand placed second in the same class as the eventual champion, and earning a silver medal. The company's Grandchester Black Angus claimed a bronze medal.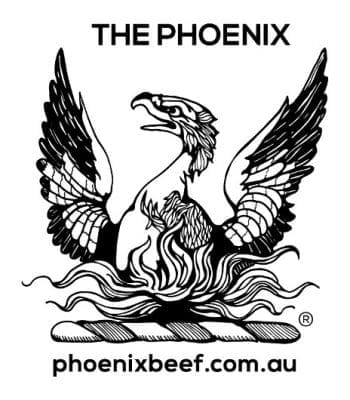 The Phoenix brand is supplied by certified F1 to F4 Wagyu with cattle sourced from some of Australia's finest herds, before spending at least 365 days on a Japanese style grain-based ration at the world-class Mort & Co Grassdale feedlot. The Phoenix Wagyu are placed on a customised feeding regime to optimise marbling and flavour.
Described by judges as delivering a rich, soft and delicate Wagyu taste, The Phoenix is MSA graded, no HGP and halal accredited. Currently, the brand is available in Australia while also being exported across the world to countries including China, Korea, Singapore, Taiwan and the UAE.
Mort & Co general manager of meat & livestock, Scott McDouall paid tribute to the team involved in producing the product.
"This win is an absolute credit to our entire supply chain. From our dedicated Wagyu producers who tirelessly chase genetic perfection, our livestock team who work so proactively with these leading producers and our feedlot teams who manage the health, welfare & nutrition of the animals, it's a tremendous team effort. It's also great recognition for our meat team who have worked so hard with our processing partner, John Dee at Warwick, to ensure that the specification, quality and presentation of this brand is nothing short of faultless."
"We've had an outstanding year across all the Australian branded beef competitions this year, and the Sydney result caps it off," Mr McDouall said.
"Branded beef competitions like this present a wonderful way to benchmark our premium brands against the best. Our international distribution partners who help us take our premium beef to the world love the fact we consistently medal at these events, especially since the product we put forward is identical to what they are buying from us. It also acknowledges that the rigorous specification and standards that we follow, allow us to deliver exceptional beef to them on a continuous basis."
Other class winners
In other classes at Sydney Fine Food Awards, the open class winner with a competition high score of 93.5 points was a Carrara 640 Wagyu entry from Kilcoy Global Foods in southern Queensland. Second in the open class, also earning a gold medal, was Stockyard Beef's Kiwami Wagyu brand.
In the competition's grassfed class, NH Foods' consistent performer Manning Valley Naturally brand, produced out of the company's Wingham plant north of Sydney, was placed first, with the same company's Nature's Fresh brand produced out of the Oakey beef Exports plant in Queensland runner-up.
Over the past month, more than 1800 Fine Food entries across nine categories were judged by some of the finest palates in the country, supporting excellence within the industry by providing invaluable feedback to exhibitors and awarding quality producers.
Sydney Royal Fine Food Committee Chair, Lachlan Bowtell said consumers should be proud of the outstanding products made available right here in Australia.
"A Sydney Royal medal is a symbol of excellence and those awarded here today can be proud that their products are of the highest standard in Australia," Mr Bowtell said.
"We have some of the best produce in the world, and through competitions, like Sydney Royal, we can continue to uphold these standards and keep evolving.
This year's show again demonstrated that despite the current adversities that farmers are facing, local producers continue to persevere and deliver outstanding quality time and time again, he said.
Australian's should be proud of their local producers and the standards they adhere to."
Results
Click here for full Sydney Show branded beef results (go to page 20 for beef)