Private equity firm Equity Partners has taken a 53 percent stake in Victoria's largest independent meat retailer, Tasman Market Fresh Meats.
In a considerable sign of confidence in the wholesale/retail meat marketplace in a segment increasingly dominated by supermarket groups Woolworths and Coles, the injection of capital from Equity Partners will see Tasman Market Fresh Meats expand its current footprint of large-format, stand-alone retail stores from its current stable of about 15 outlets across Victoria to 30.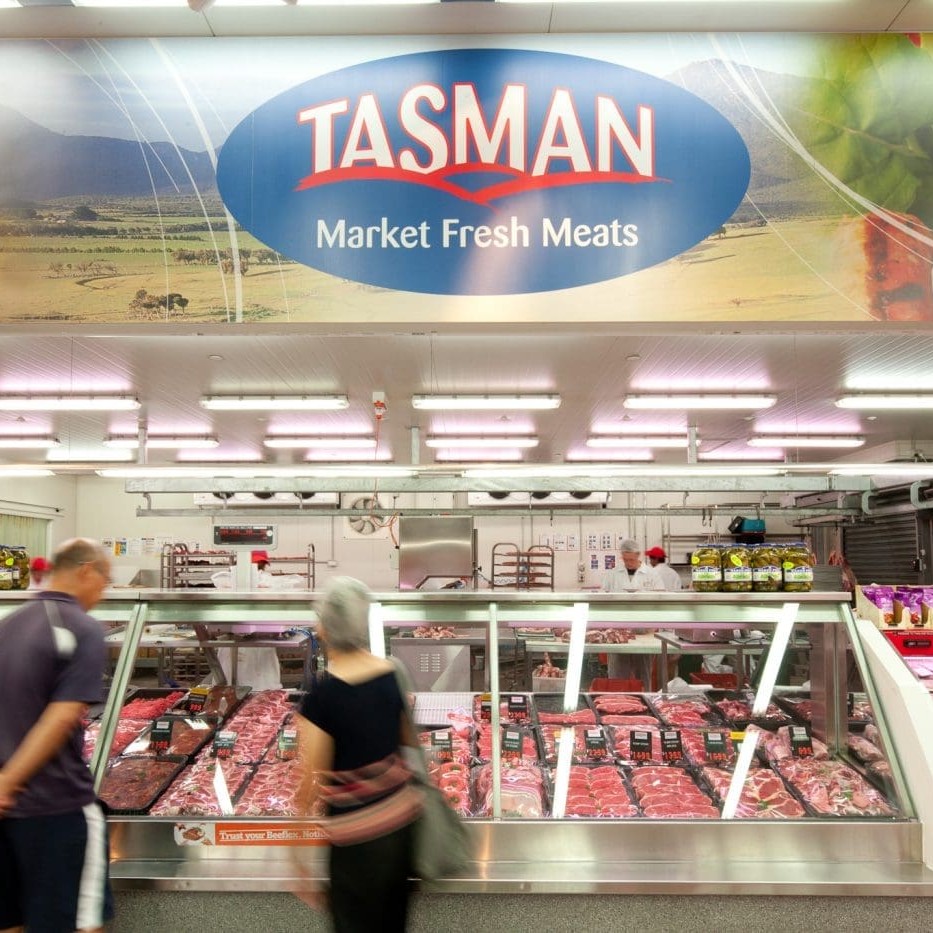 Tasman Market Fresh Meats has grown to become Victoria's largest independent meat retailer with stores in strategic locations in Melbourne and other regional city locations, employing 420 people and generating annual revenue above $110 million.
Beef Central wrote extensively about the Tasman Group retail operations in this article "Big Victorian retailer in mood for expansion," published in June last year.
The privately-owned business, valued at around $50 million, last year appointed food and agribusiness investment bank Kidder Williams to assist in sourcing a 'strategic, cornerstone investor' to fund further expansion.
Latest Nielsen Homescan retail data shows that Woolworths accounts for about 35pc of all domestic retail meat sales, with Coles on 25pc and all independent retailers (including Tasman) on 21pc.
Tasman Market sees opportunity to win back market share from the major supermarkets using its "big box" format stores, it says.
"It's still a highly fragmented market," Equity Partners' partner, Rajeev Dhawan, told the Australian Financial Review yesterday.
"We think there's real room for a category killer in the sense of bigger stores and more variety for the customer," he said. "Coles and Woolworths typically have 200 SKUs (stock keeping units) – we have 450 SKUs."
The Tasman Market Fresh Meats model relies on an 'OfficeWorks' style approach to red meat retailing, using large-format, stand-alone stores in strategic population growth corridor locations, offering an extremely wide range of quality meat protein items, in addition to selected, complementary deli and grocery lines.
Where a traditional 'High-Street' butcher shop is often around 100sq m in size, the Tasman outlets are often up to ten times that footprint. The fit-out is reasonably capital intensive, being a long way from the 'cement and stainless steel' large-scale 'warehouse retailing' model pioneered in Queensland.
Each facility stocks a wide range of beef, lamb, pork, poultry, frozen seafood as well as delicatessen products, sauces and savoury snacks.
Meat is prepared and packaged on-site, enabling the chain to achieve higher yields from carcases.
Tasman's chief executive, Peter Scott told the AFR that the chain's low-cost operating model and its strategy of undercutting competitors by about 30pc on bulk packs had created a stir in the retail meat market.
Tasman's meat supermarket approach has developed progressively over the past seven years.
"It started when we wrote a new business plan and had a look at the industry at a retail level, concluding that it wasn't keeping pace with customer trends," Mr Scott told Beef Central.
"We put those conclusions into the proposition we have ended up with today," he said.
"It's about quality, range and value: a typical Tasman Market Fresh store will stock anything up to 800 different items. We think they are probably the highest retail sales turnover per square metre shops for meat anywhere in Australia."
In the beef offer, that includes both whole cryovaced primals and conventional sliced meat items in various forms. Value-adding for convenience and variety is also a big part of the business model.
The company last year opened stores at Shepparton and Pakenham in regional Victoria, and Mt Waverley in Melbourne's suburbs, as part of 12 new stores commissioned over the previous four years.
"We already have a very profitable and robust operating model in terms of a retail proposition, but to continue our strategy of new store rollouts and to penetrate new markets, we need capital beyond our own resources," Mr Scott told Beef Central.
"We see the opportunity to double our business in the Victorian market alone, in the medium-term."
Tasman Market Fresh Meats was a sister company to the Tasman processing business sold in 2008 to JBS Australia, although the businesses always operated as separate entities.
The company has supply alignments by species with different processors. It tends to label product under its own brands, rather than stocking proprietary beef brands from other companies. These products are sourced under a "tightly-specified quality criteria."
After a 30-year career with Coles culminating in his position as head of merchandising, Peter Scott left under controversial circumstances in 2006, after allegedly breaching the retailer's code of conduct.
He bought an apartment from Giuseppe Catalfamo, the founder and chairman of Tasman Meats, which was then Coles' main beef and lamb supplier in Victoria and Tasmania. According to ASIC records, Mr Catalfamo is still a director of Tasman Market and continues to hold a minority stake in the company along with Mr Scott and Tasman's senior management team.
Equity Partners' Rajeev Dhawan told the AFR the private equity firm was likely to retain its interest in Tasman Market for three to five years before considering a trade sale or IPO. Equity Partners also owns stakes in Amalgamated Hardware Merchants, home delivery business Aussie Farmers and healthcare supplier Australian Naturalcare Products.
"If we can get the business to 30-odd stores, we'll have a number of options because there will still be plenty of growth left in terms of a national roll-out," he said.
In its investors' advisory note prepared last year, merchant bankers Kidder Williams suggested Tasman Market Fresh Meats could appeal to a wide range of local and offshore investors keen to buy into a leading meat retailer with an established brand and format that can be easily scaled-up and taken nationally. Prospective investors could include meat processors wanting to move up the value chain; major Australian, NZ and Asian private equity funds; food retailers and other agribusiness groups.