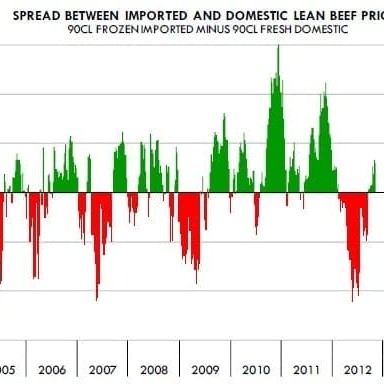 After 10 months during which imported Australian lean grinding beef has traded at a significant discount over equivalent domestic product in the US market, the pendulum appears to have turned.
As the accompanying graph shows, imported 90CL grinding beef has again started to command a premium over domestic US equivalent in recent weeks (green shading).
For most of this year, the reverse has applied. Back in mid-June, domestic 90CL beef was fetching a premium of as much as US25c/lb over imported, FOB US East Coast.
Sanger Australia director Stewart Hanna has monitored the recent price movements, saying US market monitors on Friday quoted spot imported 90 CL at US211-212c/lb (A448.5c/kg), while domestic was making US204-205c (A431c/kg).
"We have seen a premium being paid basically all this year for domestic US 90CL, but that has started to change. It's currently worth about 5c/lb," Mr Hanna said.
One of the reasons for earlier higher domestic price has been the Country of Origin Labelling issue, which has kept some large US retailers from using imported product in their ground beef formulations.
"But as domestic US supply declines, we're now seeing a lot of our US end-user customers showing interest in buying Australian manufacturing meat out front," Mr Hanna said.
"They are looking to lock-in three to six months of meat for their hamburger chain, for example, but are currently being asked a fair premium, and they probably don't want to go the rate at the moment."
"It's the old adage of not wanting to be the one to make the wrong call at the top of the market," he said.
While momentum had grown in cattle processing numbers in Australia over the past few months, Mr Hanna thought there was little prospect of Australian exports to the US 'really going through the roof' next year.
One of the reasons was the increased E.Coli STEC testing now required for export to the US, which was influencing many smaller to medium-sized exporters to seek alternate markets.
"The US is a significant testing risk that some exporters simply aren't prepared to take. It's seen as too risky, not only on entry into the US, but also in tests here. With the increased testing regime, a number of exporters are inevitably finding positives. If that meat has to be moved into a cooker in this country, there aren't a lot of options available," Mr Hanna said.
As the Steiner Consulting-sourced graph on this page shows, there have been periods over the past seven years where imported 90CL beef has traded at significant premiums over US equivalent. That has not applied over the past year or so, however.
"The graph suggests it tends to be one way or the other: either imported 90CL is trading at a distinct premium, or a distinct discount over domestic meat, but rarely sitting around the same price," Mr Hanna said.
"That's partly because it is a somewhat speculative trade. If a situation emerges where a bunch of grinders or end-users haven't been buying imported meat, and all of a sudden have to, they tend to fall over each other, pushing price up. We see the same thing happen in our Asian markets, also."
Mr Hanna suggested that 'little bit of green' that had emerged in the graph over the past month or so would continue, and could easily grow to a 10c/lb premium before long.
Another large Australian US exporter who asked not to be identified told Beef Central this week that domestic US 90CL beef had stayed flat or declined a little over the past month, while imported frozen 90CL beef had lifted in value again. Rates had lifted between 5 and 7pc over the past four weeks, depending on brand and other factors.
"Shipments made now will not arrive in the US until January, and we think it is evidence that the US trade is becoming increasingly concerned about what happens, supply wise, in the first quarter next year," our contact said.
"Recent purchases out of Australia are providing some insurance, should domestic US supply turn really bad. There is certainly not a lot of meat in the US at present, either imported stocks or domestic."
A recent visit with several of the biggest grinders on the US east coast provided evidence of just how 'current' the US manufacturing beef market is.
"The pack-dates on the imported Australian beef going into the grind that I saw were very recent, suggesting there is little or no stock in store," Beef Central's contact said.
While 'panic' might be too strong a word, there was no doubt that US grinders were increasingly nervous about January-March supply next year.
Australian frozen 90 CL cow meat has a value in the US grinding system in its own right, by virtue of its ability to be blended with fattier US domestic trim to produce the ideal 75CL beef pattie. The frozen block also helps reduce cooling costs, limiting the amount of carbon dioxide used in freezing patties.
Part of the explanation behind recent price rises for imported 90s, was the 'lack of it,' Beef Central's exporter contact said.
Because of the back-to-back boom grass growing seasons across Eastern Australia, slaughter cattle are presenting in fatter condition than normal, and processors are generating "a lot more 80s and 85s, and a lot less 90s," he said.
"Yes, processors are putting cattle through in volume currently, but these cattle are in awfully good condition at the moment – too good to produce ideal 90CL grinding meat," he said.
This trend in itself was creating a small premium in the US marketplace for Australian 90CL.
The trader said views out of the US and Japan at the moment could 'hardly be more polarised.'
"The US trade thinks there is going to be no meat around early next year, and the Japanese trade thinks they are going to be surrounded by meat, via the change in US protocol allowing beef up to 30 months of age," he said.
"No matter what we tell our Japanese trade contacts, they can't get it into their heads that there isn't going to be a flood of meat coming from the US next year. The only exception might be tongues and shortplate, but not general muscle meat."
"Once you move away from those two specific items, it will be business as usual out of the US into Japan," the contact suggested.
"Even shortplate does not overly concern us. At the moment, the Chinese are buying that US shortplate aged older than 20 months, that isn't eligible for Japan. They know they are getting it at a greatly reduce price to what the Japanese would pay, but once Japan relaxes its protocols, all the Chinese will do is lift their price."
In its weekly US meat market report for MLA issued on Friday, Steiner Consulting said imported beef prices were modestly higher last week as market participants indicated improving demand, especially for spot product.
Offerings from Australian suppliers remained limited and generally at levels seen as still far from what US end-users were willing to pay. Most of the attention was on the spot market and on product that could be delivered by the end of the year.
Replacement product was seen as very expensive and market participants were taking a wait-and-see approach, Steiner said, wanting to see the market established at the higher price points before committing to larger volumes.
In past years, imported lean beef prices were normally lower between October and February, largely due to increasing supplies of both Australian and New Zealand product. Last year, that seasonality did not hold and prices for imported and domestic product generally followed each other.
This year seems to be following the same pattern. Supplies of imported beef into the US have improved notably. Australian exports of frozen manufacturing beef to the US in October were up 71pc from the limited levels of last year and 15pc more than the five year average.
It remains to be seen how the market for lean grinding beef holds up in November and December in light of the increase in imports from Australia and the seasonal increase in US cow slaughter rates, Steiner said.
US cow and bull slaughter is currently running at a little over 151,000 head per week, in line with levels seen in 2010 and 2011. Domestic cow slaughter should run heavy through the end of the year.
The question end-users probably are struggling with at the moment, however, is what happens with lean beef prices once the flow of domestic cows stop.
Higher imports will help, but will likely be insufficient to fill the gap, Steiner said. Moreover, US market will continue to pay higher prices in order to pull product from other markets.