As US consumers look for hamburgers with more flavour and 'fresher' ingredients, more restaurants and burger chains are catering to the taste for 'better burgers,' a market segment where one expert says sales may double in five years.
Sales at companies offering gourmet or "better burgers," which may include less familiar proteins such as lamb, bison or Wagyu beef, grassfed beef, or the use of fresh rather than frozen meat, jumped 15 percent last year over 2014 to US$5 billion. That's according to Technomic, a research firm based in Chicago.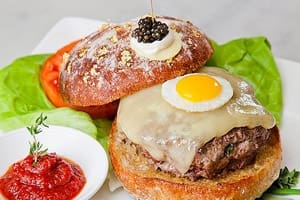 While that is still a small part of the $80 billion in total revenues for quick-serve restaurants in the US, Technomic president Darren Tristano said revenues for top-end burgers could double to $10 billion by 2021, outpacing growth in regular burgers.
"As millennials grow older, they will think of these brands, and not McDonald's the way the baby boomers have," Mr Tristano told Reuters. Millennials are generally defined as the generation that came of age in the new century.
One US chain, Shake Shack plans to open a further 16 Shacks – its trademark trendy restaurants – domestically this year, while Chipotle Mexican Grill has applied to trademark "Better Burger" for its new brand of burger chains. Chipotle declined to say when it planned to launch its burger chains.
Cargill Foods, one of the US's largest beef suppliers, said the popularity of premium gourmet hamburgers was one of the factors prompting its purchase of a South Carolina ground beef processing plant in March.
The US is already the biggest consumer of beef burgers, with servings of 30 per capita in 2015, compared with 24 per capita in No. 2 consumer Australia, according to New York-based NPD Group, a leading consumer research firm.
US restaurants are reaching out to new customers, who are willing to pay more for better-tasting, healthier burgers.
A double cheeseburger at Shake Shack costs about US$8, compared with about $2 at McDonald's in downtown Chicago. A gourmet burger with Wagyu beef, truffle and foie gras offered by Fleur restaurant at the Mandalay Bay Casino in Las Vegas costs US$65.
Even McDonald's has been tempted to consider fresh beef instead of frozen for its burgers. The company is testing fresh beef in 14 restaurants in the Dallas area, spokeswoman Lisa McComb told Reuters, instead of patties containing frozen product.
The market offers ample room for growth, Reuters said.
The most prominent US better-burger stores such as Five Guys and Smashburger total fewer than 2500 outlets globally, compared with more than 50,000 outlets collectively operated by McDonald's  and Burger King (Hungry Jack's in Australia).
Bigger US herd = more beef
The rising demand from the shifting trends is unlikely to drain supplies any time soon, meat industry experts told Reuters.
Commercial US beef production should rise to just over 24.6 billion pounds or 4 percent above 2015's levels, according to Colorado-based Livestock Marketing Information Centre.
The increase comes as US ranchers build up herds that had been depleted by several years of drought to a 63-year low in 2014. Ranchers are producing heavier cattle now that water supplies have been replenished.
"When you add it all up, it's not that much. I think the increase in supply is plenty to take care of the demand," said John Nalivka, president and owner of Sterling Marketing, an industry analytics and consulting firm.
Source: Reuters.