SOMETIMES it takes a crisis to highlight what really matters to consumers.
As the coronavirus pandemic has unleashed further waves of panic buying this week, meat has been at front and centre of consumer demand, as many news reports have documented:

'Supermarket shelves stripped bare of plant-based burgers' is one headline yet to appear, despite often-reported media claims in recent years that consumers are abandoning real meat in favour of plant-based alternatives.
Times of crisis tend to reveal people's true colours, and if the coronvirus pandemic this week is any guide, real meat remains a number one consumer product of choice.
While meat has been walking off the shelves, vegan and vegetarian alternatives have not proben quite so popular, as many social media posts both here and overseas have pointed out.
US cattle industry leader Colin Woodall, president of the National Cattlemen's Beef Association, shared this post showing empty US meat shelves:
On a positive note, it is great to see that even in a crisis, people don't want to eat #fakemeat There are many photos like this going around from across the country. It is a testament to our beef and the consumers' true desire to have the real thing! pic.twitter.com/hH8Ma7InHo

— Colin Woodall (@TheColinWoodall) March 15, 2020
The beef free sausages are fooling anybody
The 'beef-free' sausages still aren't fooling anybody.. #COVID19au pic.twitter.com/I02eYmPVwD

— Michael Rowland (@mjrowland68) March 17, 2020
At my local grocery store. Texans would rather starve in quarantine than eat fake meat 😆 #DontMessWithTexasCarnivores pic.twitter.com/wab1CE93Jb

— MidcenturyMillennial

At my local grocery store. Texans would rather starve in quarantine than eat fake meat Smiling face with open mouth and tightly-closed eyes #DontMessWithTexasCarnivores

(@midmillennial) March 18, 2020
Why are people not hoarding fake meat?
Why are people not hoarding Fake Meat? https://t.co/cVYZuL9EnJ

— TheNibbler (@howardlindzon) March 18, 2020
Makes failed goods easier to spot
The run on groceries makes failed products obvious to spot. This was the scene on Trader Joe's frozen isle yesterday. Vegan sections at other stores are practically full 😂 Are grocers are being paid to put the #fakemeat on end caps? Make room for real food! pic.twitter.com/U2YoHAh0vZ

— Blake Burris ⛩️ (@blakeburris) March 18, 2020
Even in a crisis people don't want to eat it
ALL THE MEAT SOLD OUT AT THE STORE
EXCEPT THE FAKE MEAT… EVEN IN A CRISIS PEOPLE DONT WANT TO EAT IT 😂 pic.twitter.com/WXuCt87S0L

— QE Infinity: It's Happening Edition (@infinity_qe) March 13, 2020
At Gunnedah in New South Wales yesterday, Stephen Carpenter dropped into his local Woolworths to 'panic buy a loaf of bread' and noticed the meat shelves were empty, with the notable exception of the plant-based section: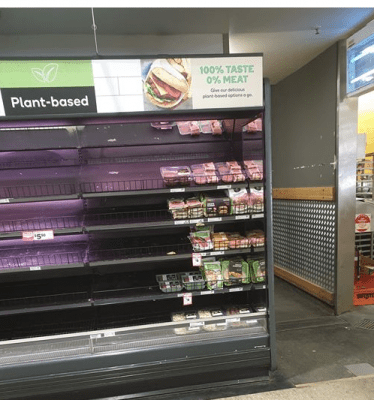 One meat industry figure made the comment to Beef Central this morning that despite the political posturing that has surrounded fake meat and cattle emissions, "it appears that once the thought of hunger sets in we go back to what's real and all the nonsense subsides for a while."
Another sent through the below picture from their local Woolworths, adding the caption: "It would seem even during the current apocalypse you can't even give away plant based proteins":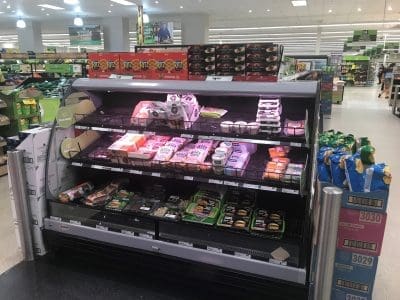 Yesterday Australian Meat Industry Council CEO Patrick Hutchinson also homed in on the reality check the coronavirus pandemic has created around consumer views of real meat versus fake meat.
"Nothing is going to tell you that more than seeing kilometre-long lines of people waiting in butcher shops and going up to people delivering meat trying to buy it off the back of a truck, and the scenario of Coles and Woolies rationing beef mince," he said.
"That is showing you, and it should be a big thing for all of the concerned cockies out there who are worried about alternative proteins, that shows you a community in action.
"If that is not a barometer of what people think of our product then I don't know what is.
"The only thing we are hearing about alternative meats is that when people go in (to supermarkets) they're the only thing still sitting there."