THE COVID-19 pandemic has powerfully reinforced the strength of consumer demand for beef, United States cattle industry leader Marty Smith told a Rural Press Club of Queensland webinar this morning.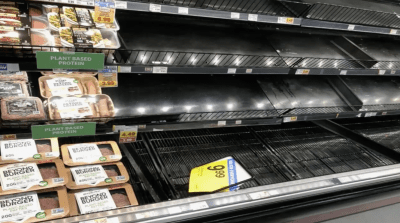 In similar scenes to those that played out across Australia, Mr Smith said panic buying early in the pandemic led to US supermarket shelves being stripped of steaks, roasts and hamburgers, while plant-based proteins were left fully stocked.
Before COVID-19 more than half of the beef sold in the United States was consumed in restaurants, he said.
But when the pandemic closed down eat-in dining, many people turned to buying food to cook at home.
"When people were stressed and looking for something they went to the store and they bought good steaks, roast and hamburger meat, and took it home and cooked it," Mr Smith, the president of the National Cattlemen's Beef Association, said.
"It said a lot about the demand that we have managed to create within our beef market.
"That has been one of the really positive things that came out of all this is we have been able to see what the real beef market looked like and how we really do compare to the fake meat that we have been so concerned about."
You must 'be at the table'
He noted that the plant-based meat industry has made no secret of its mission to completely replace animals in the food system by 2035.
In the face of that battle Mr Smith said the NCBA worked hard to be a part of political discussions with politicians in the US and globally to keep markets for beef open.
The NCBA operated firmly on the principle that "if you are not at the table, you are on the menu".
Asked later during a question and answer session if he felt the meat industry should treat competitors such as plant based protein producers as opponents, or whether it would be better to try to engage and work with them, Mr Smith's clear view was that attempts to engage had not worked.
"We do not view the fake meat group to be as strong a competitor as maybe they view themselves," he said.
"We have attempted to engage with them.
'Their agenda is to put us out of business'
"We find very quickly their agenda is to put us out of business, that is to end animal agriculture, and that is a great part fo our culture, and of course that is the business we're in.
"We still see that our animals, particularly in the sense that our cattle, just like yours, are able to convert very low quality forages on very marginal lands into top quality protein, that cannot be done with any of the alternate programs.
"That takes some of the best farmland available in order to create or produce a high protein crop that they can then convert into something that they try to make taste like beef.
"What we're focused on here is serving that part of the population, which we view to be more significant, that want that top quality beef."
However he said those consumers still wanted to know their beef had been raised correctly and in an environmentally proper manner. A significant part of the NCBA's focus going forward would be on showing the real environmental advantages to cattle production, he said.
Pandemic recovery
The US cattle industry was hit hard by the pandemic but has made a significant recovery, he said.
Charts showed restaurant sales are now much closer to pre-COVID levels, packing plants are almost back to operating at full capacity, and cattle prices have recovered a lot of ground as well.
In fact during the pandemic dollar and volume sales of beef in the US increased dramatically (see chart below), translating into an additional $7.4 billion in meat department sales during the pandemic.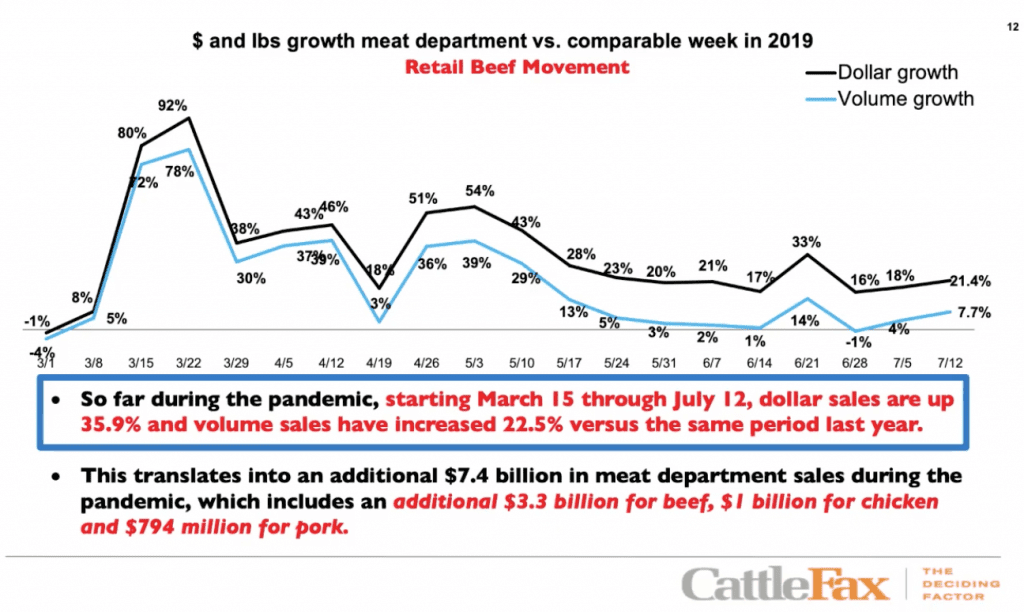 That comprised $3.3 billion for beef, $1 billion for chicken and $794 million for pork.
"That is really showing the demand of the American public for beef particularly in a time of crisis."
Praise for President Trump
Mr Smith praised US President Donald Trump for his actions to support the meat industry during the pandemic, describing him as "a tremendous friend to the US beef industry".
Facing "huge problems" as beef packing plants were forced to close, limiting access for cattle to market, Mr Smith wrote to Mr Trump asking for help.
He said within six hours he received a direct response from the President who issued an executive order to keep packing plants open.
At the same time, amidst concerns about the lack of abattoir access potentially forcing cattle producers to euthanise cattle, Mr Smith assured the President the beef industry would do everything in its power to make sure that didn't happen.
Mr Smith said relief payments approved by congress to support cattle producers during the crisis had also been extremely helpful.
"That was a tremendous deal for all of us here in the meat industry," Mr Smith said.
"It helped both beef and pork. And it made sure our American people and people throughout the world would be able to continue to eat.
"We were going to make sure that our livestock, that our cattle went to feed the world and that we would not be euthanising and we managed to avoid that."
Mr Smith said there has now been quite a bit of recovery in the market place, but the industry was still not back to where it needed to be.
"We continue our efforts to get out packing plants efforts back to full capacity, we're getting very close to that but we still have a lot of backlog of cattle here."
Mr Smith also paid tribute to President Trump's assistance in helping to deliver the US cattle industry several significant trade victories in recent years.
These included reductions on US tariffs in Japan to 9 percent; a lifting of China's ban on HGP-treated beef; securing an exclusive 35,000 mt quota for US beef in the European Union, and implementing a new trade agreement with Canada and Mexico.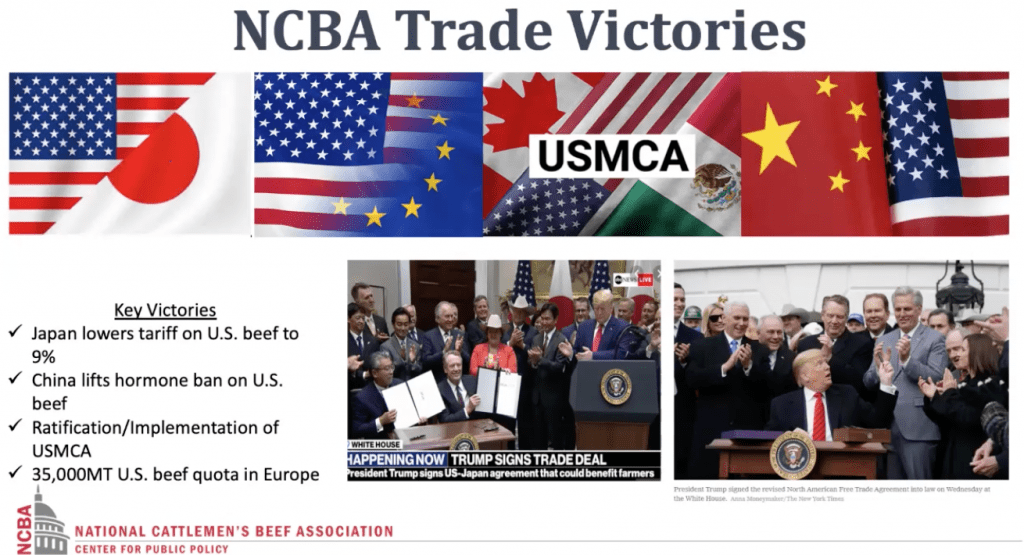 Mr Smith said Mr Trump was tremendously interested in agriculture.
"His focus is on the US and very much on US agriculture, he has been a tremendous friend to us in the beef industry here."
November election could have 'significant implications'
He noted that the forthcoming US Presidential election in November "could change the direction of our country and our politics very quickly",
"We still work very hard to try to keep our government out of our industry and out of agriculture and feel we can do this much better on our own."
US production gains
On changes in the US cattle industry, Mr Smith said market signals aimed at improving the quality of US beef production have resulted in the number of cattle grading USDA Choice rising from 54 percent in 2006 to over 80 percent now.
"I will brag for a minute here and say that this year even with cattle that were bos indicus based we were able to achieve with our ranch over 95pc Choice," Mr Smith said, referring to the cattle enterprise his family has operated in Florida for more than 150 years.
"20 years ago if we got to 60pc Choice it would have been a great day.
"That is just something we have done both genetically and with our management program
"That really differentiates maybe the products we're producing here and what your produce in Australia and what is produced in other parts of the world.
"That really our focus here in the US beef industry, we pride ourselves in our Choice beef and that is what we are going to continue to focus on."