AUSTRALIAN beef exports are on track to finish the full 2017 calendar year at around a neat one million tonnes, after November exports to all markets reached less than 88,000t.
Figures released for November by Department of Agriculture continue to show a 2017 beef slaughter season characterised by limited cattle supply, driven by earlier herd liquidation caused by the shadow of two consecutive years of widespread drought.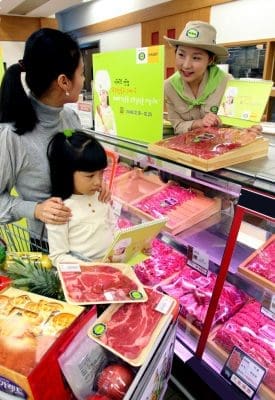 November Trade was barely 1500 tonnes or 1.7 percent above October exports, reflecting the modest rise in slaughter numbers over the past four weeks, and on-par with trade seen during November last year.
Calendar year to date, total Australian exports have reached 926,993 tonnes, marginally down on the same period the year before.
With December exports typically lower due to Christmas plant closures, it suggests a full-year export volume around the million tonne mark.
Within the past five year time-frame, however, there have been colossal peaks and troughs, reflecting eastern Australia's extreme seasonal volatility and its impact on production and herd size.
Just two years ago, 2015 full-year exports exceeded 1.2 million tonnes.
Here's a snapshot of trade last month into key markets:
Largest export customer, Japan accounted for 25,811t of Australian beef last month, up 12pc on October trade, but still 4pc below trade shipped in November last year.
Calendar year-to-date, Japan has now taken more than 268,000t of Australian beef, compared with 241,000t for the same period a year earlier.
Second largest export market the United States took  a disappointing 14,700t Australian beef in November, 22pc down on the previous month, but substantially higher than last year's 10,800t.
Year-to-date volumes show exports to the US topping 215,000t, compared with 218,700t for the same period in 2016.
It suggests full year exports this year will reach around 240,000t, much the same as last year, but a massive drop on the 2015 year (416,000t) and the year before that (398,000t) when Australian production was near record highs.
US claims back beef market share in Korea
Korea has been a bright spot for Australian beef exports for the past couple of years, taking 13,700t in November, a 20pc rise on very low October figures, but a long way short of the 19,700t shipped this time last year. Competitive pressure from US exports – particularly for popular single-cuts like shortrib – now being produced in abundance in the US as US beef production is fully recovered – have reduced Australia's footprint in Korea.
January-November Australian beef trade to Korea has reached 134,000t, down 18pc from the same 11 months last year.
For the first time in 14 years, imports of US beef accounted for more than half (50.7pc) of South Korea's imported beef market, according to recent data from the Korea International Trade Association.
In 2003, the Korean government banned all imports of US beef following cases of BSE in the US. US market share at the time was around 75pc, a leftover from the tightly controlled quota import market of the 1990s, where the US used their political influence in Korea to confine Australia to the low quality frozen quarter beef trade. The Korean beef market finally liberalised in 2001 but the ingrained mindset from the quota days meant that Australia had a hard time breaking the commodity image of the past.
BSE in the US, leading to the US export ban by the Korean government, removed much of the advantage the US had in the Korean market, and gave Australia the breathing room it needed to change importer and end-user habits and build its market share to 78pc by 2006. That market share was based not only on a better understanding of Korean requirements and how Australian product could meet them in a different way to the US, but also Australia's food safety record which was in stark contrast to the BSE-impacted US image.
After several rounds of negotiations between Korea and the US from 2006 to June 2008, the Seoul government agreed to permit imports of boneless beef from US cattle younger than 30 months of age starting in late 2008. Following the government's ruling there were large protests by local citizens claiming US beef was not safe to consume. Time, promotion and the implementation of the US/Korea FTA in March 2012 slowly changed that image.
By the time Australia negotiated an FTA with Korea in 2014, the US had a 5.6pc tariff advantage over Australia, an advantage that has continued to this day and has helped to underpin the growth in US beef market share announced this week. The volume safeguard in the Australian FTA is half that in the US FTA.
Given that the safeguard on Australia has been triggered in the last two years but the US safeguard has not, has also limited Australian access towards the end of each year and has been another factor allowing the US to grab more market share.
The Australian beef processing and export sector have done a great job over the 16 years since market liberalisation in Korea in meeting changing Korean demand and despite the tariff disadvantage to the US and the volume safeguard in the FTA, Australian beef imports accounted for 43.6pc of the local imported beef market during the first 11 months of this year, a slight decrease from last year's total of 47.6pc but a marked improvement from liberalisation in 2001 of around 20pc.
Other export markets
Trade to other export markets last month was mixed, but many showed the impact over this year's overall lower production out of Australia.
Shipments to China, 91pc of which was in frozen boneless form, reached 11,800t, a modest rise on the previous month, but about 30pc higher than November last year when trade reached less than 7500t.
Year-to-date, China has accounted for about 98,000t of Australian beef, 14pc higher than the year before. Brazil continues to make major inroads into Australia's previously larger market share in China.
Similarly the Middle East region continues to come under competitive pressure from Brazil. Australian exports to the region last month were 2560t, down 20pc on October, but higher than last year. The year-to-date tally to November has reached 27,700t, about 5pc lower than last year.
Indonesia continues to drift as a customer for Australian boxed beef, in the face of extreme price pressure from low quality Indian buffalo meat. Last month Indonesia took 4224t of Australian beef, almost all of it frozen. That's down about 50pc on November last year, when trade reached 6400t. Year-to-date, exports are at 46,100t, down 19pc compared with 57,000t last year.
The European Union market was little changed in November, taking 1282t, down about 15pc on last year. The 11-month tally to the EU has reached 16,500t, down about 16pc on equivalent 2016 trade.
A contributing factor has been the decline in trade in EU grainfed, where other suppliers qualifying under the same quota, such as the US and Uruguay, are gaining market share. Higher feedgrain prices and relatively high feeder prices in Australia are a contributing factor, and there are more US grainfed supply chains now prepared to forego HGP to qualify for the market.