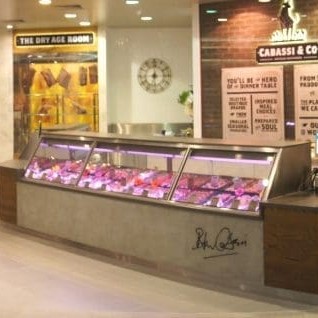 A NEW high-end Brisbane retail butchery which opens for business this morning provides glimpses of possible future trends in independent meat retailing in Australia, blurring the lines between traditional butchery and food service/restaurant functions.
Just one of the 'mega trends' that the new Cabassi & Co Artisan Butchers outlet seizes-on is the clearer segmentation occurring between retailers aiming at the everyday more value-conscious family market, and those targeting consumers who have a deeper interest in food, and creative ways to prepare and cook it.
The new shop is located in a brand-new gourmet fresh food precinct which has been constructed at Brisbane's inner western Indooroopilly Shopping Centre.
The specialist artisan fresh food precinct is part of a $500 million expansion and redevelopment at Commonwealth Super Funds' Indooroopilly centre, which will see it rival the largest shopping centres in Australia in size.
The new specialist food precinct will include an up-market bakery, deli, premium fruit and veg outlet, florist, seafood outlet, kitchenware and utensils, and related shops. The precinct will be similar in some respects to the highly successful James Street market area in New Farm, which is regarded as 'foodie central' in Brisbane.
The Indooroopilly venture is the second retail presence for project developer Peter Cabassi, who already operates a successful village-style retail shop, Kobe's Gourmet Butchery, specialising in a wide variety of Wagyu beef products, in the inner south-eastern suburb of White's Hill.
The Kobe's business was judged retailer of the year in Queensland's 2011 Red meat Innovation Awards held as part of the Brisbane Ekka.
"What we see happening in the consumer world is a clearer distinction emerging from everyday shoppers who often buy to a price, from those foodies at the top end of town, who are looking for something different. That segment is becoming better defined, as is the bottom-end warehouse retail type stores, while there has been little real change in the middle-ground," Mr Cabassi said.
"In our case, we are targeting that growing group of consumers who are taking much more of an interest in their food and how they prepare it – a trend being driven to some extent by reality TV cooking shows like Masterchef," he said.
"It doesn't necessarily mean expensive, but more clearly-defined products that have provenance and a story behind them, that are skilfully prepared. It's for people with a genuine interest in food, who want the opportunity for validation of the products they buy."
In-house kitchen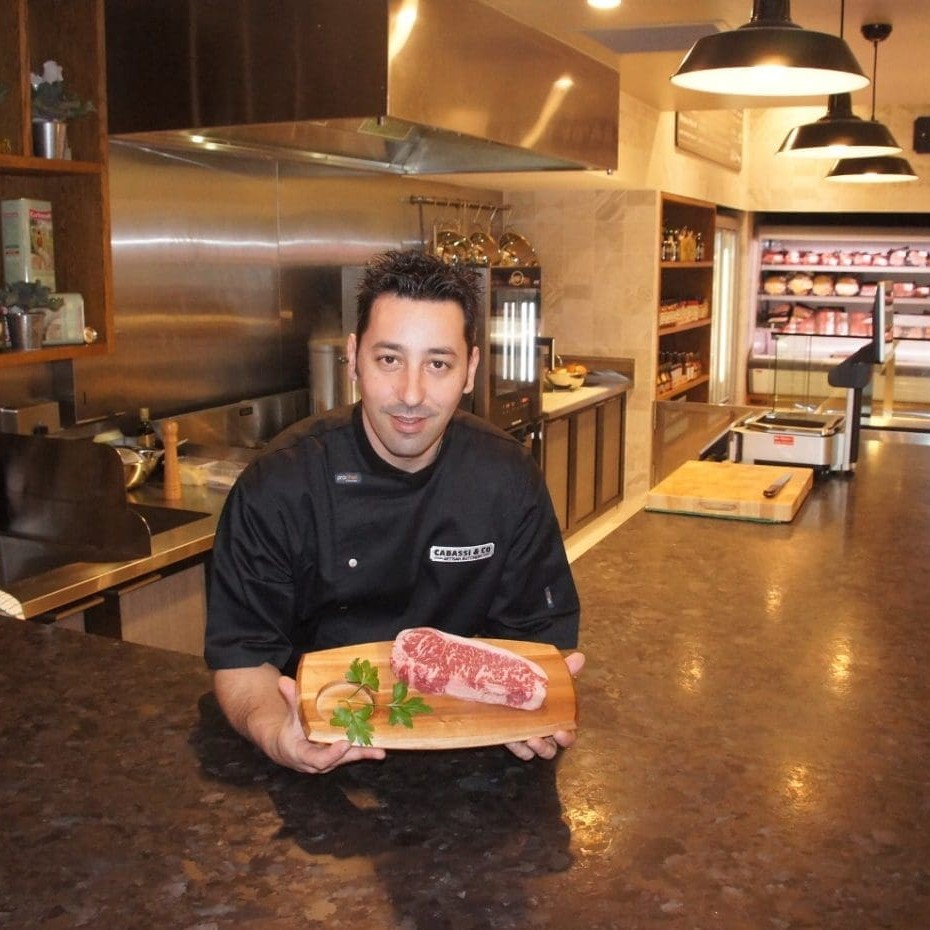 That 'validation' is one of the reasons the new Cabassi & Co outlet includes a number of unusual features – just one of which is a tasting area, doubling as a 'butcher's kitchen' with seating for ten customers, who can order a simple 'sampler' tasting plate, some tapas, or even a signature steak.
Each item in the 'butcher's kitchen' area will be cooked in front of the customer, with the opportunity to interact with the chef.
Israeli-born chef Shalom Bitton, who has worked at highly-regarded Gold Coast restaurant, Moo Moo's, as well as the five-star El Questro outback resort in the Kimberleys, will man the 'butcher's kitchen' area, preparing steaks, sampler tasting plates, making take home jus and stocks, and producing other value-added ready-to-heat items for take-home use.
At first glance, the new outlet is large, by normal shopping centre butchery conventions. Measuring 280sq metres, it is twice the size of some shopping centre butcheries. But equally, it is packed with a lot more features.
Dry-aging room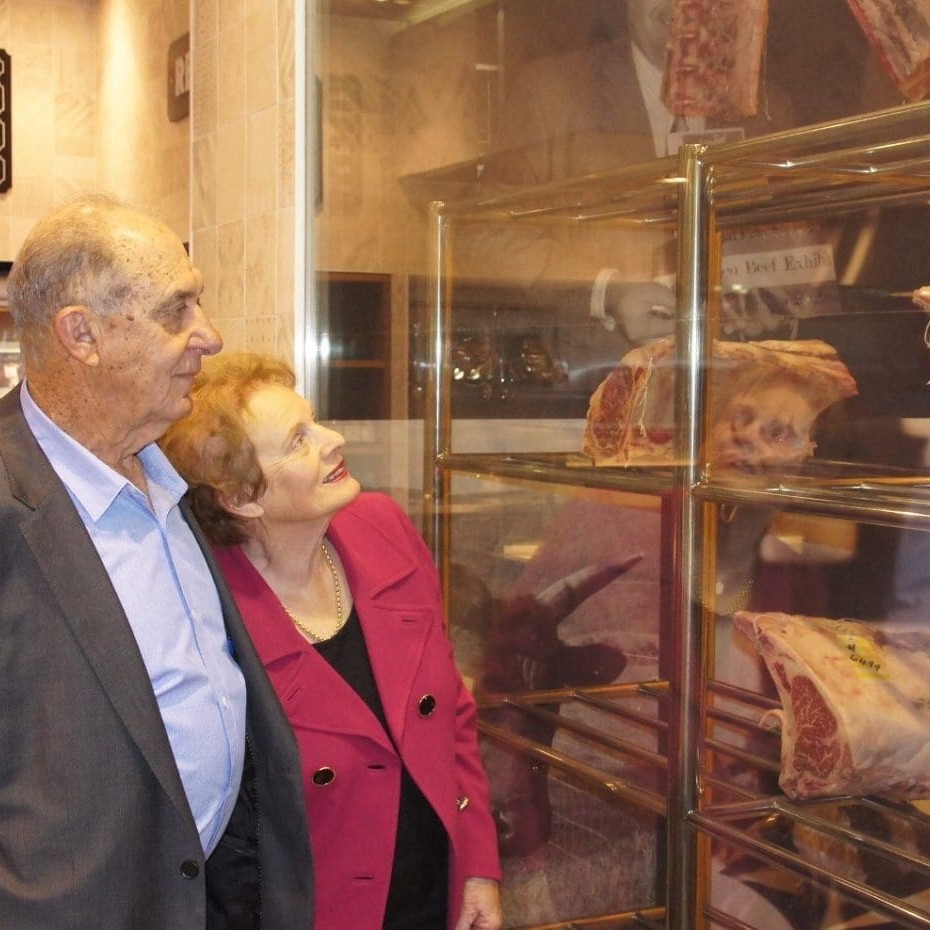 In addition to the butcher's kitchen, another highly unusual inclusion – again, in response to recent consumer trends – is a large glass-sided dry-aging room, where whole short-loins (T-bones) and bone-in cube rolls (OP ribs) will be dry-aged for tenderness in front of the customers. The room includes a Himalayan salt-block 'brick wall' to aid the dehydration process, and intensify the dry-aged beef flavour.
Top Brisbane restaurant, Urbane, already has product under contract with the shop in the dry-age room.
Yet another part of the facility will be a self-serve area with frozen and chilled pre-prepared ready-to heat meals, and specialist hard-to-find items.
Staffing includes seven butchers, including the manager, plus an experienced chef, counter-hand, and an apprentice.
The shop will go to considerable lengths to highlight its connection with primary suppliers, including Cabassi & Co's own fullblood and crossbred Wagyu; Manning Valley Naturally grassfed beef; and a special internally-managed line of high-performance MSA grainfed Angus beef being sold as Downunder Farms brand, sourced out of NSW, and processed at Wingham.
The long-established Cabassi Wagyu supply chain already has a strong reputation in the export and domestic wholesale market, servicing high-end resorts and restaurants in destinations like Las Vegas, Seattle, San Francisco, Singapore, Shanghai, Seoul, Fukuoka and Hong Kong.
Similarly, lamb (Tasmanian Royal), pork (Bangalow and Gooralie Free Range), veal and poultry products will all carry strong brand identity, and a 'Natural' segment orientation.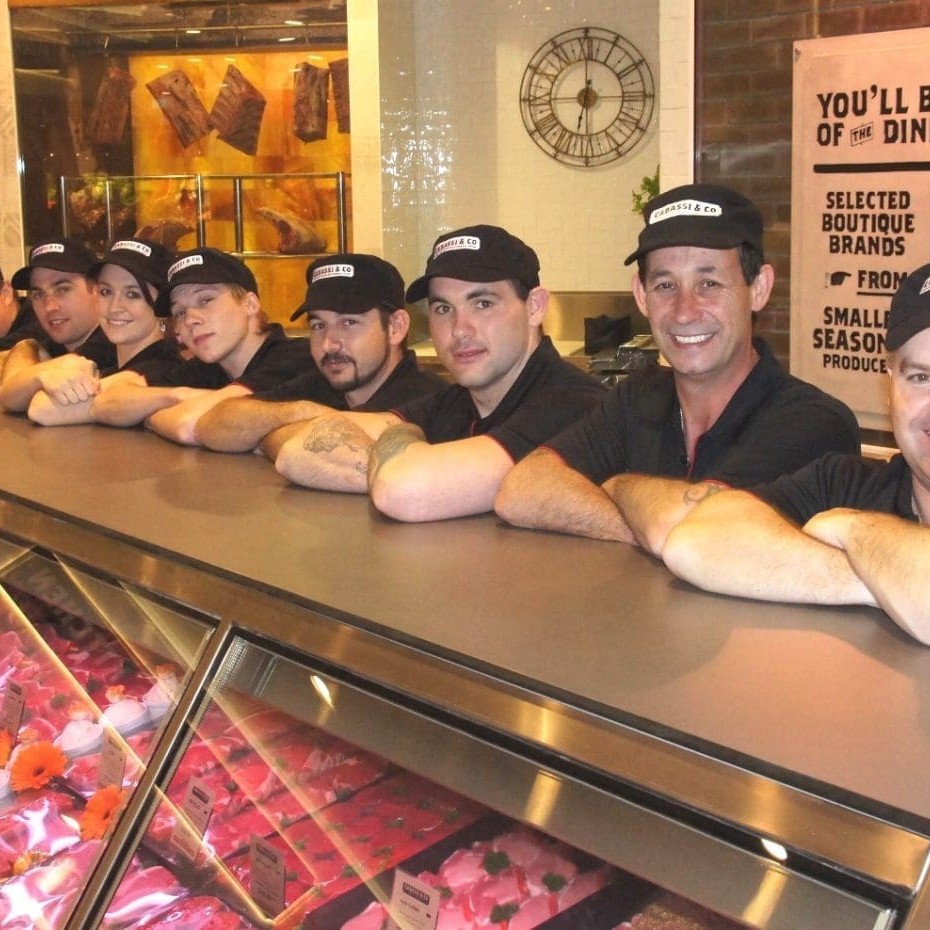 Wagyu will feature strongly among the beef offer at the shop, just as it has done with great success at Mr Cabassi's existing Kobe's Gourmet Butchery at White's Hill.
A similar product range will be used, only extended even further at the new Indooroopilly outlet.
As highlighted previously on Beef Central, the original Kobe's Gourmet butchery arguably carries a broader range of Wagyu beef products than any other retail outlet in Australia, ranging from higher and lower marbling score steak cuts to roasts, mince, burger patties, corned beef, and a wide-range of value-added and pre-prepared Wagyu beef based items.
The central theme running through the shop's operations, and included in the shop signage tag-line, is that the product is "Crafted by-hand, in-store, and with soul."
"We plan to build on the performance of the raw material with a high standard of butchery skills and knowledge – an artform which has become increasingly hard to find over the past 20 years due to the encroachment of supermarkets and centralised processing," Mr Cabassi said.
Overseas 'guest butchers' may visit
Also on the drawing board for Indooroopilly is a concept where overseas 'guest butchers' will visit and work in the venue for short periods, applying their own interpretation to cutting lines, such as fine slicing for Japanese and other cuisines, and value-added items. Butchers from Japan, Singapore and the UK are already showing strong interest in the 'guest butcher' concept, to allow them to showcase their talents to an appreciative Australian audience.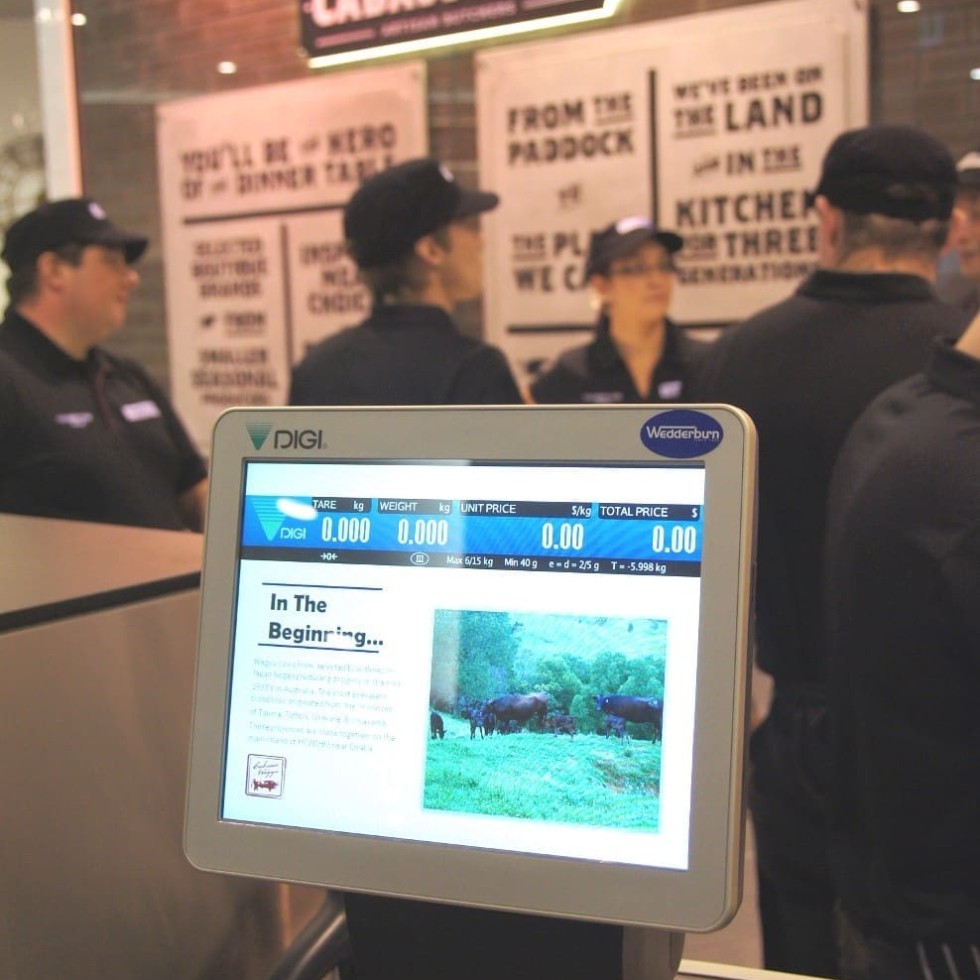 Another interesting aspect behind the Indooroopilly project is that the facility's design was put in the hands of a specialist restaurant designer – not a butchery designer – which further blurs the lines between retail meat purveyor and food service outlet.
The design company behind the project was Round Peg Designs, and shop-fitting by TU Projects, which have developed a large number of food service/restaurant outlets previously, but has never tackled a retail butchery project brief.
The result is smart, modern and spacious with a high-quality feel, and a clear definition of the four distinctly separate retail areas. Total fit-out cost was close to $1 million.
Brisbane's Coldroom Connection was responsible for all chilled and frozen refrigeration installation, with the smart, ultra-modern cabinets from Shop Steel. In total there is 13 lineal metres of chilled cabinet space, 4.5 metres of pre-pack cabinets and a two-metre self-serve freezer.
MasterChef's Po Ling Yeow will act as an ambassador during Indooroopilly's Gourmet Fresh precinct launch from this week, performing a series of cooking demonstrations and interacting with customers.