In the relentlessly competitive world of supermarket retailing, the only constant is change, and to this end, Coles has launched its latest round of red meat chilled cabinet innovations designed to win and retain customer loyalty.
Among the cache of new innovations being seen on Coles shelves from this week are:
A new 'mid-tier' MSA-identified fresh beef proprietary brand designed to sit between Coles Finest (premium, 100-day grainfed) and Coles' Everyday product. It will appear in Queensland stores, and potentially extend into NSW areas later.
A series of 'slow cook' winter value-added items using a wide range of secondary cuts in creative ways – some previously unseen at a national retail level.
New bio-degradable tray packaging made from compounds extracted from corn starch
Coles general manager, meat, Allister Watson, told Beef Central that his company was constantly looking at its range of beef items and how it could add value to products that had possibly been under-valued in the past.
"It's really good from a customer perspective to see change in the meat case, as the seasons evolve," he said.
"Heading into winter we're trying a new range of marinated beef ribs, lamb shanks, marinated roasts, Angus steakettes, and other items developed from chucks and shoulder meat. The common thread is that a lot of the pre-cooking preparation has already been done," Mr Watson said.
Covering all four main meat proteins, the range includes about 13 items. Many are designed for oven-baking or slow-cooking, and encourage customers to 'get back to basics' in cooking principles.
"It's the type of winter fare that eats really well: it might have a lovely sauce or marinade that goes with it, yet the customer doesn't have to think too much about the preparation side," he said.
Some are items that have appeared previously, but are making a comeback, such as a crumbed beef schnitzel.
Biodegradable pre-pack trays
Also being introduced progressively by Coles from this week are new thermo-form pre-pack trays made from a material called Plantic, produced from corn starch derivatives, which is fully biodegradable.
Sustainability in packaging has been a strong focus in the European supermarket industry for some time, but the trend has not been widely seen in Australia up to this point. Coles has indicated it may make future sustainability claims surrounding the Plantic packaging, once it is more widely distributed across the store network over the next few months.
"We've done the trial work at SRS in Victoria over the past year, and it's now just a matter of integrating the Plantic packaging into other production sites like ACC in Brisbane," Mr Watson said.
It would be used with mince and steak items in the early applications, he said.
Drover's Pride carries clear MSA identity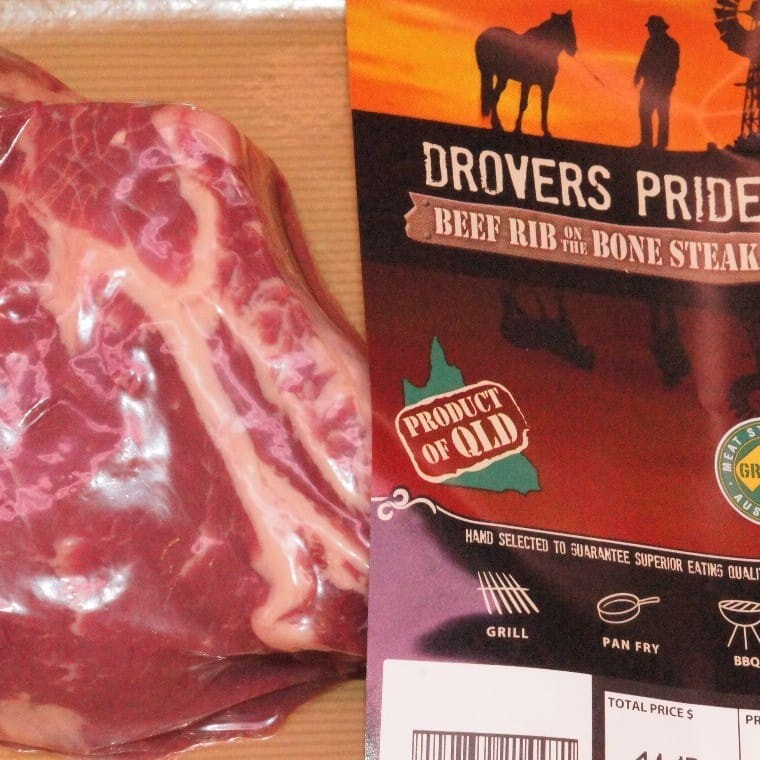 Another major launch this week for Coles is a new fresh beef brand, called Drover's Pride, which will sit between the premium 'Coles Finest' grilling cuts and Coles Everyday product.
The brand is not owned by Coles itself, but by northern supply chain beef supplier, Australian Country Choice, based in Brisbane. It is supplied exclusively to Coles in Australia, but may one day be used for other ACC retail customers overseas.
Of major significance, in an Australian retail industry positioning sense, is that the Drover's Pride packs will carry clear MSA label identity, as can be seen in the pack images here.
While the Coles Finest premium brand already carries an MSA graded reference, it is in fact written only in 'small print' on the back of the pack, and makes no real attempt to engage the customer.
The significance of the Drover's Pride product is that it carries the MSA symbol, clearly, on the front of the pack in a conspicuous position. That's a first for Coles in its Australian beef offer, but it is unlikely to be heavily promoted, judging by Allister Watson's comments.
"All our customer survey work tells us consumers do not understand MSA. They either trust your products or they don't," he said.
"Certainly all the work we have done in our no-HGP offer, and improving quality attributes in other ways, is all underpinned by MSA grading. But at the end of the day, we've said to customers, this product is more tender, and these are the reasons why – but we haven't tried to explain the MSA grading symbol. To our mind, it's not consumer friendly."
While Drover's Pride is derived from the general run of ACC cattle killed for Coles each day, what sets it apart is that it is limited to MSA boning groups 1-4, guaranteeing a higher eating experience.
This strategy of creaming the chillers for higher-performing MSA carcases is another good example of brand segmentation, which is now starting to take-off in MSA supply across Australia.
So what was behind Coles strategy in introducing Drover's Pride as a mid-tier product?
"We've experienced good growth in proprietary branded meat products, by providing a wider choice for customers. And it has come incrementally, rather than at the expense of existing Coles products," Mr Watson said. "Some customers just want a choice."
A good example of that is the JBS-owned King Island brand, which is sold widely through Coles supermarkets in southern States as a mid-tier proprietary brand.
"It has gone really well, but we do not sell King Island in Queensland," Mr Watson said.
"ACC, which is a big part of our national supply chain, approached us with the idea of developing a 'King Island-like' mid-range brand based on Queensland supply, which we supported," he said.
Pricewise, the Drover's Pride product will sit between the Coles Finest and Everyday beef prices.
ACC chief executive David Foote said the move into a proprietary brand was a significant development for ACC.
He said the MSA logo on the Drover's Pride pack was not designed to be the point of difference, but only to act in a supporting role to the brand name itself.
The product is packed in an appealing woodgrain-style tray designed to deliver a more 'crafty' appearance, using the high-performance DarFresh vacuum packaging system, delivering greater shelf-life. ACC had previously installed DarFresh technology to pack the Coles Finest 100-day beef fed out of Rangers Valley.
As well as conventional grilling items like OP ribs and eye fillet portions, the Drover's Choice brand extends into some very unusual territory, such as beef cheeks.
"Following the success of TV cooking shows across Australia over recent years, there's an underlying consumer demand for novel items like cheek meat. Up to now most of ours have gone to export, typically restaurants in Asia," Mr Foote said.
"But we had the opportunity to build this new Drover's Pride Range, and cheeks were a 'random pluck' that we think can work in a brand application like this. We think it's a first to see a non-grilling cut under a brand program in this way."
While a cheek muscle could technically still be called a secondary cut, it was actually the 'first choice' cut for that particular style of cooking, he said.
Another first for the Drover's Pride brand is the inclusion of a Flat-Iron steak – a seamed oyster blade with the large connective tissue removed. It represents one of the first attempts in the branded beef category to sell a cut by its 'sizzle', rather than by its AusMeat code or standard muscle definition.
How best to prepare and cook items like flat iron steaks and beef cheeks may require some consumer education, and to that end, ACC has recently radically upgraded its website, using the expertise of Brisbane website developers, Chris Mackie and Derek Tan, the talented web 'architects' behind Beef Central.
The new-look ACC website (Click here to view) will carry 'how-to' recipes and handling tips for items like cheek meat and flat iron steaks. Website access information will also be provided on each pack in the chilled cabinet, and via in store leaflets.
The Drover's Pride products have also been submitted to Coles for analysis for potential application within the company's Spirit hotel steakhouse chain, numbering 14 outlets across Eastern Australia.