IS there a special 'Wagyu effect' that contributes to Wagyu beef's eating qualities, over and above the standard industry criteria like marbling, ossification and fat cover under the Meat Standards Australia eating quality model?
This is one of a number of fields of MSA research now making progress across the country.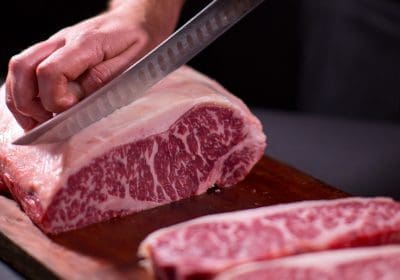 The MSA research and development team continues to collaborate with research partners to conduct eating quality research, with the ultimate goal of ensuring all cattle and sheepmeat pathways are eligible for MSA grading.
Despite some delays due to COVID, a number of key research projects will soon be completed as part of this body of work.
One of these is gaining better understanding of whether there is a positive 'Wagyu effect' on eating quality over and above the MSA model predictions, which will soon be completed.
Back in 2020 MSA launched research aiming to evaluate a potential 'Wagyu effect', with consumer sensory testing across more than 2600 consumers across Australia and in the Middle East.
If an 'effect' is confirmed, the project aims to quantify it and understand how it might be incorporated into the MSA grading model.
"Any results will go through the due process for all MSA research outcomes in that the MSA R&D committee and MSA beef Taskforce will review the results and implementation options," a program spokesperson said.
"As the popularity of Wagyu grows in both domestic and international markets, it's becoming more and more important to understand what makes it unique. The ability to accurately describe the eating quality potential of a product enables brand owners to market their brand story and eating quality claims with confidence."
The project involves 72 carcases comprising Fullblood Wagyu, Bos Indicus and Angus F1s Wagyu, and longfed purebred Angus animals.
Five primals were collected across the carcase including the striploin, rost biff, outside flat, chuck eye roll and bolar blade, which were prepared using the grill, roast and yakiniku cooking methods.
Eating qualities of beef from dairy breeds
Also soon to reach completion is another project studying the impact of genetics, nutrition and management on the performance and eating quality of beef from dairy breeds.
While dairy cattle are already eligible for MSA grading, this project aimed to identify suitable production system pathways to result in positive eating quality outcomes and improved value captured from these animals.
Conducted in partnership with Charles Sturt University, Teys Australia, Dairy Australia, Northern Co-operative Meat Co and Manildra Meat Co, the project also looked at opportunities for veal pathways as well as alternative feeding regimes.
Trials resume for new northern MSA opportunities
Following delays due to environmental factors, another cohort of cattle will take part in trials to resume in coming months as part of a project which seeks to understand the impact of long distance rail transport on beef eating quality.
Ultimately, the project aims to open up the pathway to MSA cattle – an opportunity which carries the potential to deliver an estimated $50 million annually in additional returns to industry.
Saleyard research kicks off
A project to understand further saleyard MSA pathways was also initiated this year, with the first cohort of cattle recently tested as part of the initiative.
This pathway looks to understand the eating quality impacts of cattle through saleyards over longer periods, including between 48–72 hours from farm to slaughter, as well as the impact of refeeding animals for six and 13 days.
The second phase of the trial is to be conducted in the 2022–23 financial year.
Source: MLA