THE Meat Standards Australia program is estimated to have delivered $152 million in additional farm gate returns in 2017-18, according to the latest data contained in the MSA 2017-18 Annual Outcomes Report.
The new data also shows more than 3.1 million cattle and 6.1 million sheep were processed through the MSA program in 2017-18. For cattle, that represented 43pc of the national adult cattle slaughter, an increase of 3pc on the 2016-17 financial year. Apart from a single year (2104-15) the percentage of adult cattle slaughter figure has grown each year for the past 18 years.
The number of sheep following MSA pathways in 2017-18 represented 26pc of the national lamb slaughter, with 74pc of those lambs supplying brands underpinned by MSA.
MSA program manager Sarah Strachan said the latest figures showed the MSA program continued to grow and strengthen, providing strong farm gate returns.
"This year marks 20 years since this world-leading eating quality program was released to industry, and adoption rates continue to rise with more than 5000 new cattle and/or sheep producers becoming registered to supply livestock through the MSA program in the past financial year," Ms Strachan said.
Producers continue to also embrace carcase feedback, with a 32pc increase in the number of beef producers accessing reports and benchmarking tools on myMSA in 2017-18.
The uptake in accessing carcase feedback is reflected in outstanding compliance to MSA minimum requirements, which was maintained at 94pc across all feed types, nationally, and the average MSA Index for compliant carcases improved by 0.19 Index points to 57.78.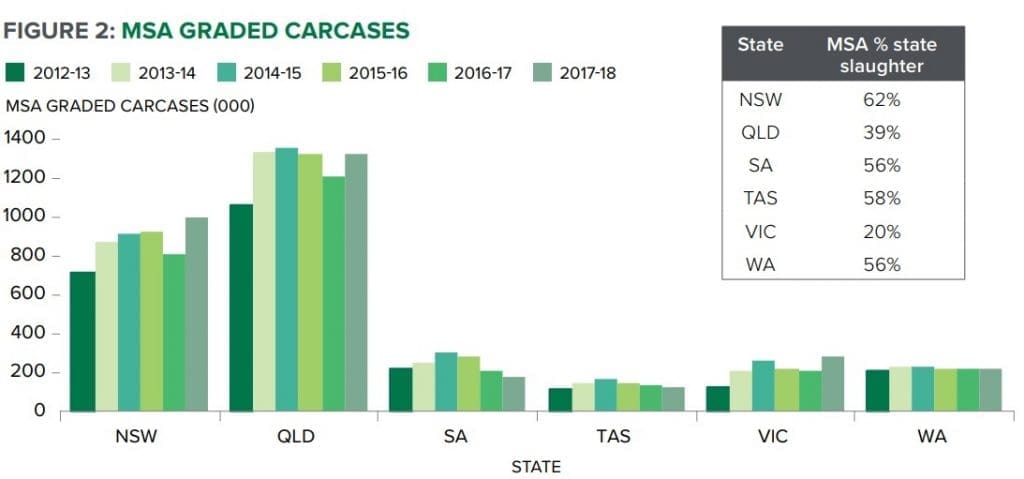 21c/kg premium for young cattle
Over-the-hooks cattle price indicators for MSA-compliant cattle in 2017-18 remained higher on average than non-MSA cattle, with the average differential for young cattle (excluding grainfed accredited cattle) across all weight ranges 21c/kg, and 13c/kg for grainfed cattle.
Sixteen new brands became MSA-licensed to underpin their brands with the independent endorsement of eating quality, taking the total number of MSA-licensed brands to 172.
Almost 3000 producers received MSA education through more than 81 workshops or information sessions, including the MSA Excellence in Eating Quality Awards series, which reached more than 500 producers at six forums across the country.
Ms Strachan said looking towards 2020, MSA had its sights set firmly on ensuring all cattle in Australia will be eligible for MSA grading and have their eating quality accurately described.
The goal was for more than 50pc of the national cattle slaughter and 43pc of the lamb slaughter being MSA graded, she said.
"At the same time we are looking for ways to help producers improve their compliance rates, their MSA Index values and supporting brand owners to fully embrace eating quality principles. These goals are driving the focus for investments in new eating quality research and striving to extract greater value from the MSA program for the whole supply chain.
"The MSA team is focused on ensuring the program continues to grow and deliver benefits to its more than 50,000 registered producers, 53 MSA processors, 172 brands, and 3681 end user outlets, by consistently meeting consumers' expectations for beef and sheepmeat eating quality."
Ms Strachan also highlighted the ongoing support from industry through the red meat Peak Industry Councils.
Representatives from the red meat peak industry councils contributed through the MSA Taskforce, ensuring the research, integrity and further development of MSA continued to address key industry priorities, she said.
State breakdown (MSA proportion of state slaughter):
New South Wales: 62pc of cattle and 17pc of sheep
Queensland: 39pc of cattle
South Australia: 20pc of cattle and 55pc of sheep
Tasmania: 58pc of cattle and 14pc of sheep
Victoria: 20pc of cattle and 33pc of sheep
Western Australia: 56pc of cattle and 33pc of sheep.
Click here to view 2017-18 MSA Annual Outcomes report.
Source: MSA