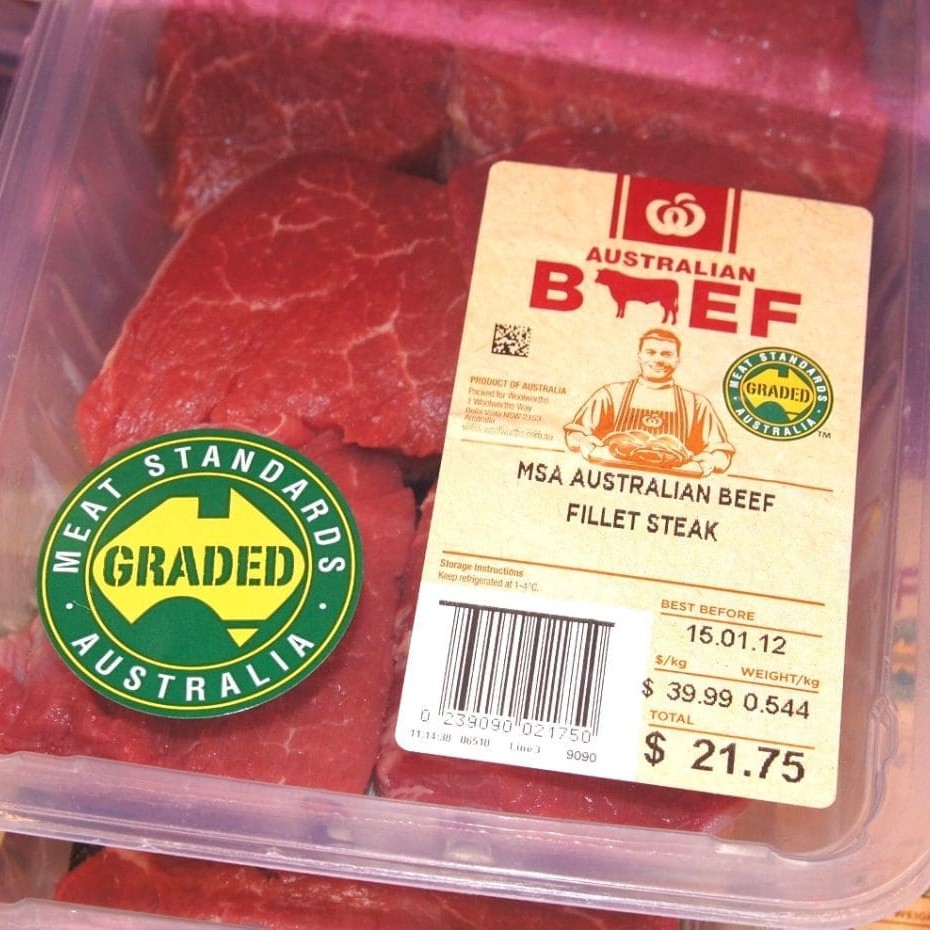 Supermarket group Woolworths has picked-up beef market value share at the expense of major rivals, Coles and independent butchers in the latest Neilsen Homescan survey released this week.
For the rolling quarter ended March 17, Woolworths held a 32 percent share of overall Australian fresh beef sales, up from 31.1pc a month earlier, and a solid 1.3pc rise since December 24, just prior to the high-profile, heavily publicised launch of Woolies' MSA adoption on January 9.
Among the 'big three' responsible for more than 82pc of all beef sales nationally, Coles and independent butchers both lost ground in the latest survey.
Independent butchers' share for the rolling quarter ended March 17 fell from 25.9pc to 25.5pc, while Coles slipped back into third place in share rankings, easing from 26pc to 25.2pc.
Coles has lost 1pc beef value share over the past two monthly cycles.
The monthly trends contrast a little with longer-term beef value performance however.
Woolies' Moving Annual Total (MAT) to March 17 was 31.5pc, still 1pc behind where it sat this time last year, while Coles MAT to March 17 was 24.8pc (+1pc on a year ago) and butchers, 25.6pc (-1.5pc). Strong growth by Aldi (+1.4pc to 5.7pc share) and 'other' supermarkets (+0.3pc) appear to account for the deficit among the big three's combined longer-term results.

Overall fresh meat sales
In the Neilsen survey's assessment of overall fresh meat sales (including beef, veal, chicken, pork, lamb and minor meat proteins like seafood and turkey), Woolworths showed a similar increasing market share trend, although its slice of the pie is still down compared with the same period last year.
Coles and butchery outlets also recorded small losses in the last quarter, but both have increased compared to the same MAT period last year.
The overall retail fresh meat category experienced positive value growth in March, mainly driven by rising volumes. IGA supermarkets appear to have lost some channel share recently, while the Aldi retail group has picked-up ground.
Overall, beef's share of total meat protein sales by value rose 0.2pc to 36.7pc last month, while lower-priced chicken also grew strongly, rising 0.8 pc to 25.6pc. Lamb and pork remained unchanged at 13.pc and 10.1pc, respectively.
Prices for competing proteins
Prices remained largely stable compared to the previous rolling quarter figure. Lamb prices dropped slightly to $12/kg (which parallels with wholesaler views published on Beef Central on Monday suggesting wholesale lamb prices have now reached a two-year low), while pork ($10/kg) and beef ($10.10/kg) prices all increased slightly, and chicken ($7.40/kg) remains largely unchanged for the past five months.
Understanding MLA's new retail reporting system
Meat and Livestock Australia two months ago adopted a new monthly retail fresh meat market share analysis, provided by Neilsen Australia Homescan. It replaces the previous Roy Morgan single-source data that has been used for the past ten years.
While there are some variances between the two reporting systems, the relative positions of the three major retail competitors – Coles, independent butchers and Woolworths – remain much the same.
The previous Roy Morgan single-source data provided for the past decade was based on a door-to-door survey that estimated purchasing, based on respondents' descriptions of how many serves they had bought in the previous seven days.
The new Nielsen Homescan data is extracted from 10,000 households nationwide, each using special bar-code scanning equipment to record all grocery purchases that enter their home.
The Homescan data represents actual purchases rather than stated serves. In MLA's opinion, this delivers a better estimate of the actual trends in fresh meat expenditure.
As always, switching data providers means some differences in results. MLA has provided some briefing notes on what users might expect to see in contrasts between Roy Morgan to Nielsen reports:
Fresh Meat: The overall market share for each meat type is similar in each survey (+/-5pc)
Beef records a higher share in Nielsen than Roy Morgan (+5.7pc on average), while pork and chicken share decreases. This could be because of beef's higher average price relative to the other two meat types.
Chicken (-1.7pc) and pork (-2.6pc) have lower value shares in Nielsen. The shares for veal (-0.5pc) and lamb (-0.9pc) are slightly lower in Nielsen.
National channel share, beef and veal: Nielsen data is more stable than Roy Morgan.
Specialty (butchers) is the only channel with a lower beef and veal share in Nielsen (-5.6pc on average). Specialty has a lower share for all meats except chicken. The nature of the specialty shop could result in a lower capture rate in Nielsen and a higher rate in Roy Morgan, MLA says. The exception (chicken) is caused by the fact that fresh chicken specialty shops are now included in the sample.
Coles (+3.2pc) and Woolworths (+1.1pc) have the biggest positive difference in channel share for beef and veal between the old and new systems. IGA (+0.6pc) and Aldi (+0.6pc) have very similar shares across the two data sources.
MLA concludes that overall, there is not a considerable difference in the data trends observed between Nielsen and Roy Morgan. Nielsen offers a more stable trend and the use of value instead of volume data, giving a more 'realistic picture' of the market, it says.
To read MLA's full explanatory notes on the changes to the monthly retail survey, click here
• Coming up: Woolworths comments on its historic move into the MSA program in early January, in an exclusive interview with Beef Central.