IMPACTS from the arrival of Brazilian beef in the US, declining beef and cattle prices in the US, and the growing US beef export trade into North Asia were just some of the topics discussed at last week's important Meat Importers Council of America conference held in San Francisco.
Steiner Consulting's Len Steiner presented his regular state of the industry address to the gathering.
His take away message was that US beef prices are on a downward trajectory due to lower feed costs, expanding cattle inventories, lower prices for competing meats and a slow growth environment both in the US and globally.
While US cattle prices are down to 2010 levels at this point, Mr Steiner told the gathering he expected US cattle inventories to continue to increase in 2017 and 2018.
"Larger cow inventories will drive an increase in the US calf crop in 2016 and 2017 and thus bolster supplies in the short to medium term," he said.
"While US cow-calf operator returns are down sharply from the record levels a couple of years ago, they still remain positive. Furthermore, the current US female slaughter ratio implies that expansion remains on track and will persist going forward."
"It is important to recognise in this regard the impact of both lower US corn prices (impacting feedlot costs and the price they pay for young cattle) as well the availability of pastures and hay," Mr Steiner said.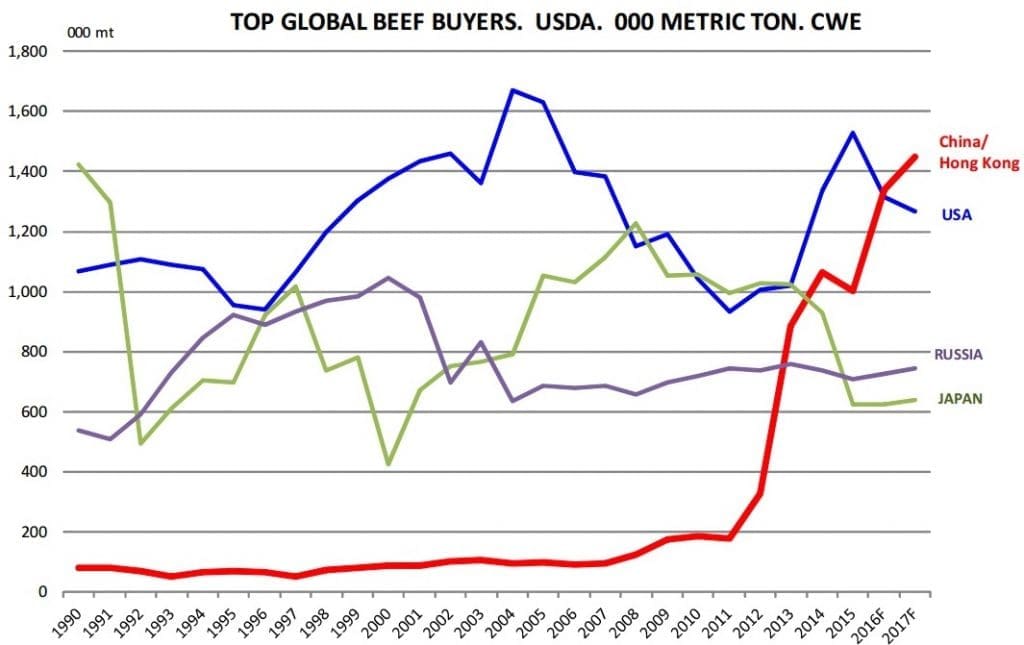 There was also plenty of discussion during the Meat Importers Council meetings last week about the entry of Brazilian beef into the US.
There appears to be some confusion about the number of Brazilian plants approved for export.
Some earlier press reports indicated that as many as 12 Brazilian plants have been approved, but so far only six plants had been confirmed as clear to ship beef to the US.
Brazilian representatives at the MICA meetings noted that they are now working on lotting protocols that would facilitate the export of manufacturing beef to the US.
"So far a small amount of product is currently floating towards the US, and a small shipment of Brazilian beef has arrived by air freight," Mr Steiner said.
Brazilian government officials did not want to comment on the issue of out-of-quota beef coming into the US, he said, noting that they preferred to see Brazil ship beef to third markets rather than pay the extra duty.
However, industry representatives noted that the price paid in the US for some products, especially defatted round cuts, currently made the US market competitive with other markets for Brazil – even when considering the 26.4pc tariff that would apply for out of quota shipments.
Brazilian government officials expected that Brazil would end up shipping some beef out of quota to the US, but it will more likely be cuts, not manufacturing beef.
Also speaking at the MICA conference was the Argentine Minister of Agriculture, who reiterated the commitment of the Argentine government to facilitate a better trading relationship with the rest of the world.
He noted that his government's agricultural trade policy would be based on three pillars: market access; simplification of export requirements (i.e. less red tape); and bilateral negotiations.
He also announced that US FSIS officials would be visiting plants in Argentina in November and he expected Argentinean beef to come in the US in 2017.
He also noted that he did not expect Argentina to take as much time as Brazil between the FSIS plant visits and the time when FSIS issues its final decision on equivalency.
Irish officials attending MICA highlighted their focus on sustainability and the positioning of the Irish beef using their Origin Green initiative.
The initiative takes a holistic approach towards sustainability, focusing on various aspects of sustainable animal husbandry, from animal welfare, to social impacts, to carbon footprint.
The main challenge for Irish beef coming into the US was lack of country or region specific quota, Mr Steiner said. Entry of Brazil into the US market could limit the quota available for Irish beef in 2017.
Australian representatives attending MICA highlighted some of the changes that have taken place in recent years, with Australia's cattle herd now in an early-stage rebuilding mode.
This has substantially limited the supply of beef coming to market and exports are well down from the high levels experienced in 2014 and 2015.
They also highlighted efforts that Australia is currently making to further expand market access, with Free Trade Agreements seen as a positive factor facilitating trade.
"One could sense from the conference that imported beef business in the US remains as vibrant as ever, with more participants and plenty of opportunities," Mr Steiner said in a post event summary.
"While this is a time that US beef supplies are expanding, there is also a recognition that there are plenty of opportunities, especially for those that are willing to adapt to the changing tastes of today's consumer," he said.
Growing exports from the US
Providing comment this week in a Daily Livestock Report, Len Steiner said weekly US exports  of  fresh/frozen  beef muscle  cuts  had been tracking well above last year for much  of the northern hemisphere summer and they promised to follow that trend into the autumn.
Using a four-week  moving average to illustrate the trend, US exports for the last  four weeks  had averaged at  13,321t, some 29 percent higher than the same four week period a year  ago.
"Export gains have been broad based, with strong gains both in Asian markets but also to partners in North America," he said.
US weekly shipments  to  Japan during the last four reported weeks had averaged 3697t, 33pc larger than a year  ago, while exports to South Korea had averaged 3070t, 55pc higher than a  year  ago.
"Our  expectation  earlier  in  the  summer  was  that  exports  to  Asia  would show notable improvement because of both lower US beef prices  (versus the previous year) but also lack of supply availability in Australia, our  main  competitor  in  these markets.  So  far,  that  expectation  has  been  proven  right," he said.
US exports  to Mexico  and  Canada  also  remained  robust,  showing  +15pc  and  +19pc  improvement year-on-year,  respectively.
"Overall,  the  latest  export  numbers  paint  a  positive  picture  for  export demand," Mr Steiner said.