Meat & Livestock Australia (MLA) has updated its online global and domestic market snapshots with new consumer insights, market access developments and 2017-18 export performance data.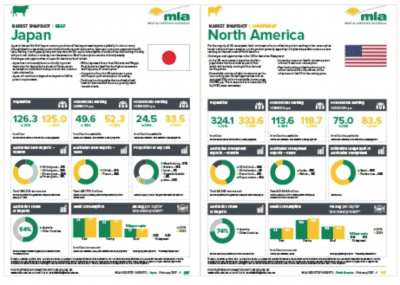 The snapshots cover 10 key markets for beef and eight key markets for sheepmeat, including Australia, Japan, North America (US, Canada and Mexico), Korea, China, Indonesia, South-East Asia, European Union and the Middle East and North Africa (MENA) region.
MLA's Market Intelligence Manager, Scott Tolmie, said since the last update in February 2018, several key developments have emerged with implications for the Australian red meat and livestock industry, which are explored in the new snapshots.
"Australia supplies red meat to over 100 countries and demand for our products is heavily influenced by changing consumer preferences, as well as trade access and supplies from competing nations," Mr Tolmie said.
"Among the insights contained in the updated snapshots are the key outcomes of the Indonesia-Australia Comprehensive Economic Partnership Agreement (IA-CEPA), and the implications of Brexit to the Australian red meat industry.
"Looking at consumer trends, the snapshots explore the continuing rise in demand for premium Australian lamb from the Gulf Cooperation Council countries, and robust growth in sheepmeat exports into China, as well as Australia's trade access status.
"The snapshots also look at the ongoing demand for Australian chilled grassfed beef from US consumers, and the increasing competition from US beef in Japan and Korea markets.
"The snapshots aim to not only provide information around what is driving export volumes and values, but a more forward looking analysis of the consumer and industry trends that will influence Australia's future red meat exports into each market."
To read the snapshots, click here.