HIGH-END grainfed beef brands representing Angus and Wagyu genetics shared most of the major honours at the Royal Melbourne Fine Food Awards branded beef competition judged on Thursday.
Using a judging system similar to the wine industry where entries earn medals, based on achieving certain point-score levels, the Melbourne branded beef competition this year awarded nine gold medals (three last year), six silvers (three last year) and 11 bronzes (four last year).
There were 38 entries received this year from Victoria, NSW, South Australia and Queensland-based brand managers, a solid rise from 27 last year.
Conducted by the Royal Agricultural Society of Victoria (RASV), the awards celebrate fine foods from Victoria and across the country in a number of categories, including beef. The program is regarded as one of Australia's premier fine food events, with judges made up of leading chefs, food technologists, food writers and trade representatives.
Here's a snapshot of the competition's gold medal winners, broken down by class. Full class results are located at the bottom of the article:
MSA Grainfed beef class

A gold medal for Oakey Holdings' Angus Reserve brand program is another solid endorsement for a brand with a growing reputation, which earned the same result in Melbourne last year.
As the name suggests, Angus Reserve is an Angus-exclusive program with feeder cattle sourced from northern NSW and southern Queensland, and fed a 150-day program at Nippon's Whyalla feedlot near Texas. Cattle are inducted at 18 months of age or less, producing marbling scores of 2+ and average carcase weights of 390-400kg.
Since the program was launched in 2010, numbers on feed have doubled, and now represent 450 head per week. Demand is continuing to grow, because of its high consistency and quality.
The product goes into a range of premium-oriented international markets, particularly for food service use, and is also supplied into Costco Australia's Kirkland brand program. Costco, across its international warehouse bulk retailing model, has a USDA Choice minimum beef quality requirement, equating to AusMeat marbling score 2.
The Costco requirements are growing, as the company expands its stable of mega-outlets across Australia.
JBS Australia's success at branded beef awards continued last week, with Riverina Angus repeating its result from last year in taking home a gold medal at the Royal Melbourne Fine Food Awards in the grain fed MSA class.
One of JBS Australia's flagship grainfed beef brands, Riverina Angus, is fed and processed at the company's feedlot and processing plant, Riverina Beef, near Yanco in southern NSW.
Beef City Black, produced at Beef City on the Darling Downs, also won a bronze in the Open Class.

The Riverina Beef and Beef City facilities are the only two fully integrated feedlot and processing facilities in Australia, meaning cattle can calmly walk directly from the feedlot to the abattoir without the stressful effects of trucking, even short distances.
Riverina Angus enjoys a strong domestic market share while also being well recognised in key export markets across Asia and the Middle East.
JBS Australia's Northern Sales Manager, Brendan Tatt, said Riverina Angus was performing particularly well in the food service channel in Australia with many restaurateurs recognizing the product for its superb eating qualities.
The Riverina Angus program was launched two years ago, and currently represents about 700 bodies per week. Carcase weights are typically 370-380kg. That high production volume gives domestic and international customers the assurance that there is a constant flow of product available year-round, within the brand specs.
"We wanted to design a brand and a program that was suitable for a multitude of markets," Mr Tatt said.
About half of the cuts extracted from the program go into higher-end domestic food service destinations, mostly restaurants and hotels, with the balance going to quality restaurants and retailers in a wide variety of export markets.
The marbling score 2 minimum requirement is achieved off a 120-day program. In years gone by, such marbling performance would have been seen mostly in cattle fed 150-180 days, but improved feeding, nutrition, cattle management and genetics has lifted general performance to the point where it is now consistently delivered in 120 DOF at Riverina.
"In earlier years, cuts from a program like this would have gone almost exclusively to export markets as fullsets. Today, we break that body up a whole lot more matching the cuts up with the most appropriate markets and developing strong relationships with distributors and end users who will recognize the value of the brand," he said.
"There's a lot more work involved in doing that, but it's part of the diversification of our business and delivering the market The Ultimate Dining Experience."
Wagyu beef class: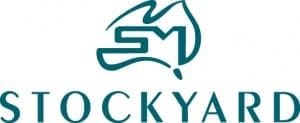 Stockyard Beef has been one of the pioneers of crossbred Wagyu production in Australia, and the company's Stockyard Black brand program continued its long sequence of branded beef competition success with another gold medal in Melbourne on Thursday.
The brand is supplied in part by a novel contract breeding program involving dairy farmers, producing Wagyu x Holstein F1 calves. Holstein x Wagyu is the dominant form of F1 Wagyu production in Japan.
The company's Stockyard Black brand entry last week, producing a marbling score of 9, was out of an F1 program fed for a minimum 400-days, using Fullblood bull Excel Ichiryuno as semen donor.
Stockyard Black is sold across the world, with a strong presence in the Middle East and North and South Asia. With contract kill processing carried out at the EU-accredited John Dee plant at Warwick, the product is now also finding its way into the high-value EU market.
The Australian Agricultural Co also earned a gold medal in the Wagyu beef class with its Darling Downs Wagyu brand (see Friday's separate report here).
MSA  grassfed beef class: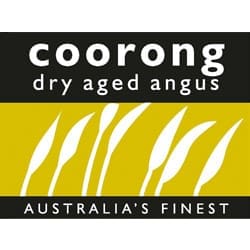 Another prominent competition winner in this year's Melbourne Fine Foods branded beef contest was South Australian supply chain manager, Richard Gunner, whose Coorong Angus Beef entry earned a gold medal in the grassfed class.
Coorong Angus previously won a divisional championship in Sydney's equivalent competition in 2006, and again in 2009.
There are two derivatives under the company's 'master brand', a grassfed version and a 120-day grainfed program fed a barley-based ration at Wanderibby feedlot in SA.
The program uses cattle carrying at least 75pc Angus genetics, using the same definitions as those applied in the Certified Australian Angus Beef program. The program uses both Gunner family-bred (20pc) and bought cattle (80pc), from return local breeders.
Most of the company's production goes through high-end restaurants and hotels in Adelaide, Melbourne or Sydney, or through the Gunners' five Feast Fine Foods retail outlets in Adelaide.
A second gold medal in the grassfed class went to Gippsland Pure Beef, entered by Ashburton Meats Pty Ltd, Victoria.
Open class (Small Producers) class:
Wuk Wuk Beef, entered by Grassvale Farms, East Gippsland, Victoria earned the only gold medal awarded in the open class for smaller producers.
Supply chain manager Peter Treasure said it was the first time he had entered a branded beef competition.
"We thought we would put something in just for the sake of saying we had a go and to measure where we sat with other producers," he told the Weekly Times.
"We thought if we could get a medal it would be great, but to top the class and get gold is fantastic."
Wuk Wuk Beef's Murray Greys are fattened to 230kg-250kg at the Treasure-owned Grassvale Farms, before being slaughtered on-farm. The carcases are hung for 14-60 days in the coldroom, using dry-aging techniques including Himalayan rock salt as a desiccant, and ultraviolet light for bacterial control.
Open Class (larger producers) class: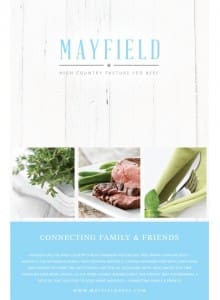 NSW-based Bindaree Beef repeated the gold medal it earned at the recent Brisbane Show branded beef competition when it earned another gold in the open class in Melbourne for its Mayfield Beef brand.
Mayfield Beef, a premium grassfed, free-range yearling MSA-graded product that is finished on a barley-based supplement ration in the paddock. The product is produced under a joint-venture in-conjunction with Ceres Ag.
A second gold medal in the class went to Collinsons Black Angus, Collinsons Boning Pty Ltd, Victoria.
Comment: Is the wine medal system appropriate for beef judging?
Results from this year's Melbourne competition again raise questions about the value of using the wine industry's 'medal' system as a means of rewarding performance.
The medal system relies not on awarding winners or placings in each class, but on a process where entries receiving a certain number of points from judges earn either a gold, silver or bronze medal.
While that sounds fine in principle, and works well from a 'marketing department' perspective, it quickly descends into farce when judges are overly generous when too many medals are awarded. There was more than twice the number of medals award this year as there was in 2013, while entry numbers rose only 40pc.
Here's a good example of the problem. At last year's Sydney Fine Foods competition, also relying on 'wine judging' systems, one class result saw ten of the 11 entries received a medal – either bronze or silver. Effectively, that meant almost the entire class finished either 'equal first' or 'equal second,' greatly dilutes the value and significance of competition placings.
2014 Royal Melbourne Fine Food Awards – Medal recipients
MSA Grainfed beef class
Gold:
Oakey Angus Reserve, Oakey Abattoir, Queensland
Riverina Angus, JBS Australia, Queensland
Silver:
Signature Certified Australian Angus Beef, Thomas Foods International, South Australia
JR The Chairman, Bindaree Beef Pty Ltd, NSW
Bronze:
Stockyard Gold, Stockyard, Queensland
Condabri, Atron Enterprises Pty Ltd, Victoria
Bindaree Vintage, Bindaree Beef Pty Ltd, NSW
1824 Gold, Australian Agricultural Company Ltd, QLD
MSA Grassfed beef class
Gold:
Coorong Angus Beef, Richard Gunner Fine Meats Pty Ltd, South Australia
Gippsland Pure Beef, Ashburton Meats Pty Ltd, Victoria
Silver:
Fernhill Road, Bindaree Beef Pty Ltd, NSW
Cape Grim Beef, Greenham Australia, Tasmania
Bronze:
Manning Valley Naturally, Wingham Beef Exports, NSW
JR The Trinity, Bindaree Beef Pty Ltd, NSW
Wagyu beef class
Gold:
Darling Downs Wagyu, Australian Agricultural Co, QLD
Stockyard Black, Stockyard, Qld
Silver:
Jac Wagyu, J & A Lewis Investments trading as JAC WAGYU, NSW
Master Kobe, Australian Agricultural Co, QLD
 Open class (Small Producers)
Gold:
Wuk Wuk Beef, Grassvale Farms, East Gippsland, Vic
Bronze:
A Hereford Beef, South Australian Cattle Co, SA
Farmer Dan Grass Fed Beef, Smugglers Cottage T/A Farmer Dan, Victoria
Watergrasshill Angus, Watergrasshill Angus, Victoria
 Open (Larger Producers)
Gold:
Mayfield, Bindaree Beef Pty Ltd, NSW
Collinsons Black Angus, Collinsons Boning Pty Ltd, VIC
Bronze:
Cape Byron Angus, Bindaree Beef Pty Ltd, NSW
Beef City Black, JBS Australia, Queensland