INPUT cost increases in meat were a significant factor in a deterioration in retail shelf margins, Coles boss John Durkan told shareholders attending parent company Wesfarmers' half-year financial briefing held yesterday.
Coles Supermarkets' shelf margin (representing gross margin excluding loss & logistics) was lower for the company's first half-year ended December 31, than the same period the year before.
The decline was driven by 'proactive investment' by Coles, including absorption of rising meat costs within the retail margin, plus growing retail competition, Mr Durkin told shareholders.
"Input cost increases in meat are a significant factor, and those cost increases have not been fully reflected in retail prices," he said.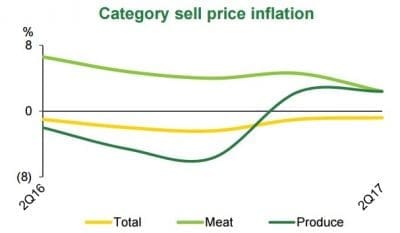 Meat accounted for about 20 percent of the shelf margin impact seen in Coles' first half result, which became more pronounced in the second quarter (October to December) (see graph).
Red meat is frequently used as a sacrificial loss-leader by major supermarkets, to drive more customers through the door. Woolworths, for example, has recently dropped its already low regular beef mince offer from $8/kg to $7/kg. Competitor Coles has its equivalent 3-star mince this week at $8/kg, while its Everyday (budget) offer is at $7/kg.
In comparison, the domestic wholesale market price for cartons of 85CL beef trim was quoted to beef Central this morning at $5.80-$5.90/kg. That's before mincing, packaging, cold storage, distribution, shrink and supermarket in-store costs.
Overall, Wesfarmers' Coles supermarket food and liquor division yesterday reported half-year earnings before interest and tax at $920 million, down 2.6pc on the previous year.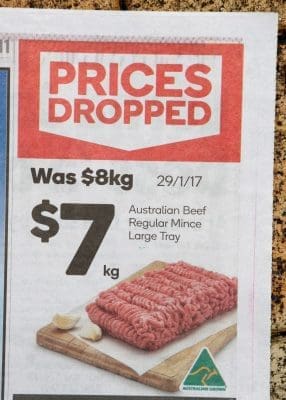 Revenue at $20.056 billion was in line with the previous corresponding period, but when the gains on the sale of Coles' interests in a number of joint venture properties was removed, earnings declined 6.8pc.
Other metrics including comparable transactions, basket size (average spend per shop) and sales per square metre during the half delivered continued growth.
"The decline in earnings was driven by lower margins following increased investments in customer value, including through the absorption of cost price increases in meat," Wesfarmers managing director Richard Goyder told yesterday's briefing.
Significant investment in value, particularly in the second quarter, led to lower earnings despite a reduction in costs, Mr Goyder said.
He said Coles would continue to focus on delivering a strong customer proposition to support long-term growth in earnings and returns.
"In the short term, margin pressures are expected to persist, as the focus remains on delivering customer value in a competitive market."
Lower food shelf margin is expected to persist through the company's second half, ending June 30.
Coles online retail sales continue to achieve strong results, with double-digit transaction and sales growth for the first half, compared with the prior year.
Big growth seen in chicken
In other related financial news announced to the market yesterday, chicken giant Inghams delivered a 14pc increase in profit for the half-year to $51.3m. The company processed 248,000t of poultry for the half year, up 13pc from a year ago, due to strong demand from its supermarket and restaurant customers.
Chicken demand in domestic retail and food service has grown strongly over the past 18 months, as consumers push-back against spiralling beef and lamb prices, and substitute with cheaper white meats.
"As other meat proteins become more expensive, we see growth in chicken, especially over the last period where we have seen customers investing in everyday low prices," Inghams chief executive Mick McMahon said.
Retail rival Woolworths hands down its half-year results next week, having posted an 0.7pc rise in like for like sales in its first quarter, ended September 30. It expects to build on that result.