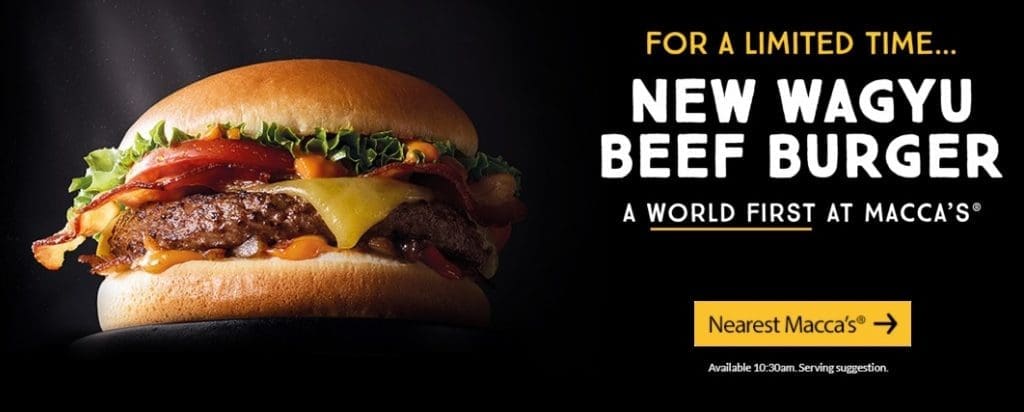 BURGER restaurant chain McDonald's has today reintroduced the Wagyu Beef Burger to its deluxe offering, after a two-year absence.
The company said it had sourced about 170 tonnes of F1 Wagyu trim for the revived program, derived from more than 100 Australian Wagyu producing properties.
McDonald's first launched its Wagyu burger as a limited time offer in Australia in 2018, claiming a world-first. It was available through the company's network of 970 stores nationwide.
"The limited-time only Wagyu Beef Burger offers customers a fancy take on a classic Macca's burger," the company said in a launch statement issued this week.
"The burger features 100pc Aussie-bred Wagyu beef, a tasty rasher of bacon, grilled onions, signature sauce and 100pc Aussie-grown produce including tomato slices, crisp lettuce and Aussie Jack cheese."
McDonald's claimed a world-first when it originally launched is Wagyu beef burger on the Australian market in early 2018. The project was described by the company as a 'limited time offering', rather than a trial. The original launch was backed by a solid consumer marketing campaign on TV and social media, before being discontinued a year later. No other McDonald's markets overseas have followed suit.
Premium option
McDonald's Australia brand manager Amanda Milios said the company knew the Wagyu Beef Burger was a favourite for many of its customers who were looking for a "delicious, more premium lunch or dinner option."
"As part of our continued support for the local agriculture industry, Macca's is proud to have sourced more than 170,000 kilograms of premium F1 Wagyu beef from more than 100 Aussie farms," she said.
"We know there's huge demand for the taste of Wagyu beef."
Speculation had been evident in industry circles for some years prior to the 2018 launch that McDonald's may at some time launch a Wagyu beef offering – especially following the outstanding success of the company's McAngus program back in 2010. Questioned about such a prospect at industry gatherings, the company in the past has always said it would not rule-out any new product launches, but pointed to 'critical mass' and ' continuity of supply' as an important factor with a product like Wagyu.
Wagyu industry growth in the past three years may have heightened the prospect of today's re-launch.
The re-released Wagyu burger breaks new ground for Macca's in a number of areas – particularly in price point. The 2018 original launch carried a recommended retail price of $10.75, while today's re-launch has a rrp of $11.20, setting a new high for a McDonald's burger not linked to a meal deal or other add-ons like a second pattie.
The burger patties are being made at Tyson Australia's pattie plant near Coominya in southeast Queensland. The 151g portion size is the same as McDonald's existing McAngus patties. Internally, the size is referred to as a "three-for-one," meaning there are three patties to the imperial pound.
Australian Wagyu Association's Matt McDonagh said Australia was often used as a test market for new products by companies like McDonald's, to see what uptake and response is like.
"Obviously supply for them would have been an issue, especially during the drought," he said.
"At least 20 percent of any carcase is going to be manufacturing beef, and all of that trim product needs to find a home somewhere."
"Wagyu trim attracts a premium, just as the muscle cuts do, and there's high demand for that grinding beef in export markets. But ultimately if there is more demand for that product from a customer like McDonald's, it helps underpins the base price for Wagyu beef," Dr McDonagh said.
The Wagyu burger is available until 19 October in McDonald's restaurants nationwide, including over-the-counter, drive-thru, McDelivery and the MyMacca's App.