THE inability of Australian beef grading systems to adequately report marbling performance in high-performing Wagyu cattle was exposed during a briefing with the Japan Meat Grading Association in Tokyo last week, as part of the Japan Wagyu study tour.
Japan Meat Grading association senior executive director Masayasu Aoshima spoke to the tour group while visiting the Tokyo Central Market last week.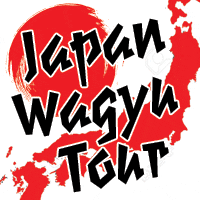 While Japan's Beef Marbling Standards (BMS) range from 1-12, in direct comparison, Australia's highest AusMeat marbling score of 9, is in fact equivalent only to a Japanese BMS of around 3.
Australian Wagyu Association president Peter Gilmour said it meant that some Australian product being sold in Japan was not being given the opportunity to express its true value, in terms of marbling performance.
"It was tremendous for stakeholders on the trade mission to be able to see the Japanese domestic carcases coming down the rail in wholesale market conditions, and the excitement that those higher marbling score carcases generated among the wholesale buyers present," Mr Gilmour said.
Another carcase attribute that Australia's AusMeat grading currently does not capture, but which is regarded as highly important in Japan's meat industry is marbling fineness/coarseness.
"It's the carcases with fineness of marbling that produce the better eating quality, and subsequently the highest prices, and that's an attribute that Australia must seek to address," he said.
Under Japan's own grading system, a carcase with a BMS of 11, for example, can be downgraded if it possesses a coarse marbling pattern at the quartered rib assessment point, but can actually be upgraded to a 12 if that marbling presents in the desired fine, feathery form. Fullblood Wagyu carcases do in fact show considerable variance, from body to body, judging by inspection at the Tokyo Central Meat Market.
Part of the problem was a lack of understanding and training in Australian grading about how to make distinctions in marbling performance at the Wagyu breed's upper levels of performance. Japanese graders go through a three-stage endorsement process, with the highest level often taking 10-12 years' experience to achieve.
"Currently an AusMeat marbling score of 9 (some plants record scores of 9+) is somewhere around a Japanese Beef Marbling Score of 3. However if we were go out to an AusMeat score of 12, that would equate to a Japanese BMS of around 6," Mr Gilmour said.
"If you continue down that path, we could potentially reach an AusMeat marbling score of 18, to accommodate the full range of beef now being produced in Australia. But very little Australian product would ever get to that extreme, and we perhaps need to recognise that."
"It's not about trying to squeeze into the same marbling market segments as the Japanese do, and duking it out. But we do need to better reflect what we are actually producing in the Australian Wagyu industry."
Objective camera may offer solution
Mr Gilmour said a lot of trial work was now being done in Australia with the prototype Meat Image Japan digital camera, used for objective carcase grading of Wagyu carcases (separate story to come).
"The Australian Agricultural Co and several other Wagyu brand proprietors like Stockyard have been using a digital camera now for some years in their Wagyu programs, and they apply an 'AA 10, 11, 12' grade above AusMeat 9.
"It's in everybody's interest to be able to identify and record a higher marbling score – the cow-calf operator, the feedlot, the brand owner, and the customer"
"That's really exciting to see it in use, but we, as an industry, would like to see much more widespread use of the digital grading cameras for Wagyu carcases," he said.
"It's in everybody's interest to be able to identify and record a higher marbling score – it helps the cow-calf operator, the feedlot, the brand owner, and the customer, to be able to record those better marbling Australian carcases more accurately."
Mr Gilmour said 95 percent of Wagyu beef produced in Australia was destined for export, and by legislation, it had to be graded under AusMeat conditions.
"We can't just go rogue. We really need AusMeat to come along on the Australian Wagyu expansion journey with us, for this problem to go away."
AWA chief executive Matt McDonagh said the current limitations on marbling range reported via AusMeat grading could also in fact dilute Estimated Breeding Values (EBVs) for marbling generated from slaughtered progeny of better performing bulls.
Some progress is being made, however. There were some references made in the recent Beef Language White Paper about the need to extend marbling grading boundaries to better reflect Wagyu performance.
The AWA two years ago put in what it considered a strong submission to the steering committee requesting an extension of marbling scores 10, 11 and 12. However that was rejected on the basis that AusMeat graders in their current level of training were not equipped to distinguish different levels of intra-muscular fat, beyond the current score 9.
This perhaps presses the need, even more, for widespread use of a digital camera for Wagyu meat quality assessment. Perhaps providing an advantage in that area is that the overwhelming number of Wagyu carcases produced in Australia are processed at only a handful of specialist beef facilities. Perhaps 90 percent of all Wagyu beef produced come out of only seven or eight plants, making the cost involved in camera installation a little easier to spread.
Whereas handling Wagyu cattle on a typical beef chain has its challenges, especially in having to slow down the chain speed, for example, the new digital camera has the ability to capture an accurate image of each rib area every 50 seconds.