BURGER giants McDonald's and Hungry Jack's have entered into a legal stoush over the name, description and construct of Hungry Jack's new 'Big Jack' and 'Mega Jack' burger range.
Hungry Jack's (aka Burger King in other markets around the world) launched its Big Jack/Mega Jack limited time offer a month ago, heavily supported by advertising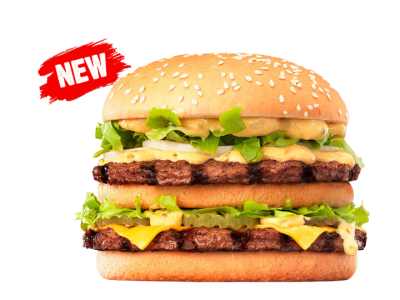 McDonald's has filed a Federal Court lawsuit suggesting the burger's name and its advertising 'imitates' the 'distinctive appearance' of the chain's Big Mac, as well as its ingredients and tagline.
The suit claims Hungry Jack's 'deliberately adopted or imitated' the appearance or build of the Big Mac, as well as its ingredients and the famous ad tagline – "two all-beef patties, special sauce, lettuce, cheese, pickles, onions – on a sesame seed bun" which has been used by McDonald's since the seventies to promote the burger.
Hungry Jack's has chosen to use the ad tagline "two flame-grilled 100pc Aussie beef patties, topped with melted cheese, special sauce, fresh lettuce, pickles and onions on a toasted sesame seed bun" in its promotion of the Big Jack.
When Beef Central published this original story on the launch of the new Big Jack/Mega Jack offer back in July, we asked Hungry Jack's management whether it was intentional that the name 'Big Jack' was remarkably similar to 'Big Mac'.
The company said the name was chosen "Because it's big, and it's part of Hungry Jacks… easy name."
According to court documents, McDonald's has already ordered Hungry Jack's to stop selling the burgers and using the advertising tagline, but Hungry Jack's refused to comply.
It also claims Hungry Jack's registered the Big Jack trademark in November last year "in bad faith".
Advertising industry website Mumbrella reported today that McDonald's has asked the Federal Court to revoke the Big Jack trademark, arguing it will cause 'confusion' with consumers who may believe the burger is related to McDonald's in some way.
McDonald's has also demanded damages and the 'destruction of all promotional materials' which would include both physical and electronic brochures, menus, advertising and marketing materials, related to the Big Jack or Mega Jack.
Mumbrella quoted a Hungry Jack's spokesperson as saying "Hungry Jack's has not been served any formal documents from the court and, thus, is unable to provide any comment at this stage."
"This isn't the first time Hungry Jack's and McDonald's have come to blows," Mumbrella said.
"In early 2019, McDonald's lost the trademark for the Big Mac in the EU, resulting in a tongue in cheek campaign from Hungry Jack's which used the 'Big Mac, but actually big' and the 'Burger Big Mac wished it was'.
Coincidentally, as part of Beef Central's monthly reader quiz published last week, we asked readers to name the new burger in a picture, and by default, the company that produces it. Thirty six percent of respondents said Big Jack (Hungry Jack's) while a combined 56pc said either Big Mac or Whopper (McDonald's).