In a market driven decision, JBS Australia today announced from Monday 17 November it's widely recognised brand, King Island Beef, would be underpinned by the class-leading grass fed quality assurance standard, JBS Farm Assurance.
The introduction of the pioneering grass fed standard to the King Island Beef brand will require all cattle destined for the brand to comply with the standards and come from King Island properties that have been accredited with the ISO/IEC 17065 3rd party audited model developed by JBS Australia in 2010.
In announcing the change to King Island Beef, JBS Australia's Chief Operating Officer (Southern), Sam McConnell, said the addition was a natural transition given the vast coverage JBS Farm Assurance had gained on King Island and the recognition of the quality guarantee the program offers customers both domestically and all over the world.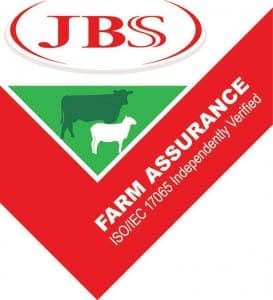 "Almost all of our suppliers on King Island have adopted the JBS Farm Assurance program as part of their operations, so we see no material impact on our supply, and all upside on being able to maximise carcase utilisation in order to continue to deliver farm gate premiums for the livestock producers of King Island," he said.
"King Island Beef has a strong and unique story around how and where it is produced. Underpinning production through the structured and auditable JBS Farm Assurance Program will enhance these attributes, further strengthen the domestic brand and open up new and exciting opportunities in premium market segments both here and internationally."
In addition to ensuring livestock are grass fed, free from the use of hormone growth promotants or antibiotics, are MSA graded and never exposed to GMOs, the JBS Farm Assurance Programs has won wide praise for the additional elements it requires, such as the recording of veterinary procedures, transport conditions and on-farm chemical storage, just to name a few.
Mr McConnell said he believed the success of the program was due to the "extra lengths" it went in providing certainty for customers. Today almost 2,000 properties across the King Island, Flinders Island, Tasmania and the mainland are actively engaged and accredited with JBS Farm Assurance.
"Developing JBS Farm Assurance wasn't about developing a standard for the sake of it. The program was strategically designed through comprehensive consultation both up and down the supply chain to deliver maximum value for the producers while also meeting the growing expectations of our customers both here and around the world," he said.
"Adding the verification to King Island beef will enable us to take some of the cuts that are currently not sold under the label with Coles Supermarkets in southern Australia and deliver them to key customers that require JBS Farm Assurance as a pre-requisite for their programs. This will better position us to reward our suppliers for their commitment to JBS Australia.
"JBS Australia remains committed to the King Island Beef brand, and this move further consolidates our loyalty to the brands future."
JBS Farm Assurance was derived through comprehensive consultation with industry, suppliers, customers and end users from around the world and is 3rd party audited to deliver an independent verification properties and livestock meet the strict requirements.
"Our program delivers a whole farm management system that pays a premium and encourages long term management practices to producers while giving customers peace of mind product is raised with the highest levels of animal welfare, environmental sustainability, natural farming practices and traceability," Mr McConnell said.
An additional critical benefit to the producers is JBS Australia's commitment to covering the auditing costs for participants of the program. King Island Beef is currently sold in selected Coles supermarkets throughout southern Australia, and JBS Australia is committed to developing additional supply chains for the product.
The JBS Farm Assurance program also underpins other brands within the JBS Australia brand portfolio including Great Southern Beef and Lamb and Red Gum Creek.