A monthly column written exclusively for Beef Central by US market analyst, Steve Kay, publisher of US Cattle Buyers Weekly.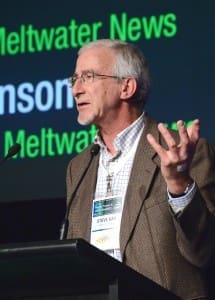 Picking highs and lows in any market is an inexact science. But seasonality is alive and well in the US cattle and beef markets.
Cash prices for grainfed cattle and the wholesale prices of their cuts appear to have put in their summer lows exactly when people forecast they would.
Even the price of domestic lean manufacturing beef (90CL), which is of immediate interest to Australian exporters, has likely put in its summer low.
The 90CL price eased during July. It averaged US $290.10 per cwt the week before last, US$1.54 lower than the average price the same week last year.
This was somewhat surprising, given that US cow slaughter is well below year ago levels.
But the record high retail price of ground beef (fresh mince) has made summer ground beef sales weaker than expected. The price of 90CL rallied in August last year to set new record highs five weeks in a row. But that's unlikely to occur this year.
The average retail price of all ground beef in June was US $4.68 per pound, up 10.4pc on a year ago, according to USDA. The average price of all uncooked beef steaks was US $7.92 per pound, up 13.5pc on a year ago and about 40pc higher than what it was in 2011.
USDA's All Beef price in June hit a new all-time record of US $6.11 per pound. This was up 5c from May and up 10.9pc from June last year. In contrast, June retail pork prices averaged US $3.70 per pound, down 10.2pc from last year, and chicken averaged US $1.99 per pound, up 2.1pc from last year.
This meant that beef's overall price was US$0.42 per pound higher than pork and chicken combined, compared to a US$0.56 discount a year ago.
This contrast reveals how much less competitive beef is versus a year ago and why beef sales are struggling at the retail level. July retail beef prices were unlikely to be much lower than June's while pork and chicken remained much cheaper. That's why the wholesale price of cuts (cutout values) collapsed in July even more than they did in June.
As Beef Central readers know, the price of imported 90CL has remained at a sizeable discount to US prices, although it has narrowed in recent weeks.
Buildup in cold storage
The discount is because imports from Australia and New Zealand have been running far above year ago levels all year. But shipments from both countries are set to decline as slaughter levels fall. So importers and end users in the US in June started putting more imported 90CL in cold storage for future use.
The total amount of beef in storage on June 30 totaled 467.1 million pounds. This was up 30.4pc on a year earlier. Beef production to that date was down 4.7pc on a year ago so boneless imported beef accounted for the entire year-on-year increase in the storage number.
In light of beef's sales woes this year, it's surprising that beef industry leaders did not focus more on making beef more competitive with other proteins when they developed a new five-year plan for the industry recently.
A 16-person task force, which had been meeting since last December, defined the mission of the US beef industry as "a beef community dedicated to growing beef demand by producing and marketing the safest, healthiest, most delicious beef that satisfies the desires of an increasing global population while responsibly managing our livestock and natural resources."
The task force made improving demand for beef as the single most important strategic objective the industry should pursue. It established a specific objective to increase the wholesale beef demand index by 2pc annually over the next five years. Achieving this would require resources be committed in four core strategies, it said.
One of the plan's strategies is to respond to consumer-based market signals with product improvements and increased production efficiencies. But nothing was spelled out as to how to cut costs or be more competitive. Instead, the strategies focused much more on exports and on beef's "value proposition" to consumers.
Maybe the task force members felt an increase in US beef cattle numbers that began last year and will continue for the next few years will make beef less expensive in relation to pork and chicken. However, what if the pork and poultry sectors continue to expand next year and beef continues to be far higher-priced than pork or chicken? The beef industry will face the same competitive pressures it faces today.
Prices have hurt beef sales
I mention this in part because the exuberance over record high fed cattle, wholesale beef and retail beef prices has given way to the realisation that those prices have hurt beef sales in grocery stores and restaurants.
Americans still prefer beef to any other meat. But they are finding record high retail prices hard to stomach. Restaurant sales, notably at steakhouse chains, were resilient until recently but have weakened in the past month.
The positive news (although not for packer and cattle feeding margins) is that cattle and wholesale beef prices have fallen more than expected in the past month. Beef cutout values appeared to stabilise last week but they are expected to rally only modestly in August.
Beef's best hope is that the lowest wholesale prices since June last year will encourage retailers to feature beef more aggressively in late August and for the Labor Day (Sept 7) holiday week.
Strong ground beef features would also help raise the price that Australian exporters get for their 90CL.