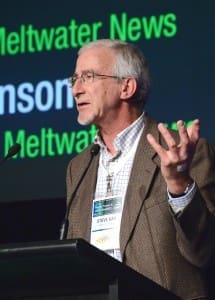 A monthly column written for Beef Central by US market commentator Steve Kay, publisher of US cattle Buyers' Weekly
HOW sad that one of the most successful sectors of the US economy is now beleaguered by events out of its control.
Productivity throughout US agriculture has soared in recent years and the sector contributes positively to the nation's balance of trade each year. Ag exports in fiscal 2019 starting October 1 are projected by USDA to total US$144.5 billion.
Perceived and real threats to that progress were until now, in the case of the livestock sector, disease outbreaks and opening up markets. Phytosanitary barriers were seen as more of a barrier than tariffs.
Now the latter, and notably the tariff war between the US and China, have become a dark cloud over US agriculture.
As I wrote in my July column, the tariff trade wars erupted in early July. New tariffs on a vast array of US food and agricultural products are now costing the ag sector hundreds of millions of dollars per week.
China's 25pc tariff on US soybeans has imposed an estimated gross trade damage of US$7.26 billion on an annualised basis. Chinese and Mexican tariffs on US pork are estimated to be causing US$1.14m of damage. Tariffs imposed on US dairy products are estimated to be causing US $340m of damage.
These numbers come from USDA. But a private study puts the dairy damage at US$1.5 billion. Then there are the damages to a myriad of other crops, from apples to peanuts. Suffice to say, USDA's US$12 billion aid package to farmers and growers will scarcely put a dent in these losses.
Beef impact worth 'hundreds of millions'
China alone has put tariffs on 518 US food and ag products, the latest being a 5pc tariff on all US wet blue and raw hides going to China. This took effect September 24. The beef sector's losses are not as severe as those seen in hog, corn and soybean production. But the tariffs imposed on beef products exported to China and Canada will cost the industry hundreds of millions of dollars per year in lost sales.
China's additional 25pc duty on US beef exports to China will severely limit exports the remainder of this year, meaning export losses of more than US$30m, says the US Meat Export Federation.
But the real impact is the lost opportunities for export growth over the next couple of years. It estimates that beef exports to China could grow from the pre-tariff 2018 value of US$70m to US$430m by 2020.
Lost opportunities over the next couple of years will be in the hundreds of millions of dollars if the tariffs are not quickly returned to the normal 12pc, it says.
US agricultural leaders are understandably more and more concerned about the tariffs' impact on US agriculture, both in the short and longer-term.
The ongoing trade war with China is rearranging trade patterns and could have a long-term detrimental effect on the US agriculture economy, Cargill CEO Dave MacLennan said in a September 25 TV interview. The actual tariffs, as well as the uncertainty they add, are already affecting the market, he said. China is committed to not purchasing US soybeans because of pride, the trade war and also because of price. That rearranges the supply chain, he said.
KORUS, NAFTA trade agreements positive news
US agriculture however did get three positive pieces of trade news a week apart. The US and South Korea announced they had signed a revised Korea-United States Trade Agreement (KORUS). The signing was extremely important to the US beef industry because Korea is the second largest value market for US beef after Japan.
The US is the largest supplier of beef to Korea and the second largest pork supplier. US red meat exports to Korea set a record last year of US $1.7 billion, up 19pc year-over-year and up 69pc from 2012 when KORUS began.
Under KORUS, most US pork products now enter Korea duty-free. The duty rate on US beef has been reduced from 40pc in 2012 to 21.3pc and will continue to decline each year until it is eliminated by 2026.
In addition, the US and Japan announced they will pursue a bilateral trade pact. If realized, it would likely benefit US beef exports to Japan, which currently are subject to a 38.5pc tariff. This is far above the tariff imposed on beef from Australia and other countries. But there are early hopes that the US will close this tariff gap and its beef become much more price-competitive.
Then last Monday, ag leaders breathed more sighs of relief after the US, Canada and Mexico announced they had completed a new trade pact to replace the North American Free Trade Agreement (NAFTA). Importantly, the new pact leaves intact all the elements of NAFTA that have made North America a fully integrated market for cattle, hogs, beef and pork.
The pact, which will be called the US-Mexico-Canada trade agreement, came after the US threatened to move forward with a US-Mexico only deal, saying Canada was not making concessions in areas the administration thought was essential. One area involved the dairy trade. So Canada agreed to open its market to more US milk, cream, butter, while curbing subsidies for its dairy exports.
A Canadian dairy farmers group said this would grant access to 3.6pc of Canada's dairy market to the US. This might not seem like much, but any dairy concession had been strongly opposed in parts of Canada, notably in Quebec. Canadian Prime Minster Justin Trudeau admitted the dairy concessions "were not ideal" and pledged to fully compensate Canadian dairy farmers for any loss of market share related to the new pact.