A monthly column written exclusively for Beef Central by US market analyst, Steve Kay, publisher of US Cattle Buyers Weekly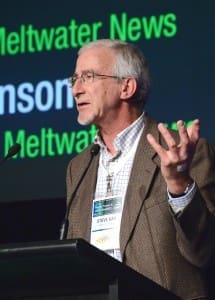 DROUGHT is the scourge of the cattle industry in Australia, and in the US as well. It not only puts enormous pressure on cattle producers. It affects the orderly flow of cattle from cattle station or ranch to abattoir or packing plant.
Right now, drought is having the opposite effect on beef processors in the two countries. Australian plants are over-flowing with cattle turned off parched pastures. US plants are scrambling to find enough cattle to operate even at minimum hours because of drought's impact on cattle number in 2010-2012.
Eastern Australia's drought, as Beef Central has chronicled in detail, has meant record weekly slaughter totals in the five eastern states. As Jon Condon has written, lack of rain, strong export demand and impending holiday plant shutdowns are forcing more cattle to slaughter. No wonder Australian beef exports to the US to the end of November totaled 357,000 tonnes, up 83 percent on the year before. The 2014 total could hit 390,000t, a figure not seen since 2004, says Condon.
It's a reflection of the remarkable strength of the lean manufacturing (90CL) market in the US that such a huge surge in Australian imports has had little price impact on the price on domestic or imported 90s.
Domestic prices hit hew record highs in July and repeatedly put in new highs until mid-September. Prices have remained within US $5 of the record almost every week since. This reflects the fact that US cow slaughter is down 14.5pc year to date on last year, and continued strong demand from retailers and quick-service restaurant chains, who need domestic product in their patty formulations.
The weak Australian dollar against the US greenback has also been a big factor in the increased shipments to the US. It's a no-brainer for Australian exporters to send product to the market that offers the highest return. That's the case for lean manufacturing beef but also for grassfed beef cuts.
More of the latter are leaving Australia for the US and Australia will soon become, if it isn't already, the biggest supplier to the growing US grassfed beef market. That's partly because so little grass-fed beef relative to grain-fed beef is produced in the US.
That factor is also why drought had little impact on the fed cattle supply in the US until this year. The greater impact came because beef cow numbers in the key cow-calf states of Texas, Kansas and Missouri declined sharply, in the drought years. This meant fewer calves were produced for feeding and slaughter from late 2013. Add to that modest net heifer retention for herd rebuilding this year. So fed heifer slaughter so far this year is down 8.7pc on last year while fed steer slaughter is down 3pc.
Fed beef processors have thus been forced to reduce their production levels this year. Tyson Foods, the industry's largest fed beef processor, harvested an estimated 6.927 million head in its fiscal year to September 27. That's against an estimated 7.020 million head in fiscal 2013. It forecasts that supply will decline 4pc in 2015, so it might harvest 6.65 million head or 277,000 fewer cattle.
Supply is not the only reason US packers have had to reduce production even more in the current quarter. Record high beef prices for most months this year are starting to take their toll on consumer beef sales. USDA's All Beef fresh retail price for October averaged US$5.96 per pound, up nearly 20pc from a year ago. USDA forecasts that overall consumer beef prices in 2014 will be up 11-12pc on 2013. It forecasts that prices will increase another 4.5-5.5pc in 2015 on 2014. But prices are not likely to moderate until the second half of the year.
Softness in consumer beef buying began to show up in September and has not improved. Wholesale and retail beef sales struggled in mid-November ahead of the Thanksgiving holiday, which is typically dominated by turkeys. Packers hoped for a lift in wholesale prices after the holiday, expecting procrastinating buyers to scramble to fill their Christmas-New Year holiday needs. Packers also expected the Thanksgiving holiday-shortened production week to give the market a boost.
The first few days of December though proved to be a bitter disappointment. Spot market beef volume was light and packers had to reduce prices just to get a sale. There's still time for prices to rally. But packers seem resigned to the fact that any increase will nowhere near cover what they are having to pay for fed cattle.
Since my last column, packers have had to pay record high prices three weeks in a row. A fed steer averaged US $ 171. 38 per cwt live the last week of November.  That's double what most people would have considered a decent price seven years go. Fed cattle prices are expected to average at least $155 per cwt this year, up an unprecedented 24pc from 2013.
Australian beef processors are wondering where they're going to store all the beef before they can ship it, and enjoying historically large margins. In stark contrast, US packers are wondering how to get rid of aging inventories they can't sell and staring at their worst fourth quarter margins in history.