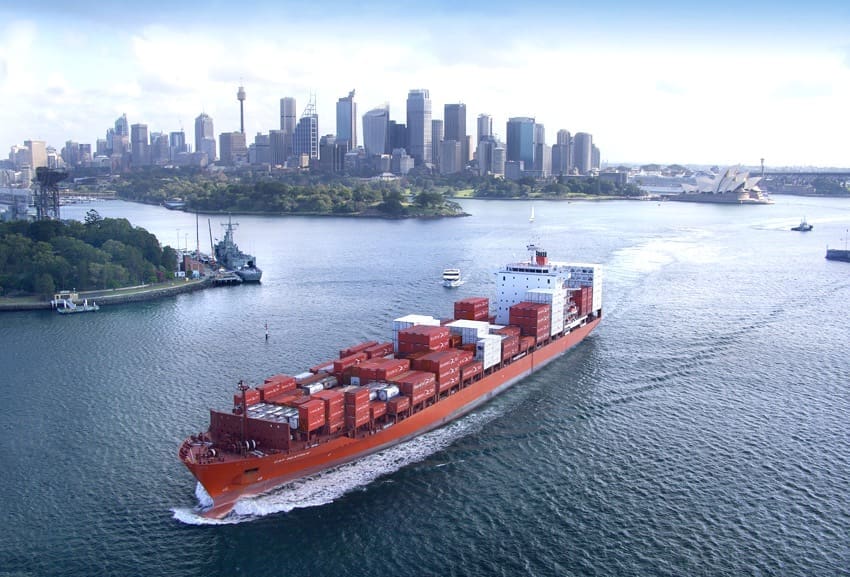 AUSTRALIA'S monthly beef exports surpassed 100,000 tonnes again in June, but the trend in beef production is showing clear signs of decline as the accumulated effects of drought-driven herd liquidation over the past two years come to bear.
June exports to all markets reached 100,050 tonnes, stats released by the Department of Agriculture show, with volume down five percent on the previous month, and about 1100 tonnes or 1pc below this time last year.
Production cycle turns
The shifting trend in cattle slaughterings and beef production is evident in in the latest Australian Bureau of Statistics livestock figures released on Friday.
While the stats carry some lag in reporting – being current to the end of May, rather than June – the trend line now is distinctly down, and is expected to continue on that path for the balance of the year. If substantial rain was to occur, volume would fall off dramatically, many stakeholders believe.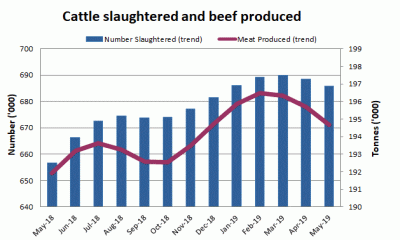 ABS data in this graph shows May beef production (combining domestic and export figures, for all states) down 0.5pc from the previous month to 194,700t (rolling average trend) but was still well ahead of this time last year.
After a sustained high level of processing activity since January forced by drought liquidation, Australia's exports for the first six months of the year ended June 30 totalled 569,105 tonnes, up about 6pc on the same period last year.
While June shipment volumes were down, there were only 19 working days in most states last month, compared with 23 the month before, which may account for some of the variance.
Exports to Japan in June reached 26,624t, slightly down on May and about 7pc below June last year. Calendar year to date, volume to Japan has reached 141,310t, about 13,700t or 9pc below the same period last year.
China reaches historic milestone
After going within a whisker of knocking-off the US as Australia's second largest volume market in May, China achieved this historic milestone last month, accounting for 22,603t of Australian beef. That's about 2200t more than all exports to the US last month.
Almost 90pc of the shipments to China for the month were in frozen form.
For the half-year to June 30, year to date, China has taken 118,030t of Australian beef – a dramatic 43,600t or 59pc higher than the same period last year.
A number of factors have been identified as driving the increase in trade, including the impact of African Swine Fever on the domestic Chinese pig population, pushing importers and Chinese consumers towards other proteins; the clampdown this year on the illegal grey trade through Vietnam and Hong Kong; and the general increase in demand for beef among middle class and more affluent Chinese consumers.
US trade slips
Shipments to the US in June reached just over 20,000t, down 14pc on May volumes and 10pc lower than the same period last year. Some say Chinese buyers are bidding away market share from the US, especially for frozen manufacturing beef.
For the half-year just ended, volume to the US has reached 122,940t – about 9000t or 8pc higher than the previous year, as the US domestic industry itself continues to produce high volumes of beef, with US cattle on feed numbers 2.2pc higher than last year at the end of May. Manufacturing beef exports to the US are up 12pc year to date, and have shifted to leaner categories, as fattier US trim supplies grow with expanding domestic fed cattle slaughter.
South Korea accounted for about 14,500t of Australian beef in June, about 7pc higher than May figures and a similar rise over June last year. For the first half of 2019, shipments to Korea have almost reached 81,000t, 8pc higher than the same period last year.
In other export markets, Indonesia in June took 4052t of Australian beef, down about 50pc on this time last year, and 25pc lower than May, which reached a peak leading up to the Ramadan religious festival ending on June 4. Half-year exports have reached almost 28,000t, down about 10pc on last year.
Total trade to the Middle East region reached 2500t in June, up about 20pc on the previous month and much the same as this time last year, as cheap Brazilian imports continue to take market share from Australia. Year-to-date exports to the region have reached 14,800t, up 9.5pc on the same period last year.
The high-value European Union market took 1216t, down about 17pc on this time last year, while year to date volumes reached 7348t, down about 12pc on last year.