AUSTRALIA'S largest meat packer, JBS Australia, has joined a world trend in farm quality assurance with its Great Southern grassfed beef and lamb brand launch in Melbourne on Wednesday night.
About 200 meat industry workers, livestock producers, stock agents, retailers and food service business owners sampled freshly-prepared Great Southern beef and lamb dishes while a beef carcase was cut up during the launch at Two Ton Max in North Melbourne.
JBS chief operating officer for Southern Australia Sam McConnell said the third-party audited JAS/ANZ ISO 65-accredited farm quality assurance programs backing the Great Southern beef and lamb products were the first of their type in Australia.
"At the end of the day this is about bringing the end-user and the producer together – this is a passion I've had for years," he said.
"We've had this great asset here in Australia – grass-fed beef and lamb – but we haven't explored it. All we've done is put a different coloured-lid on the box and said it's premium."
"This (Great Southern) is a program that is official, it's got backing, it's third-party audited – this is the real deal," Mr McConnell said.
"To me, if we hunt as a pack we will share in the feast."
Mr McConnell said there was huge demand in domestic and global customers for traceable fresh grassfed lamb and beef from best-practice producers with better livestock genetics. Great Southern beef is Meat Standards Australia-graded for eating quality, and farmers would receive price premiums, he said.
"Already, there are more than 650 southern producers in Victoria, NSW and Tasmania who are accredited to supply under the JBS Southern farm-assurance program," he said.
JBS Australia consigned its first quality-assured lamb into the United Kingdom four years ago and sent its first shipments of Great Southern beef to United States and Asia customers this year.
"Overnight our first customer in the US has doubled their quantity per week," Mr McConnell said.
JBS Australia pays the audit cost (for farmers) to be part of JBS farm assurance and benefits would be passed back to the producer from the end-user, he said.
A 10c/kg premium applied in the previous (Great Southern lamb) grid for the United Kingdom program, he said.
JBS Australia director John Berry said Great Southern products represented a strategy change from marketing meat commodities to a market-focused brand strategy with industry and commercial systems that met customer end requirements.
"We are underpinning a system to ensure consistency, quality and integrity in what consumers ultimately eat. It's brilliant that we can re-position grassfed out of Australia as a premium product," Mr Berry said.
JBS Australia farm market assurance manager Mark Inglis said the Great Southern program aimed to get higher returns for quality assured grassfed product for producers.
"If we can get more for that product at the other end, it is about sharing that percentage back to the producers," Mr Inglis said.
A network of mostly southern Australian producers will consign beef and lamb direct to JBS Australia works in Vicvtoria and Tasmania under guidelines ensuring quality, traceability, animal welfare and food safety.
Livestock consigned through saleyards will not be eligible for the brands. All Great Southern beef will be traceable with NLIS tags, but Mr Inglis said a lot-based system using visual tags and vendor declarations was being used for the lamb product.
Mr Berry said JBS Australia was breaking new ground with the Great Southern brand program.
"We're seeing that it's a model that we believe will give the producer a better understanding of end-customer requirements. It's a vehicle for producers to ultimately to be part of a system where they can provide product for 52 weeks of the year."
La Luna Bistro celebrity chef Adrian Richardson, who took part in the launch, said customers wanted to know more about the meat protein products they were eating.
"They want to know the animals have been treated humanely and with respect, and this program guarantees me the ability to do that," he said.
Pat Turton, business development manager with AsureQuality, the company responsible for the third-party auditing of the Great Southern farm market assurance programs, says his company's Australian and New Zealand red meat farm market assurance program business has grown significantly in the last 12 months, and a lot of that growth was in beef.
"We do about 10,000 audits a year in Australia and New Zealand in beef, dairy, sheep and wool," he said.
Customer demand for farm market assured, ethical and safe food production was also growing in markets such as China, he said.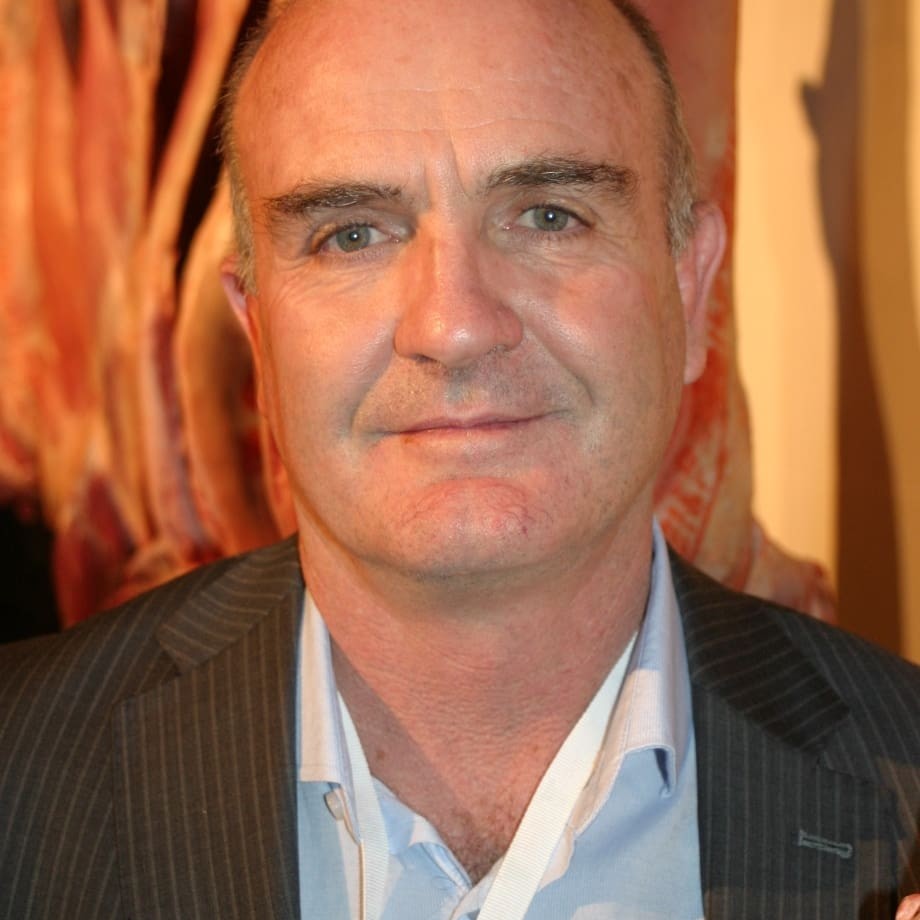 Mr Turton said most farm market assurance programs delivered a financial benefit to farmers. The most successful programs were customer-focused, and JBS Australia was a market leader in it's commitment to its customers.
In New Zealand, 90 percent of the lamb was produced under farm market assurance programs and beef product program coverage had increased from 20pc to 50pc in the past 18 months, he said.
Hamilton stock agent John Ellis welcomed the Great Southern initiative's aim to give grassfed beef and lamb greater prominence.
"It's high time," he said.
Benalla farmers Peter and Jill Lloyd with manager Tim Stokeswere among the first producers to supply lamb under the JBS Australia quality assurance program. They were attracted by the prospect of a regular market with a forward price for their grass-fed beef from their Hereford-based herd and composite Lambpro ewe flock.
"We hope to see some price premiums as the program gains momentum," Mr Stokes said.
Hereford beef and prime lamb producer Jeremy Upton from Yarram Park at Willaura has seen many quality-assurance schemes "come and go" over the years.
"Whereas this has been backed by a really strong company, it has got great values – so we are very keen support it with beef and lamb."
"We see this program that JBS Australia is offering as providing a point of difference," he said.
"Today the margins are so tight that if you want a point of difference and that premium or no discount, you have got to be involved with quality assurance."
Pure South restaurant owner Philip Kennedy personally sourced only meat, cheese and fish from Tasmania and its Bass Strait islands for his Southbank business. He was keen to try the Great Southern products and brands from Tasmania.
"If someone has created the chain between the best producers and the restaurant then I don't have to do the work. That's what I am hoping these guys (JBS) have done for us – that's the promise, I think."
More coverage next week on JBS Southern's Sam McConnell's views on the company's Great Southern program.