SUNDAY July 1 marks the start of a new financial year, and heralds the commencement of Australia's new Country of Origin Labelling regulations.
The new standard applies only to retail sale of food in the domestic market –  not export – and does not apply to the domestic food service sector such as cooked food outlets, restaurants and hotels.
Domestic beef supply chains contacted before Sunday's regulatory change appear to be well advanced in preparation for the new requirements, with most large corporate red meat retailers having already adopted the new standards months ago.
That means to the typical consumer, retail packs in the supermarket chilled cabinet are unlikely to look any different from Sunday, to what has been sold previously. Some smaller independent retailers, however, will not introduce the changes to products in their stores until Sunday.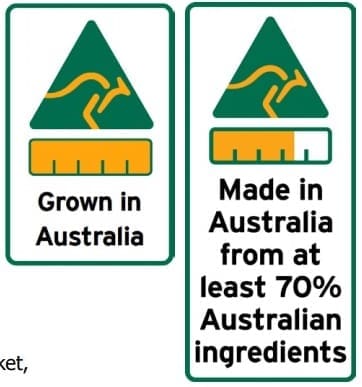 In 2016, the Federal and state governments reached agreement to reform Australia's Country of origin food labelling, in order to give Australian consumers "clearer and more meaningful information" about the products they buy. The agreement followed decades of frustration on the part of consumers that country of origin information for foodstuffs was misleading and confusing.
From Sunday, priority foods (including beef and lamb) grown, produced, or made in Australia must use a three-component standard mark label under the new regulations. The mark, published above using the example of a 100pc Australian product, features text and images in a clearly defined box:
The kangaroo in a triangle logo indicates that the product is of Australian origin.
The bar chart is a visual indicator of the percentage of Australian ingredients in the product being sold
The explanatory text states whether the food was grown, produced or made in Australia and the percentage of Australian ingredients.
The ACCC has gone to considerable lengths to work with the trade to ensure all stakeholders understand, and are prepared for Sunday's regulatory changes, working for months with trade groups and representative bodies.
"It's been a thorough, well-planned and well-executed awareness process," one trade source said. "I'd be very surprised if it has caught any retailer across Australia unawares."
The Department of Industry will launch a review soon after next week's launch to examine how well the program has been implemented, and fine-tune the legislation, if any changes are necessary.
The new CooL regulations only add to a long list of existing labelling requirements covering weight, price, price per kg, nutrition, use-by dates and health star ratings.
What does it mean for beef?
Under the new law, beef and beef products fall under the 'priority' category, meaning they must carry all three standard marks listed above.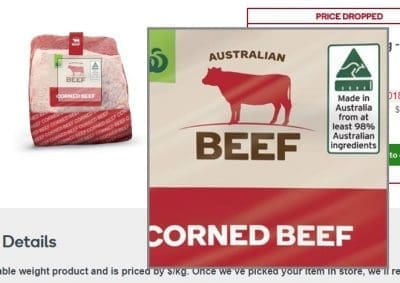 Products like packaged, uncooked corned beef which may carry small traces of imported ingredients such as brines, carry references like this example, "Made in Australia from 98pc Australian ingredients". So-called combination products such as value-added red meat items will carry percentages of domestic content ingredients, proportionate to weight.
Some complexity has arisen with beef produced out of export licensed processing sheds, which is at times diverted into the domestic trade.
There is no requirement for wholesale bulk-packed product out of an export plant to carry CooL labelling, but the seller must provide adequate labelling information through the chain to allow the end-retailer to label the product correctly. This applies to the typical 70pc of each carcase that is not forward-sold, which is put into inventory looking for a market. Such product can find its way into domestic channels, through a weekly 'special' on rumps or topsides, for example.
In the case of retail-ready packaged items produced by large processors' value-adding plants, appropriate CooL labelling is pre-attached to retail packs before delivery. Most large manufacturers have jumped ahead of Sunday's deadline – some having used the new labelling for up to 18 months.
Confusion over kangaroo image?
While some processors have raised objections about the use of a 'kangaroo' on a label identifying Australian beef in export markets, for obvious reasons, no such objections have been raised about the appearance of the CooL kangaroo on domestic retail packs.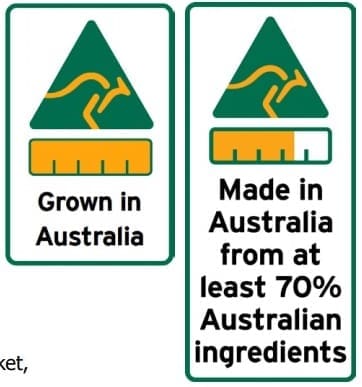 "That's because domestic consumers are already very familiar with the significance of the green and yellow kangaroo logo, and there is no real risk of confusing what species of meat is in the tray," one large export processor contact said. "People here understand the kangaroo symbol means it is Australian in origin – not that it is Australian kangaroo meat."
Supermarket retailer ALDI's national red meat buying director, Annette MacFarland said her company had been preparing for the legislative changes for quite some time, and was in a 'good position' leading up to July 1.
"We don't see any issues, to be honest. The majority of packaging has already changed over, but while a few suppliers are still be running-down remaining packaging that they had on hand, they are all well aware of what is required, and have new artwork ready to go from Sunday," she said.
Ms MacFarland saw no risk of confusion over the use of the kangaroo label on the pack to signify country of origin.
"Customers are familiar with it. ALDI only sells kangaroo meat on occasion through our specials program, but we think Australian consumers are sophisticated enough to understand that the label is not referring to the species in the pack," she said.
Like Coles and Woolworths, ALDI already makes strong overarching brand claims that all of its fresh red meat offer is 100pc Australian in origin.
How much imported beef is there in the market?
Department of Agriculture statistics show just how limited the trade impact will be from next week's labelling changes. It means that very few labels carrying 'product of country X' will appear on Australian retail shelves.
But while almost all red meat consumed in Australia is domestic in origin, there are small exceptions. For the 2017-18 fiscal year about to end, total fresh and frozen beef and veal imports to Australia reached just 5.688 tonnes (5688kg). Almost all of that from New Zealand. A handful of NZ rumps and cube rolls were seen in the Brisbane domestic retail market as recently as a fortnight ago – lining up with the recent annual peak in NZ dairy cow turnoff.
As small as they are, NZ beef exports to Australia more typically occur around Christmas time, during Australian processing plant holiday closures. Exchange rate (A$:NZ$) can also influence the extent of trade into Australia. New Zealand does have some competitive advantages, however, with processing labour costs estimated within the trade to be about 70pc of those in Australia.
The two other currently eligible beef exporting countries to Australia – Vanuatu and most recent addition, Japan – have sold no beef to Australia during the past 12 months, DoA records show.
The ACCC has produced this short video explaining the changes:
Click here to view details about the new Country of origin Labelling and how it applies to red meat.