Brazil plans to send delegations to 20 export beef customer countries to calm heath risk fears, following last week's announcement that a case of atypical BSE had been found in an animal that died in 2010.
Several beef customers including Japan, Egypt and Iran have imposed temporary bans on Brazilian beef, while others including Russia and China say they are considering their positions, according to media reports.
A spokesman for Russia's animal and plant health authority, Rosselkhoznadzor, told Reuters newsagency on Tuesday his country was considering suspending beef imports from Brazil over the BSE detection, but would not provide further comment. Shares in Marfrig, one of Brazil's largest beef processors, slumped 5.3 percent soon afterwards.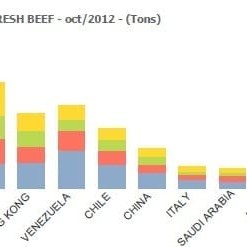 Brazil supplied 43 percent of Russia's imported beef requirements for the January-September period this year.
Japan on Monday became the first of Brazil's customer countries to impose a temporary ban on beef trade, following confirmation on Friday last week by the World Animal Health Organisation that tests had confirmed that a 13-year-old Brazilian cow which died in 2010 was carrying the 'causal agent' of bovine spongiform encephalopathy.
Japan is only a very small beef customer for Brazil, limited to just 1400 tonnes of heat-treated beef products last year. No fresh or frozen uncooked meat is traded, due to Japan's pre-existing Foot and Mouth Disease control measures.
However a decision to put a ban on trade by larger fresh beef customer markets like Russia would represent a significant setback for Brazil, commentators said yesterday.
Brazil's Ministry of Agriculture said it would send officials to 20 of the country's largest beef export markets to clarify the circumstances behind the detection, and allay fears about disease risk. The Brazilian government may also organize bilateral meetings in Paris and Geneva in coming weeks to cover the case more broadly with multiple countries.
"The government as a whole is mobilized to give a full explanation about what happened, and not permit doubts to remain in customers' minds about the security of our system of animal health defense," said Jose Carlos Vaz, the Ministry's executive secretary.
Brazil's Ministry of Agriculture stressed that the animal identified as carrying the BSE prion did not develop the disease, nor did the agent cause its death. It claimed the BSE prion's presence in the animal may have been caused by a spontaneous mutation.
It attributed the two-year delay between the animal's death and public confirmation and notification of the disease to an incident in a laboratory which had caused an 'overload of the testing system', and a classification that saw the animal treated as a low priority case (click here to view the OIE report).
The sample initially tested positive in June 2012 and was sent for confirmatory diagnosis to the OIE Reference Laboratory in the UK, where it tested positive on December 6. Several countries including the US have expressed concern over the long delay in testing and notification.
"The epidemiological investigation shows that the animal's death was not caused by BSE and suggests that it may be an atypical case of the disease occurring in the oldest animals," an OIE statement said.
As a result the OIE has not changed Brazil's current negligible BSE risk status, in accordance with Chapter 11.5 of the OIE Terrestrial Animal Health Code.
Brazilian officials said the country would consider legal action, if necessary, against any importer that might exploit the confirmation of the positive test to block Brazilian beef from their markets.
While media reports suggest Egypt has also applied a temporary ban on Brazilian beef, other customer countries like Chile and the EU this week quickly confirmed they would follow the OIE recommendation and would not apply restrictions.