A SIGNIFICANT decline in the amount of course-time allocated to the preparation, cuts choice and cooking techniques associated with red meat through TAFE chef training has left a serious knowledge vacuum in the food service industry.
Beef Central understands that the TAFE certificate III and IV chef training curriculum dedicated to red meat has gone from around 13 weeks a decade or so ago, to just a fraction of that today. Cost and time pressures was one of the reasons offered.
It means that young chefs are coming out of their skills-based training under-prepared in their knowledge and capability with red meat, especially significant with a raw material which is increasingly expensive to start with.
Meat & Livestock Australia's Scott Cameron said an increasing emphasis was being placed on providing background knowledge and an information resource via digital channels for young chefs and others wanting to build their understanding of how to use beef, lamb and goatmeat.
The primary channel for this is the Rare Medium Acadamy website, designed to educate and inspire foodservice chefs – from those working in quick and fast service restaurants, to aged care, commercial catering, transport, pubs and clubs. The site says its goal is to help food service chefs to have success with Australian red meat in commercial kitchens and on menus.
"The goal is to take young chefs on an educational journey so they can be inspired to create dishes using Australian red meat, specifically in their environment," Mr Cameron said.
"It is highly customised – the users can learn about a topic like cuts utiliation one day, and start producing items using that knowledge the next day. That knowledge is right there, and they can put it into practice straight away."
Beef Central became aware of the Rare Medium platform and its impressive video clips via an inclusion in our Youtube feed recently. The Rare Medium website uses a range of delivery channels, but features video presentations heavily.
The video below, for example, discusses the advantages/disadvantages of using natural fall in food service beef procurement
This example celebrates and explores alternate cuts such as the blade's petite tender, hanger steak and flank
This one discusses beef food service dishes under $10
There is also some great work being done in the private sector around education in cuts choice, suitability for purpose, preparation and novel cooking styles for red meat.
A good example is the work being distributed via Youtube, Tiktok, Instagram and other social media channels by Kilcoy Global Foods' executive chef, Andy Hearnden.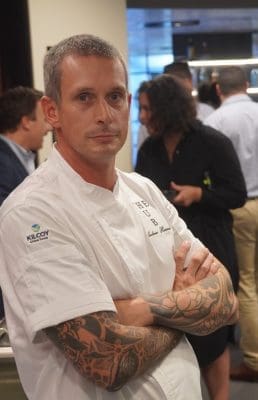 Operating from KGF's sparkling new commercial test kitchen located near Caloundra on Queensland's Sunshine Coast, Andy (pictured) has produced a suite of inspiring and motivating video clips encouraging young chefs (and keen home cooks, as well) to push the boundaries in how they select, prepare and cook red meat cuts.
Andy worked at a number of Melbourne restaurant institutions, including Entrecôte in Melbourne's CBD and Gill's Diner. Earlier, the New Zealand native also completed a six-year stint in England working across London's trendiest restaurants in areas like Notting Hill and Shoreditch.
While Kilcoy's own high quality beef brands are clearly evident in some of the videos, the content is far from promotional, and is designed simply to celebrate quality meat, rather than a specific brand. Some of his videos have had well over one million views.
Here is one of Andy's Tiktok videos promoting the use of skirt steak:
Here's another on making oxtail wontons
MLA's latest beef campaign
Meanwhile, in other domestic market news, MLA's current winter beef campaign is underway, this year featuring a collaboration with National Rugby League team, the Brisbane Broncos.
The ads (click on link below) highlights beef's importance in a healthy and nutritious diet.
Taking cues from Australian Beef's 2021 Olympics ads titled "Feed your greatness", the new "Beef at your best" campaign is set inside the Brisbane Broncos high performance centre, using a mockumentary style interview with Brisbane Broncos 'member', General Assistant Lance, who tells the camera how beef's nutritional benefits helps both himself and the team to perform at their best.
Here is the current TV ad being aired:
Why choose the Brisbane Broncos? Beef Central asked. Far from being state-centric, consumer data shows the Brisbane Broncos, as a sporting club, has the broadest appeal across any footie club in Australia – be it AFL or NRL, MLA said.
"Supporting TV ads with digital marketing gives MLA's campaigns a significantly increased consumer reach," Mr Cameron said.
"The return on investment in the digital portion is often significantly better than TV – it's more targeted and goes into audiences with a genuine interest in the topic," he said.
"You're Thinking Beef"  campaign
Launched last month, a separate Australian Beef campaign titled "You're Thinking Beef" is designed to stamp beef's position as the protein of choice in a range of popular mid-week winter meals.
The campaign will appear through a range of mainstream channels, online video and social media featuring the top ten most popular midweek meals across a range of cuts such as steak, spaghetti bolognaise and stir fry. Activity will be supported by seasonal point-of-sale retail activities in supermarkets and butcheries.
The ads are built around the premise that 85pc of shopping missions for protein are for mid-week meals, making it the most competitive and important occasion to drive scale, frequency and volume.
"It is no secret that deciding "what's for dinner?" can be a weekly battle for families and households," MLA says in its background to the campaign.
"With increasingly busy lifestyles and more and more options available, consumers are looking for an easy, delicious and affordable solution to feed their families when it comes to weeknight meals.
Forty percent of fresh meat purchases are made on the day of consumption, highlighting that the decision-making process for midweek meals can be influenced until the last minute.
MLA's "You're Thinking Beef" aims to drive sales volume and household penetration of beef. The campaign idea is designed to provide a solution to the midweek consumer tension of "what's for dinner?" and address the challenges of ease, versatility and satisfying the whole family with delicious beef meals.
The campaign, which started last month, will have subsequent bursts in August and December this year and in early 2023 to coincide with back-to-school.