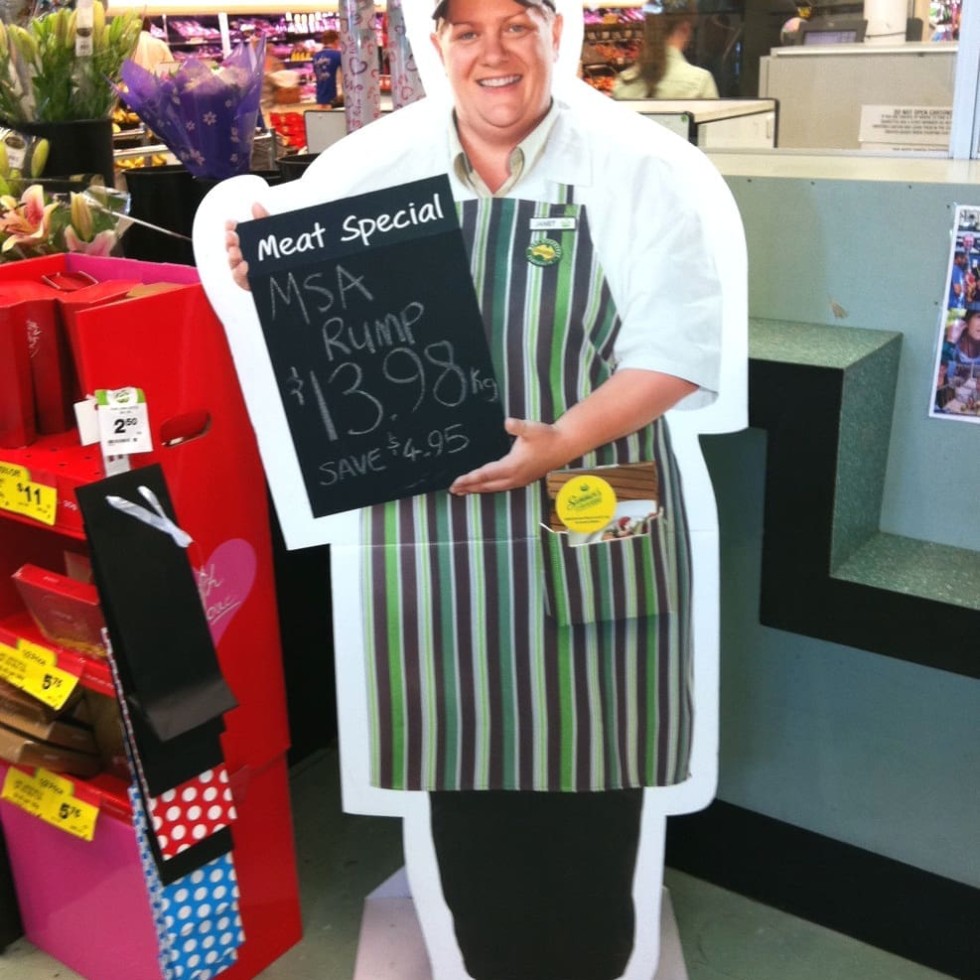 Woolworths and Coles improved their retail beef sales positions relative to independent butchers in the latest monthly Nielsen Homescan survey conducted on behalf of Meat & Livestock Australia.
Data for the rolling quarter to the end of January showed Woolworths' share* rose by 0.4 percent to 31.6pc from the December reporting period.
Coles also showed solid growth, improving 0.8pc to 23.7pc of all retail beef sales across Australia. The result was Coles' highest rolling quarter figure in at least 18 months.
In contrast, independent butchers' retail beef sales slipped a little to 24.7pc of total share in January, narrowing their share advantage over Coles to just 1pc. This time last year, butchers held an advantage of more than 2pc over Coles.
Nielsen's latest monthly retail survey data for the period ended January 26 also shows some convergence in the competitive position between Woolworths and Coles, with a 9.2pc share advantage to Woolworths back in November now narrowed to 7.9pc.
Among the smaller retail beef participants, the independently-owned IGA supermarket group has lost a little ground, after a sold 2012 year, finishing January rolling quarter average on 8.2pc of retail beef sales. That's down from a recent high point of 9.2pc as recently as August.
The German-owned ALDI supermarket group also had a soft decline in January, falling 0.4pc to 7.2pc share, while 'other' supermarkets and farmers markets fell by the same amount to 4.6pc.
It was the worst result reported for the 'other' retail segment in at least 18 months.
Protein pricing trends ease
Focussing on price per volume signals for different meat proteins conducted as part of the Neilsen survey, beef finished the rolling quarter ended January 26 at $9.97/kg, a big decline of more than 50c/kg over December data. That may in part be due to the post-Christmas financial 'hangover,' and the tendency to spend less on food items after the budget-stretching festive period, and additional household costs associated with 'return to school' during January.
Note that the prices reported by Neilsen are measured as the average $/kg value of the items in the surveyed consumer shopping baskets, and do not attempt to represent the overall value of beef being sold in the retail marketplace.
All competing proteins took a price hit in January's rolling quarter, compared with a month earlier, the Nielsen report suggested. Chicken prices were down 30c/kg to $8.20, pork was down 30c to $10.20/kg, and lamb declined 60c to $10.90. Even seafood suffered a big setback in January, losing 70c/kg in value.
Compared with year-ago figures, however, there have been considerable increases in meat prices across all meats, except for lamb (-93c). Retail prices for seafood (+$1.13) and chicken (+80c) increased most, with beef up 21c on year-earlier figures.
Beef's share of protein sales steady
The overall fresh meat category (all red and white meat proteins, not just beef) recorded value growth of 3pc for the rolling quarter ending January 26, compared with a year earlier. This was driven by an increase in the retail price.
Beef's share of overall protein sales value was virtually unchanged at 36.12pc in the latest rolling quarter, compared with December, but was down about 0.3pc on this time last year.
Chicken declined marginally to 25.3pc of overall value in January, while lamb and pork also both lost 0.1pc in value, at 13.1pc and 10.5pc respectively. Both were up on year-earlier figures, however. In lamb's case, that appears to be tied to the inclusion of Australia Day for the most recent reporting period, while last year's period did not cover Australia Day.
Lamb's value sales increased by a spectacular 48pc during the Australia Day week compared to average weekly sales over the past year.
* Note: Unless otherwise stated, rolling quarterly figures are quoted, instead of monthly figures, because they are regarded by analysts as being a more accurate reflection of longer-term trends.