A CREDIT access issue affecting Korean meat importers and distributors has recently put a level of uncertainty into the imported red meat trade in Korea.
One of the nation's larger life insurance companies and at least ten other non-bank financial institutions providing specialised finance for the imported meat trade, have apparently lost at least 100 billion Korean Won (about A$11.3 million) in a case of finance fraud involving imported meat.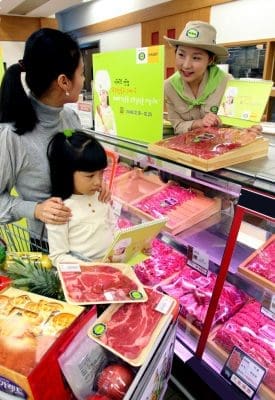 Local reports suggest a Korean meat distributor was discovered by credit supplier Tong Yang Life Insurance Co to be 'double dipping' in seeking finance on the same consignments of imported meat, multiple times. There is no suggestion that any imported meat supplier has done anything inappropriate.
The episode has had repercussions through the broader Korean imported meat industry, Beef Central has been told, because other financiers have become wary about supplying credit to meat importers/distributors for the timebeing, until it can be determined that the illegal practise is not more widespread.
The Korean finance bureau, FSS, has launched an investigation. It has not yet been disclosed whether the beef involved in the fraud case was Australian in origin.
The illegal practise was first identified in late December, but sources tell Beef Central that other finance companies are now stepping into the trade – a specialised area of finance related to meat and livestock – suggesting the matter is unlikely to upset trade in any significant way.
Some importers have apparently been monetising stock more quickly than normal, however, in order to access cash flow, during the short-term credit squeeze.
On December 28, Tong Yang Life Insurance Co announced that it had discovered significant losses on loans for meat imports. The company discovered the fraud while examining imported meat held as collateral in cold storage. The entire amount of livestock finance loans being managed by Tong Yang Life Insurance is worth about A$43 million, but the true scale of the losses remains unknown, local media reported.
Historically, finance on imported meat has always been considered somewhat 'high risk' in Korea and some other Asian markets, because of fluctuations in the trade.
Korean officials described the fraud as a 'loophole' in lending rules relating specifically to meat imports.  "This meat loan fraud is viewed as a result of poor inspection and monitoring of the collateral conducted by financial companies, and collusion between distributors and warehousemen," local media reported.
Signs of similar meat loan fraud apparently emerged in Korea in in 2013, when the price of imported pork plunged.
"At that time distributors had huge losses due to the falling prices of pork and they received loans from different non-banking institutions against the same meat in warehouse to pay off other loans, which led to today's catastrophic situation," Seoul Economic Daily reported.
A trade source told Beef Central that the timing of the recent episode was somewhat fortuitous. That's because large volumes of imported beef started to build-up in bonded cold storage during December, waiting for clearance in January, in order to benefit from the January 1 reduction in imported beef tariff.
The tariff on chilled/frozen Australian beef into Korea declined from 32pc to 29.3pc from January 1 (see earlier report on 2017 tariff changes in customer countries including China, Japan, Korea and the US). That's likely to inflate trade figures for Australia's January exports to Korea, sources say, and should help offset any disruption brought about by the recent credit fraud case.