TOUGH trading conditions continue for Australian lean grinding beef exports in June, due in large part to the extreme high rates of beef kill in the US due to drought.
As Beef Central reported on Tuesday, direct consignment prices for slaughter cows in Queensland fell 20c/kg in some grids this week, reflecting trading terms for export grinding beef.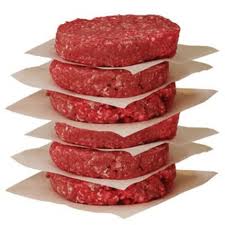 Drought conditions across the US have improved marginally, but pastures are still in the worst shape in three decades, US analysts suggest, forcing local producers to cut even deeper into their herds.
The 7pc increase in US cow slaughter this year continues to bolster domestically-produced lean beef supplies, and in turn suppress demand (and price) for Australian imported product.
At the end of May, USDA reported that just 22pc of the country's pastures and ranges were in good/excellent condition, while 44pc were in poor or very poor condition. About 51pc of the nation's cattle were in areas experiencing drought, and 20pc were in areas experiencing extreme drought conditions.
The broader trend this year in lean imported grinding beef prices into the US has been a gradual 'drifting off' in value, as the North American drought has set-in.
In Aussie dollar CIF terms, prices were around 935c/kg for 90CL frozen imported in mid-February, falling around 75c/kg to below 860c/kg in early-mid June, before a small recovery last week.
Current prices, however, remain about 90c/kg above this time last year – in line with the overall global rise in beef demand as COVID issues subside.
A veteran Australian meat trader into the US said there was an expectation early this year that prices and demand for Australian and NZ manufacturing beef would rise, after a large inflow of South American beef into the US had arrived earlier for quota reasons.
But that had largely failed to happen, because beef exporters targeting the US had "struggled under the weight of just how much American beef production has grown this year, due to their own drought," he said.
"The US drought and high rates of kill also means that the US is setting its own records this year for beef exports into other markets, sometimes at the expense of Australia," the trader said.
For this first time this year, the US has at times exceeded Australia's export beef volume into China, and is well ahead in key export countries like Japan and Korea.
"The US at present is doing 120,000 to 130,000 tonnes a month in exports, while Australia last month (due to herd rebuilding after our own earlier drought) exported less than 80,000t."
"Number one, that's displacing Australian product in those other export markets, but by killing 660,000 or 670,000 of their own cattle a week at present, it's also reducing the demand for Australian product in the US," he said. "US cow kill has been on a record run – just as Australia's was back in in 2019 in our own drought. It's keeping a lid on domestic US 90CL beef, and that flows on to imports."
Customers in the US were telling Beef Central's export trade contact that more fed primal cuts were going 'into the bin' (destined for grinding for hamburger beef, rather than being sold as whole muscle), because of the high availability of domestic US beef. That included lean primals like knuckles, insides, flats and chucks.
"That's because there's still good demand for ground beef in the US, in the middle of summer grilling season, and the country is bouncing back after COVID. The overall demand side of the equation in the US has been OK, despite meat getting dear – but currently domestic trim is at least US20c/lb (the equivalent of around A64c/kg in Aussie dollar terms) cheaper than imported – so that's where they go."
Out of step
Two questions that emerge are, how long does the US continue to kill cattle at its current high rate, and does this coincide with Australia's next dry spell?
Current estimates in the US suggest the US beef cow herd could decline by 7-8pc this year, seriously depleting the US industry's ability to produce calves from next year onwards.
That in itself could represent some upside further ahead for Australian exports – either into the US, or other beef customer countries like Japan and Korea.
In domestic US terms, 90CL cow manufacturing meat has spent a lot of time around US270-280c/lb for the past ten months, but when the US itself starts to enter herd rebuilding, that price could easily go well above US300c/lb, as the supply line is turned off, the trade contact said.
"If and when that happens, Australia will be dragged along, but at the current time, we are out-of-step with the market, as well as other imported beef suppliers servicing the US market."
"I can't see too much changing for the rest of this year."
"Given the current abundant domestic US supply situation, nobody is really interested in buying meat, out front. Current offers are US10-20c/lb more than what the market wants to pay. Buyers have seen this market continue to drift in the past three months, and being now well into summer grilling season, are reluctant to go and pay 'good money' for out front meat."
"The appetite currently is very subdued."
More acceptance of South American product
Another factor in the US imported market is growing acceptance of manufacturing beef out of South and Central America.
Volumes of competitively-priced beef out of Brazil, Mexico and Argentina into the US have grown this year.
"A lot more import traders in the US are now concentrating more on Central and South American supply. More and more of the corporate grinders in the US are heading down the South American route – even among those who never previously dealt in product out of the region, for a variety of reasons – reliability, quality and product performance related," he said.
Recent commentary out of US imported market commentator Steiner Consulting supported these views.
There was still some Central American and Brazilian beef available in the US meat market and that was keeping buyers from bidding aggressively on Oceania (Australian New Zealand) product, Steiner said in a recent weekly market report.
"The big unknown is the supply of beef that Australia will have available, and will ship to the US," it said.
"There is broad consensus, and Meat & Livestock Australia also agrees, that Australian cattle numbers have recovered significantly in the past two years. This should bolster slaughter later this year but will that supply come to the US market?"
"While Australian beef exports in May were up 5pc, shipments to the US market ended up around 11,000t, 5.3pc lower than the previous year. In the first five months of this year US share of Australian beef exports has been 15.5pc, compared with 20.5pc in 2019, 20.3pc in 2020 and 16.3pc in 2021.
Supply chain issues, especially in the West Coast of the US, had also taken a toll on Australian exports this year, Steiner said.
"US importers continued to struggle with ongoing supply chain issues, transportation problems and ample supplies of domestic product. The result is a slow-to-develop market, lack of fat grinds and unwillingness to carry risk despite the potential for higher prices later this year," it said.