RED meat supply chains will soon be looking to carve up a championship title or two, with entries opening today for the Royal Queensland Food and Wine Show's branded beef and lamb competition.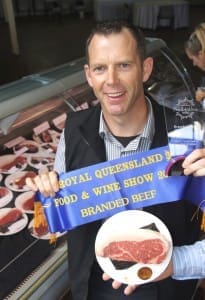 A team of judges including top chefs, butchers and food consultants will taste their way through some of the finest beef and lamb available in the retail market.
Judges this year will oversee five competition classes in branded beef including grainfed, grassfed and two Wagyu classes for different marbling levels, along with three in branded lamb including a new class introduced for heavier restaurant trade branded lamb introduced last year.
The Ekka branded beef and lamb competition is regarded as one of the most coveted and comprehensive taste tests of its kind in the nation.
Judging is based on standard MSA consumer taste panel testing, including flavour, juiciness, tenderness and overall liking. Samples are carefully managed for consistency of preparation and cooking, using Silix double-sided press-grills used for meat science work.
RNA beef cattle committee chair Gary Noller said a win in the competition gave brands greater credibility, often leading to an increase in product sales.
"Consumers know that by purchasing RQFWS medal-winning brands they're getting a high quality product and are consistent quality eating experience," he said.
"Branded meats also come with a story and consumers more than ever want to know where their food comes from and how it was produced – that's why branded products are so popular these days."
"Branded beef and lamb provides us, the consumers, with consistency and knowledge of the producer of our favourite meat, said the event sponsor, Super Butcher managing director Susan McDonald.
Those who win medals in the competition will have the opportunity to see their premium products served at Queensland's largest annual event – the Royal Queensland Show, and have the chance to become a supplier to the Royal International Convention Centre.
Entries close: Friday 16 March
Beef judging: Wednesday 2 May
Lamb judging: Tuesday 1 May
Winners to be announced at an awards presentation on Friday 4 May.
Entries and further information: click here.