CATTLE hides are the latest beef industry commodity to buckle under the impact of COVID-19, with reports this week that international buyers and traders have more or less withdrawn from making offers on Australian hides.
Northern Cooperative Meat Co chief executive Simon Stahl told Beef Central yesterday that over the weekend, the Italians had stopped leather goods manufacturing and tannery operations, mostly located in northern Italy.
"It means Italy won't be taking shipments of hides any time soon, and Australia's other primary hides processing and tanning market, China, is also heavily impacted," Mr Stahl said.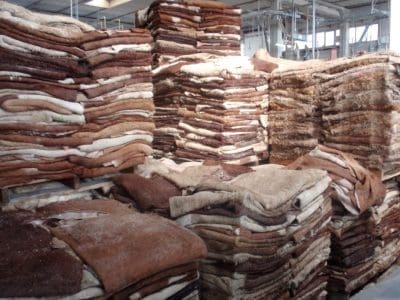 Hides prices have in fact been desperately low for the past two years (see earlier story) but just prior to Coronavirus had 'found a floor,' he said.
"The good news was that the world was starting to embrace leather again, for fashion, furniture and vehicle seats. But this epidemic has brought it all to a screaming halt – so much so that I'm concerned now that the entire trade in hides out of Australia could be held up, for maybe a month or two," he said.
That left only two options: stockpiling, or disposal as landfill.
"It's meant that there is literally no price offers in the market, at present, full stop. It doesn't sound good for the market, at all," Mr Stahl said.
Hides now basically 'unsaleable'
Hides industry spokesman Victor Topper, president of the Australian Hides, Skin and Leather Exporters Association, said hides in Australia this week were basically 'unsaleable.'
"There is no market at present," he said.
The primary cause was that the leather market had basically "closed its windows and pulled down the blinds," Mr Topper said.
"The tanning industry in Italy has shut down, as it has in Spain, and right across Europe. And leather goods manufacturers are in the same boat – users like Louis Vuitton and Chanel at the top of the fashion segment, have closed all their stores, and the second-tier users like the auto and furniture sectors are the same, with stock backing up, and impacting every origin," he said.
In other hides buying regions, the Chinese tanners were operating, to some degree, but they were using domestic hides only at present, Mr Topper said. In North America, current exceptionally large beef kills were pushing a lot of hides onto the market, at a time when a percentage of the US's own tanning and manufacturing industry was closed down due to coronavirus. As a result, the US was trying to dump hides into Asia, both salted and wet-blue, at any price.
Mr Topper said not only were there no offers for Australian hides this week, but orders that traders already had on their books were disappearing.
"Our business (AI Topper) lost a significant number of containers just yesterday afternoon, alone," he said.
"Orders were cancelled by customers, because commerce is just closing down, right across Europe and North America."
"Why would any tanner buy hides today, when they know next week they're likely to be cheaper?" he said.
Adding to the dilemma for the Australian beef and hides industry, rates of slaughter were up, because the domestic retail market, particularly, was 'absolutely buoyant' as consumers raced to stockpile beef for consumption at home.
Asked what the options were for unsold hides, Mr Topper said even back as far as October last year, hides were considered to be going into landfill in some areas – such was the lack of international demand.
"Some of the smaller processing operators were in fact paying us $8 or $9 per hide to take them away. That was offsetting our own hides processing cost, at a time when it was costing $14 or $15 each just to bury them," he said.
"But at least they were selling back then. In January/February the hides market was starting to gain a little traction again, just before Chinese New Year. But that's now stopped dead – and the reality is that nobody knows where the finish line is in all this."
"We'll still see the odd buyer coming in and wanting to buy one or two containers at an opportunistic price, but in all practical terms, the hides market is totally shut down."
Even prior to the latest developments, there was a problem over the past five or six weeks getting access to shipping containers, as both incoming product coming into Australia and exports leaving Australia slowed.
"We had trouble getting containers for the hides we had."
Mr Topper said he expected hides customers overseas would now remain in hibernation, until they had some clear sight of how business would progress, going forward.
"Once there are decreased numbers of COVID-19 detections in customer countries, perhaps a little more optimism might return, and hides trade may resume, as users get back to business. Tanneries in Italy, for example, are due to re-assess at the end of the first week in April, but that may be optimistic."