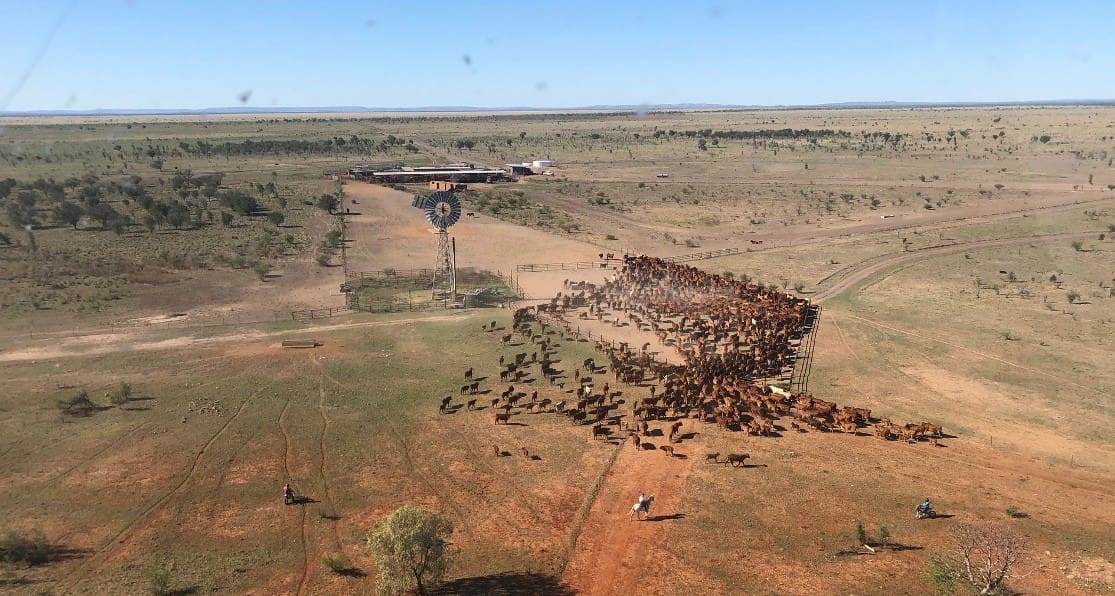 HANCOCK Agriculture and S. Kidman chair Gina Rinehart and her senior pastoral management team hosted an event in a top London Mayfair restaurant yesterday, celebrating the first month of tariff-free beef trade under the new Free Trade Agreement.
Yesterday's occasion officially launched Kidman beef and two new Hancock Ag 2GR Wagyu branded products into the UK market.
The three Kidman brands – 120-day grainfed, Kidman Premium and Kidman Platinum – are all EU accredited, HGP-free and Halal certified. Sister company Hancock has been selling its high-end 2GR Wagyu product into the UK for some time, but since BREXIT has been paying the full tariff on shipments.
In its first year, the FTA launched on 1 June allows for up to 35,000 tonnes of Australian beef to be exported tariff free, growing significantly larger over the next decade.
"It's fair to say that the Australian beef industry has been licking its lips at the new opportunity that's been created," Sky News's London reporter said from the event.
"It could grow to closer to 200,000t over the next decade… getting meat products cheaper into England," Hancock/Kidman chief executive Adam Giles told Sky.
British farmers and the Opposition continued to claim the FTA deal on beef was too generous, and done too hurriedly, Sky reported.
"Hancock currently has 100,000 head of cattle across Australia – that figure is sure to rise because of this new agreement," the Sky reporter said.
Slow start to tariff-free trade
As of 23 June, the UK had taken only 173 tonnes of chilled Australian beef for the month of June, clearly indicating that there has been no 'mad rush' to push more Australian product into the market since the FTA was activated on June 1.
In comparison Japan over the same 23-day period has taken 13,700t of Australian beef. The previous month of May – still under tariff burden – Australia exported 140t of beef to the UK, suggesting there has been little material effect on tonnages to this point. To qualify for the market, all Australian beef must still come through the old EUCAS certification system, which has been abandoned by some cattle producers over the past two years due to lack of trade activity.
Some in the trade have interpreted Hancock and Kidman's promotion activities in London this week as 'unhelpful,' with the public presence of one of the nation's largest and most prominent beef producers potentially elevating UK farmer anxieties around the risk of being flooded with Australian beef in the FTA era.
Speaking at the London launch event, Mrs Rinehart congratulated the ministers and officials on both the Australian and UK sides of the negotiating table for "extending the arm of friendship further with the FTA between the two countries, which shared such close history."
"I am proud to say that since the Hancocks arrived from England in the 1830s, our family is the longest continuous owners of cattle properties in Australia. Sidney Kidman owned his first property back in 1886, more than two decades after our Hancock family members started the first cattle stations in the north west of West Australia," she said.
Chief executive Adam Giles said through its 2GR Wagyu brand, Hancock was already exporting its premium marbling score 9 Wagyu beef into the UK, but the new FTA now provided access for beef from S. Kidman & Co.
Mrs Rinehart said under the new FTA tariff-free quota, Kidman and Hancock Ag could now offer a beef product range encompassing all marbling scores, from 120-day grainfed Santa Gertrudis product through to 2GR Fullblood Wagyu carrying marbling scores of 9+.
"We are providing a suite of outstanding beef options across the whole marbling score range. This from Australia and it's clean outback air, to our friends and allies in the UK."
Mrs Rinehart told the gathering Hancock Ag and S. Kidman & Co were "Australia's leaders when it comes to animal welfare and this shows in the quality of our meat."
"The mantra we have established right across all our properties is, "happy healthy cattle are the best cattle," she said.
"We are seeking some of Britain's best restaurants and hotels to share our program of providence for those who want to eat well and with a healthy conscience."
The provenance of the 2GR Wagyu and Kidman cattle stretched across the entire life of the animals, CEO Adam Giles said.
"Our supply chain sees us care for our animals right from the genetic bull breeding programs all the way to the feedlot and processing. We are not just beef or cattle traders. We breed and feed our own cattle. In fact, we grow our own grains to ensure that not only is our product excellent for the consumer but to help us hedge against drought, and we maintain whole-of-life traceability for our providence pathway."
"Provenance, our guidance of care in knowing where our cattle have come from is not our only point of difference," Mr Giles said. "Our animal welfare standards and investments are second to none."
By the end of next financial year every water trough on Kidman and Hancock properties will be shaded to keep water cool for the animals and to help reduce algae down. Cattle scratching posts will continue to be rolled out and water sprinklers installed in the yards for cattle comfort. Shade will also be provided for horses at all yards, and more shade structures will be built in paddocks to provide greater relief from the heat, the wet and cyclones.
Environmental footprint
The company said it was also focussing on lightening its environmental footprint.
"After years of capital investment into solar panels the Kidman & Co board this week confirmed that by the end of the 2023/24 financial year, every water bore on its properties will be converted to solar, instead of relying on windmills, and all homesteads will become solar powered, but with backups where necessary," Mr Giles said.
"We already have electric motorbikes and we will have ordered many more and are currently trialling electric utilities to identify the best options for roll out to our properties," he said.
The company was also undertaking trials using asparagopsis-based feed additives to reduce enteric methane in cattle to determine impact on animal health and productivity and methane reduction benefits, the audience was told.
"Isn't it great when long term friends like Australia and the UK can sit down and work out a deal like the FTA that benefits the people of both of our countries," Mr Giles said.
See today's separate item on JBS Australia's first UK shipments under the no-tariff FTA deal.