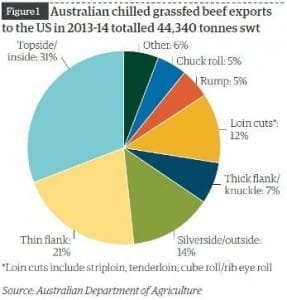 Americans are the world's biggest meat eaters, eating their way through more than 120kg each every year.
With US consumers seeking alternative protein choices and a healthier lifestyle, natural and organic meat has become more popular.
Grassfed beef is taking a share of this pie, which has driven growth for Australian exports into this market.
For the first time, the US has become Australia's largest export customer for chilled grassfed beef, overtaking Japan, to account for almost one third of Australia's chilled beef shipments in 2013-14, totalling 44,340 tonnes swt.
In the first 10 months of 2014, chilled grassfed exports to the US reached 50,066 tonnes swt out of a total of 135,206 tonnes swt of chilled grassfed beef exports to all destinations.
MLA North America Regional Manager David Pietsch said the growing acceptance of chilled grassfed beef at retail and foodservice, was a unique emerging niche for Australia.
"Although still a small segment, we have recognised the potential for Australia to service this niche, and worked closely with wholesalers and suppliers to promote Australia's credentials as a fully traceable, safe and consistent supplier."
He said more and more people were developing a desire to learn where their meat comes from, and the 'farm gate to plate' story behind it, even for imported products.
"That's why the family farm story, told through compelling branding and communication, is so important," David said.
"This has worked well for us through trade awareness and retail promotions to consumers. Our industry has come along leaps and bounds in this regard in recent years but there is still so much opportunity to capitalise on this further."
Filling the gap
Declining domestic production in the US is providing more opportunities for Australian beef, including the frozen manufacturing beef segment which still accounts for over two-thirds of Australia's exports to the US.
"With other countries also in for a share of the grassfed beef market, including Uruguay, New Zealand and domestically-produced beef, we need to ensure we maintain our current strong position based on our key strengths and attributes," David said.
"There is a window of opportunity over the next two to three years – as domestic supplies shrink – in the US market to solidify a place for niche, branded Australian beef products."
David said driving Australia's growing reputation as a supplier of natural, 'sustainably raised' pasture-raised beef had been the strategic push over the last several years by industry, towards targeted marketing of grassfed product into the US market.
"There has been an intensified marketing focus on the grassfed segment in the US in the past five years which was stimulated by grassfed producer representatives from AgForce and Cattle Council of Australia, through MLA's international marketing taskforce.
"This has continued with the development of more sophisticated Australian supply chains, including the more recent introduction of the Pasturefed Cattle Assurance System (PCAS).
"MLA's North America program has been investing grassfed levies in programs that generate an awareness of Australian grassfed beef and its attributes, and provide information on Australia's eating quality, traceability and the integrity systems that underpin our products," he said.
"And although grassfed beef remains a niche, after years of working with importers and the trade to educate them about the benefits and consumer appeal of 'Australian' and all natural product, recognition by chefs, retailers and consumers has grown – adding long term value to the Australian grassfed cattle industry."
MLA's role in North America has been utilising grassfed beef levy funds to:
Generate awareness of Australian grassfed beef and it's attributes.
Provide information on the industry and our integrity systems that underpin the product.
Work in partnership with supply chains to demonstrate first-hand these systems and Australia's production practices.
The PCAS premium
Producers involved in the Cattle Council of Australia's Pasturefed Cattle Assurance System (PCAS) have received premiums this year of 70¢/kg above the MSA grid, according to the Cattle Council of Australia.
The demand for high quality grassfed beef products has continued to grow throughout the year. One example is a major retailer stocking the Teys Grasslands' brand, which is underpinned by PCAS, and in stores from June 2014.
PCAS is an assurance program that enables the industry to prove claims relating to pasturefed or grassfed production methods.
Underpinning PCAS are the PCAS Standards which govern the on-farm feed requirements and traceability of the cattle as well as pre-slaughter handling practices which influence eating quality.
The PCAS Standards also include two optional modules to support claims relating to the freedom from antibiotics and hormone growth promotants.
There are currently 260 certified producers in the PCAS database, with a number of audits currently being processed.
Source: Meat & Livestock Australia. For more information about PCAS go to www.certifiedpasturefed.com.au