Proving that a high quality grassfed product can hold its own in any company, a striploin sample representing Wingham Beef Exports successful "Manning Valley Naturally" brand beat all comers to claim Australia's most important branded beef award on Friday.
As highlighted in Beef Central's original 'results' article posted on Friday, a grassfed Manning Valley Naturally entry claimed the RNA's 2013 branded beef competition's Champion Branded Beef of Show award, beating longfed Wagyu and Angus entries – the first time in the competition's five year history that a grassfed product has done so.
Wingham's manager Grant Coleman was on hand to accept the winner's trophy.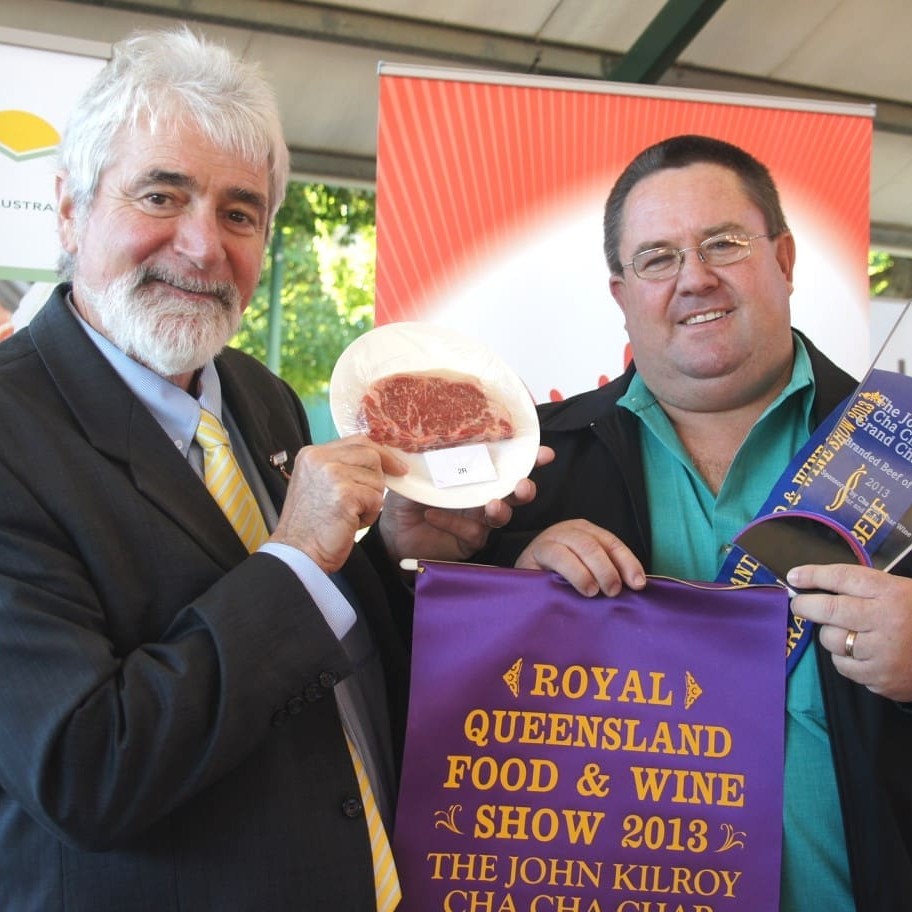 Manning Valley Naturally earned a second place in the MSA grassfed class last year, but all stakeholders who tasted a sample while attending Friday's prize distribution ceremony at the Brisbane showgrounds, agreed that it stood up exceptionally well against the best of the Wagyu and grainfed competitors.
The same product also earned a gold medal (class win) at Sydney Show's equivalent branded beef contest last year, and repeated the result at Melbourne show, suggesting this may now be Australia's most heavily decorated grassfed beef brand, with the possible exception of Cape Grim out of Tasmania.
Beef Central has written extensively about Nippon's Manning Valley Naturally program. Click here to view an earlier article discussing the program's origins, specifications and target markets, "Natural program good fit for Wingham."
One of the unique aspects of the program is that the Manning Valley Naturally identity is actually owned and developed by the local shire council. It was developed to showcase a wide range of foods produced in the local region, from cheeses to fruit and vegetables to beef – and the identity is used only under exclusive authorisation from the local council.
Nippon Meat's Wingham beef Exports division created its MSA-backed Manning Valley Naturally brand about 18 months ago, with a brand identity built around locally-sourced, HGP-free, grassfed, largely British-based yearling cattle for a heavy-domestic program.
Carcase weights range from about 260kg to 330kg at the heavy end.
While it is finding its way increasingly into export orders as well, at the domestic level the brand is wholesaled through Nippon's Beef Producers Australia division, for use in better-end food service restaurants, hotels and club style venues, as well as some selected better retail presence.

Some of the product also finds its way into Woolworths and Coles outside-purchase programs for specific cuts.
"That 'Natural' tag is proving to be increasingly important to us," Wingham's Grant Coleman told Beef Central, after picking up the award on Friday.
"Consumers are starting to really scrutinise the natural side of things, and it is happening, also in the export side, as well as domestic."
He said scrutiny was being applied at prospects to introduce Manning Valley Naturally into export markets like the US and Japan. Trials have already been conducted.
The company was already 'giving attention to' prospects to adopt the new PCAS Pasturefed Cattle Assurance System launched recently by Cattle Council of Australia, to underpin the brand program. PCAS-certified beef automatically meets US standards for 'Natural' product claims.
The program has continued to grow since its launch in late 2011, More Coleman said, now representing around 500 head per week, and creating strong pull-through demand in the marketplace.
The brand is broken into two sub-groups, based on a premium boning group 1-3 product, and a second line for boning groups 4-10. At least 35pc make the 1-3 boning group grade.
'There's been a lot of hard work put in to get it where it is today, not only from within our own company, but through assistance from MLA and others," Mr Coleman said.
"Through building education, awareness and understanding, the MSA brand has really brought the best out in our local producer supplier population," he said.
"The consistency of meeting the MSA standard is now extremely high, and that's reflected in the consistency of the eating standard of the end product."
"The producers can see the benefit in what they're getting out of the MSA premium, and we're able to deliver a product that performs to a high level, day after day."
Season-wise, 2013 had proven a greater challenge than last year, with numbers starting to dry-up a little now, as could be expected as winter moves in. That's being overcome by building closer relationships with producers, who are managing cattle more strategically, and utilising silage and other programs during light turnoff periods.
"MSA premiums mean they are prepared to devote some resources to deliver the right product, over a longer turnoff cycle," Mr Coleman said.
'There's no doubt that wins in competitions like this, as well as Sydney and Melbourne branded beef competitions, adds a whole additional level of credibility to our brand," he said.
"This will just top it off, and we'll incorporate the result into future brand messaging."
Second and third on the grassfed MSA class were a sample of 'Woolworths MSA grassfed' out of the company's northern supply chain processed at Churchill abattoir near Ipswich, and a sample from JBS Australia's Swift Premium MSA grassfed program out of one of the company's Queensland plants.
Open class to small Warwick processor
Scoring a great win for the 'little guys' during Friday's branded beef awards was Warwick domestic processor and retailer, Carey Brothers, which beat some big-name opposition to win the Open class for non-MSA entries.
Carey Brothers chose a grassfed yearling from their general run of slaughter cattle, most of which are put through the business's own butcher shops at Yangan and two at Warwick.
The nine-month-old Angus steer was purchased out of Warwick saleyards, and Paul Carey said they had high hopes that the steer was 'something special.'
"We prefer to only buy milk vealers if we can, and he was straight off his mother at Hendon, just outside of Warwick, weighing 263kg, which is outstanding for a nine-month-old steer calf."
Second in the class was first-time entrant Inverell's Bindaree Beef, with a sample of its JR Trinity product, and third was JBS Australia with a Beef City Black brand entry.
Later today: Dual Wagyu branded beef class wins to Sydney-based supply chain.